A group of students at the University Of Southern California have organized a new change.org petition, asking the school to remove film director Bryan Singer's name from its media division. The request comes in the wake of a renewed interest in and awareness of allegations of sexual harassment and assault against prominent Hollywood figures, including Singer's frequent collaborator, Kevin Spacey. "It is completely unacceptable," the petition—which currently has 1,600 signatures, and which was written by USC student Emily Hanak—begins, "that this prestigious department within our school still carries the name of Bryan Singer, a man accused multiple times of sexual harassment, assault, and pedophilia."
Singer has been accused of behaving inappropriately with younger men at multiple points during his career, including allegations that he asked 14-year-old actors to film a nude shower scene for his film Apt Pupil, and a pair of lawsuits—both of which were eventually dropped—that were brought up against him in 2014. The two suits came from men claiming the director was part of a "ring" of powerful Hollywood men who used intimidation, false promises, and other forms of coercion to secure sexual favors from them.
The recent Harvey Weinstein allegations—and the subsequent call for Hollywood to pay closer attention to possible predators in its midst—have seen renewed attention on the allegations against Singer. Most notably, Jessica Chastain responded to the accusations against Spacey by linking to a DailyWire report compiling the charges against the Usual Suspects director, writing, "Let us not forget."
USC made headlines last month when it turned down a hefty donation from Weinstein, just as the numerous charges against him were beginning to come to light. This new petition is calling for similar vigilance against Singer, for whom the school's Division Of Cinema & Media Studies is named. The petition has been signed by a number of members of the college's School Of Cinematic Arts and ends with a call for the "overdue" change to occur swiftly.
G/O Media may get a commission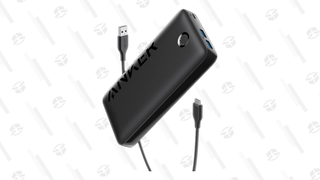 20% Off
Anker 335 Power Bank