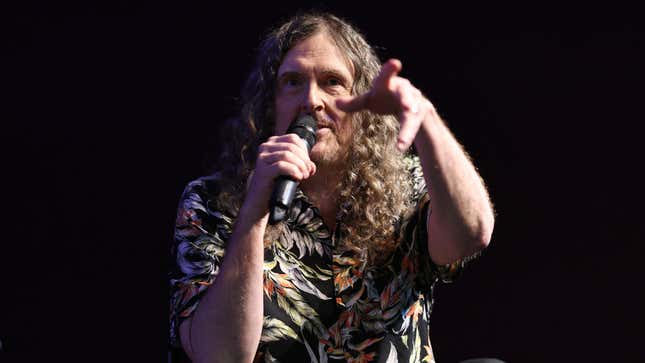 Weird Al Yankovic fans, Daniel Radcliffe devotees, and the executive board of Roku alike can all thank 2018's Bohemian Rhapsody for 2022's Weird. According to Weird Al himself, he was inspired by Bryan Singer's 2018 film Queen biopic to go for one of his own in exactly the outlandish way he wanted.
"Biopics historically have always been pretty inaccurate, and that always kind of bugged me," Yankovic tells Variety's Michael Schneider in a new interview. "That's one of the reasons why I decided to reach out to Eric Appel to write the screenplay."
One of the main examples that comes to mind for Yankovic is Bohemian Rhapsody, which starred Rami Malek as Freddie Mercury and won him an Academy Award for Best Actor. Although the singer isn't shy about his love for Queen and his enjoyment of the movie, Yankovic does admit that the number of liberties the movie took with Mercury's story inspired him to craft a biopic—Weird—that rejected fact altogether.
"I'm a big Queen fan, and I liked the movie and it won awards and was very popular," Yankovic says. "But it bothered me that there were so many artistic liberties taken, just flat out changing the facts, changing the chronology, just making it more quote unquote, cinematic, and I thought, 'Okay, well, maybe I can do a biopic but just like, just throw facts out the window. Just go completely off the rails.'" For a movie that started out as a fake Funny Or Die trailer, Yankovic's approach was certainly more than appropriate. What better way to chronicle the life of a spoof singer than with a spoof biopic, after all?

Revisit The A.V. Club's November 2022 interview with Weird Al Yankovic here.