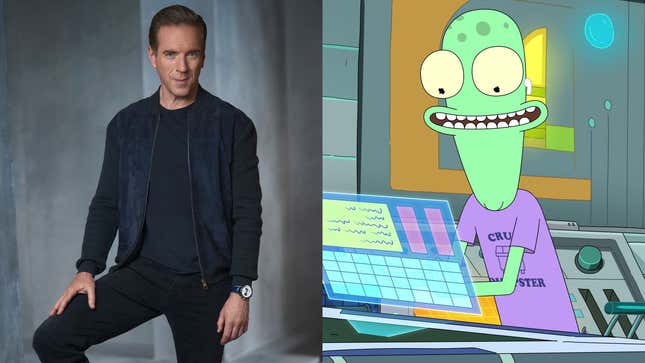 Welcome to What's On, our weekly picks of must-watch shows. Here's what you need to watch from Sunday, August 13 to Thursday, August 17. All times are Eastern. [Note: The weekend edition of What's On drops on Fridays.]

Netflix plans to make you freeloaders finally cough up the dough
---
The biggies
Billions (Showtime, Sunday, 8 p.m.)
Billions is bringing its most valuable asset back for its sendoff. Yes, Damian Lewis returns to Showtime's finance drama for its seventh and final season. The actor left the show after season five, which meant attorney Chuck Rhodes (Paul Giamatti) had to find a new enemy. Expect the two to go toe-to-toe one last time. Maggie Siff, David Costabile, Condola Rashad, Asia Kate Dillon, Corey Stoll, and Jeffrey DeMunn co-star.
---
Solar Opposites (Hulu, Monday, 12:01 a.m.)
Dan Stevens makes his Solar Opposites debut in season four, which drops all 11 episodes on August 14. Stevens replaces series creator Justin Roiland, who was fired earlier this year, to voice Korvo, an alien who crashes with his family on Earth. The show has already been greenlit for a Valentine's Day special and a fifth season.
---
Hidden gems
Killing It (Peacock, Thursday, 3:01 a.m.)
Peacock's underrated comedy Killing It is back to, well, kill it some more. Created by and starring The Office's Craig Robinson (or Brooklyn 99's Doug Judy, if that works better for you), the show follows Craig Foster, a divorced man who pursues his entrepreneurial dreams by joining a race called the Florida Python Challenge to earn a $20,000 prize. Claudio O'Doherty, Scott MacArthur, and Tim Heidecker round out the ensemble.
---
Tracy Morgan: Takin' It Too Far (Max, Thursday, 3:01 a.m.)
In his first comedy special for Max, Tracy Morgan isn't shying away from getting into what matters to him, like dating in his 50s, the side effects that come with it, his dysfunctional family, and his terrifying 2014 accident.
---
More good stuff
Reinventing Elvis: The '68 Comeback (Paramount+, Tuesday, 3:01 a.m.)
Directed by Steve Binder, Reinventing Elvis looks at Presley's December 3, 1968 performance, which became the most-watched hour of TV that year. The film features interviews with experts and recollections from those who attended the special in-person gig.
---
At Home With The Furys (Netflix, Wednesday, 3:01 a.m.)

At Home With The Furys chronicles heavyweight champion Tyson Fury as he exits the ring and tries to embrace retirement with his family, following the dude on tour, enjoying vacation, and mingling with other celebrities.
---
Can't miss recaps
Winning Time: The Rise Of The Lakers Dynasty (HBO, Sunday, 9 p.m.)
Only Murders In The Building (Hulu, Tuesday, 12:01 a.m.)
Reservation Dogs (FX on Hulu, Wednesday, 12:01 a.m.)
And Just Like That... (Max, Thursday, 3:01 a.m.)
What We Do In The Shadows (FX, Thursday, 10 p.m.)
---
Arriving now

My Dad, The Bounty Hunter (Netflix, Thursday, 3:01 a.m., season two)
The Upshaws (Netflix, Thursday, 3:01 a.m., season four)
---
Ending soon
The Wonder Years (ABC, Wednesday, 9:30 p.m., season two finale)