Permanent Records is an ongoing closer look at the records that matter most.
For Tom Petty, 1994 was a year of transitions. His contract at MCA had just come to a close with the massively successful Greatest Hits (and its blockbuster single, "Mary Jane's Last Dance") and drummer Stan Lynch acrimoniously left The Heartbreakers. Moreover, Petty's marriage was steadily crumbling and, after two hit records with Jeff Lynne, he was looking for a new producer. For Petty, however, it wasn't an excuse to take some time off. It was a clean slate.
Enter producer Rick Rubin. According to Runnin' Down A Dream, the companion book to Peter Bogdanovich's excellent documentary film of the same name, Rubin had always wanted to work with Petty. "I'd been aware of Tom's music my whole life," said Rubin. "It has always been there. I must have listened to Full Moon Fever a thousand times, just over and over again and didn't stop for a year or two years. That was sort of my album of choice."
Yet, when Rubin came aboard for Wildflowers, Petty's first effort for Warner Bros. Records, he and Petty made an album that sounded nothing like Full Moon Fever or its successor, Into The Great Wide Open (also produced by Lynne). Typical for Rubin, Wildflowers is as stark and clear as Full Moon Fever and Wide Open are shiny and dreamy. With its themes of soured relationships, catharsis, and acceptance, Wildflowers is like the comedown after a party, and its sound is correspondingly down-to-earth. (Like Full Moon Fever, Wildflowers is credited to Petty alone, though The Heartbreakers, minus Lynch, are in tow.)
The production on Wildflowers is dry as dust, but invitingly so; listening to the record on headphones makes clear that Rubin and Petty wanted the album to envelop the listener like a blanket. From the subtle synths on "Time To Move On" to Benmont Tench's lilting piano on the title track, Rubin (along with co-producer/Heartbreakers guitarist Mike Campbell) lends the proceedings a well-worn, comfortable feel. Even the barnstormers—the propulsive "You Wreck Me," say, or the bar-band workout "Honey Bee"—are filled with sonic details that make the songs sound lived in.
And about those songs: Damn. Wildflowers is perhaps best remembered for the fine single "You Don't Know How It Feels," but all of the record's 15 tracks stand among Petty's best work. The songs contain all of his strengths, from disarmingly simple melodies to a wry sensibility that makes songs with more angst like "It's Good To Be King" go down easy. (Also worth noting: Petty is particularly adept at writing bridges that snap the songs into immediate focus, and Wildflowers is no exception. On the downtrodden ballad "Crawling Back To You," after a couple minutes of minor chords and angst-ridden lyrics, a moment of optimism erupts with a sudden major chord: "Hey baby," he sings, "There's something in your eyes / Tryin' say to me / That I'm gonna be all right." Petty being Petty, the hope is fleeting, but it's beautiful while it lasts.)
G/O Media may get a commission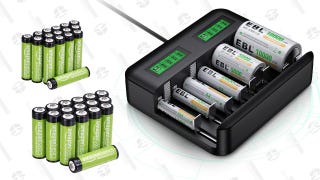 According to Runnin' Down A Dream, Rubin made sure the songs would be strong. He regularly pushed Petty to rewrite verses and choruses (which is perhaps why Petty remembers the album's sessions as "maybe not the most pleasant experience") and recorded 30 songs over the course of two years. The result is that rare rock record that sounds both varied in style but consistent in sound. Wildflowers has gentle folk ("Wildflowers" and "Hard To Find A Friend"), roaring fuzz rock ("Cabin Down Below," "House In The Woods") and patented Tom Petty jangle ("A Higher Place"), but it all sounds like Tom Petty And The Heartbreakers. How the bleak "Don't Fade On Me," an acoustic song featuring only Petty and Campbell, fits in so well with the sweet piano-and-strings waltz "Wake Up Time" is perhaps something only Rubin and Petty know. But it works.
Wildflowers didn't do Full Moon Fever or Greatest Hits numbers, but it performed admirably. The record peaked at No. 8 on the Billboard 200 chart, and lead single "You Don't Know How It Feels" reached 13 on the Hot 100. More than setting a commercial benchmark, however, Wildflowers set a standard for the band's sound. Though its subsequent records have certainly had their jangly, Lynne-esque moments (and 2006's Highway Companion brought Lynne back into the fold), the group has mostly stuck to the Rubin template: dry, organic, full. Tom Petty And The Heartbreakers have since released five records on Warner Bros., including the underrated She's The One soundtrack, the occasionally brilliant Echo, and last summer's Hypnotic Eye (which, thanks in part to a clever release strategy, won Tom Petty And The Heartbreakers their first ever No. 1 album).

Reading the album's mixed reviews now, it's clear that critics saw Wildflowers as the next step in Petty's inevitable decline as an aging classic rocker. "Petty hasn't had an original guitar lick in his head his whole career," sniffed Entertainment Weekly's David Browne. "Coproducer Rick Rubin keeps the instruments as clear and sparkling as seltzer, yet there's only so much he can do with someone who seems to achieve bliss mostly when he sounds like Dylan's kid brother." Robert Christgau, who loved Full Moon Fever, found little to like in its follow-up: "If he were a flower, he'd be wilted, but since he's really more a dick, call him torpid."
Time has been kinder to Wildflowers than those reviews would suggest. In its "Tom Petty Albums From Worst To Best" feature last month, Stereogum ranked the record as Petty's second best of his 15 official releases with and without The Heartbreakers, remarking, "It is easy to view Wildflowers as Petty's 'middle-aged' album, but the wistful, unadorned sound of the album belies its surprisingly dark and dolorous lyrical content." (Expect this reassessment to continue: Wildflowers is slated to receive the deluxe reissue treatment next year, though a release date has not been announced.)
In Runnin' Down A Dream, Petty said the record stands among his favorites. "It was a lot of work, but I'm really glad we did it, because it's the album that I'm probably most proud of … I think that Wildflowers is a special one. It's certainly the one that hangs over my head. It's the one that I still feel like I'm competing with, to this day."