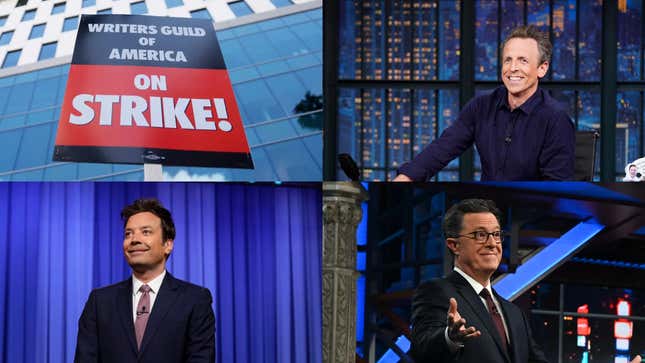 After just two days, the WGA Strike has already shaken Hollywood. Across genres and formats, TV writers are fighting against the erosion of pay, with streaming services shaking up the system in recent years. There's a backlog of filmed TV shows to stretch for at least a couple of months, so most scripted programming won't feel the effects of the current strike immediately. However, late-night TV—which can't plan its scripts in advance—went dark as soon as the Writers Guild of America strike began on May 2.
Elon Musk ignores Jimmy Fallon death hoax
"I woke up and realized there's no 'A Closer Look' to write. It was depressing," Sal Gentile, a writer at Late Night With Seth Meyers, tells The A.V. Club about the beloved segment he's supervised for almost seven years. "It's cathartic to write jokes about the news. We love our jobs. We love writing. It will drive us crazy not to have the outlet, but we are committed to our cause. I'm inspired and motivated by the solidarity I've seen so far."
Already, the four network mainstays—The Tonight Show With Jimmy Fallon, Late Night With Seth Meyers, The Late Show With Stephen Colbert, and Jimmy Kimmel Live!—have stopped taping new episodes. Sources at NBC, CBS, and ABC confirmed to The A.V. Club that they'll air reruns until further notice. It means that everyone, including the production crew and other staffers, face temporary unemployment until studios and the writers guild can resolve a fair deal.
Streaming and compensation are familiar concerns
One point of concern is the inevitable shift to streaming. The Late Show writer Felipe Torres Medina tells The A.V. Club that WGA seeks to protect future writers as studios begin to pivot. "We're thinking about what might happen with CBS intertwined with Paramount+, HBO with MAX, NBC with Peacock. They all have their services. It's clearly where they see a future. If shows are moved, it will change the compensation dramatically."
TLS is Medina's first TV writing gig that got him into the Guild. "We're asking to share the success of the content we create," he says, adding that career stability should not be considered unreasonable. "It's not just for my livelihood, which is important, but also for future writers of color and immigrants like me who want to join the Guild. We want our TV shows to have diverse writers' rooms."
Gentile, who's worked at Late Night since its inception in 2014, echoed a similar sentiment. "Nobody wants to strike for obvious reasons. It'll be difficult, but we are prepared to struggle because we've seen these tactics of shrinking the room. We saw in their proposal the idea of paying comedy-variety writers a day rate, which is unsustainable for us." The day rate is a significant point of contention because it negates a protective weekly minimum pay. As comedy writer Sara Schaefer explains in her Twitter thread, "Day rates would allow studios to hire fewer writers and overwork the writers they do hire...[It] makes an already destabilized career even more unsteady."
And while a strike wasn't anyone's first choice, the potential benefits are obvious. "I can't begin to imagine what the situation would be right now if the Guild hadn't stood up firmly in 2007. We all saw what that strike did for us and want to do it again because we love and support writers. We don't want to see our work diminish, degraded, or taken away," Gentile explains. "That's why I was in the office writing 'A Closer Look' with talented people on Monday. On Tuesday, we were on the picket lines."
The community of late night comes together
In terms of late-night hosts supporting their staff, several have spoken out in support of the WGA's demands. Meyers and Colbert opened up about it during their respective shows. Fallon answered Variety's question about it during the MET Gala. However, in response to his answer, The Tonight Show's photo research coordinator Sarah Kobos posted on Twitter that Fallon wasn't present at a Zoom meeting when NBC announced that the staff wouldn't get paid beyond week one of the strike. Thankfully, that tide has shifted, if only slightly.
Kobos, who has been with TNS for over a year, told The A.V. Club about another meeting today, during which Fallon told staff that NBC would pay them for a second week, and he'll pay them for the third. Their health insurance will be paid through September. "I can't say for sure what part the public pressure played, but I'm glad about this update. It was a short meeting during the time of our normal production meeting, but since there's no show to produce, there's not a lot to talk about," she says. "We got the update from Jimmy, and nobody said much of anything, but there were lots of 'Thank you's to him."
However, it's more likely that the strike will continue for more than three weeks, and there's no plan for what happens to the staff's livelihood then. "With the way this industry is... there have been so many layoffs," Kobos says. "I come from digital media and this is my first TV job. It's competitive. The rent is too damn high. So I hope studios can come to an agreement in these few weeks. I do support the WGA if it goes beyond that."
Since she's not a writer, Kobos isn't part of this union, although she was on the bargaining committee at her previous job at Wirecutter. "A win for writers is a win for the rest of the industry and, more broadly, the working class," she notes. "This is why I'm active in the labor movement. We are all helping each other."