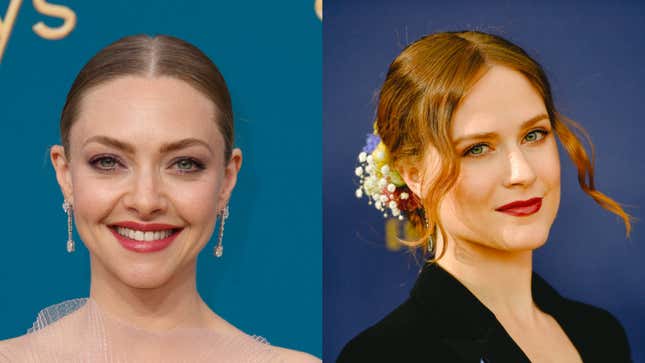 On Tuesday night, Amanda Seyfried was conspicuously absent from the Golden Globes. When she won for her performance as Elizabeth Holmes in The Dropout, presenters Mo Brings Plenty and Cole Hauser accepted on her behalf and told the audience she was absent because she was "deep in the process of creating a new musical." Seyfried later confirmed that, yes, she was working on a musical, and, no, it was not Mamma Mia! 3.
Sharon Stone made a fraction of what Michael Douglas did for "Basic Instinct"
Well, Mamma Mia! 3 it certainly ain't. Variety is now reporting that the musical is actually an adaptation of Ridley Scott's 1991 film Thelma and Louise, and Seyfried missed the Globes for a workshop. According to Variety's sources, Evan Rachel Wood is also in talks to star with Seyfried. Who would play who has not yet been revealed (though, in the opinion of this writer, Seyfried seems like a more natural analog for Geena Davis' Thelma, while Wood would fit better to Susan Sarandon's Louise).
The musical has reportedly been in development since 2021. Singer/songwriter Neko Case has been tapped for the score with Haley Feiffer writing the musical's book. Callie Khouri, who won an Oscar for writing the original 1991 screenplay, is also attached, though it's not clear in what capacity at this point. If they're looking for an editor, we hear Sarandon was plenty happy to offer suggestions for the original script.
Neither Seyfried nor Wood are strangers to musicals; aside from the Mamma Mia! franchise, Seyfried appeared in 2012's Les Miserables and previously expressed her desire to star in the forthcoming Wicked movie (a role that ultimately went to Ariana Grande). However, the actress didn't actually take to the stage until 2015, citing stage fright—a fear she must have moved beyond. For Wood, she hasn't appeared in a traditional movie musical as Seyfriend has, but has sung for her roles in Across The Universe and Frozen 2.