In 1967, Baron Wolman lived in the same neighborhood as Janis Joplin, a few doors down from the Grateful Dead, and was immersed in the drug and music scenes of San Francisco. When a group of young revolutionaries got together to start Rolling Stone magazine, the first thing they did was recruit Wolman to work (for free) as their sole photographer. From there, he hung out backstage, in hotel rooms, bathrooms, and anywhere he could to get candid and sometimes painfully honest photos of the young Dylan, Hendrix, Pink Floyd, Zappa, Who, Ike & Tina Turner, Rolling Stones, and more before and after they became icons; he also photographed the revolving lineup of groupies and dealers that traveled with them. As a collection of his photography, The Rolling Stone Years, hits shelves, we asked Wolman to dish about being an insider in one of the most exciting periods in music.
The A.V. Club: You've had a lot of intimate moments with rock icons. Is there anything you learned about them that people would find surprising?
Baron Wolman: Jerry Garcia was missing a finger. He came to my studio in 1969 and lifted his hand and showed the world there was a part of his finger missing.
I spent a lot of time with Jimmy Page; he's not at all like performer Jimmy Page. He's been clean and sober for 25 years now, and he's just a terrific guy and a great conversationalist, not a druggie like he used to be.
Phil Spector lived in a mansion in Beverly Hills surrounded by barbed wire, electric fences, and guard dogs. I don't think many people knew the extent of his intense paranoia.
G/O Media may get a commission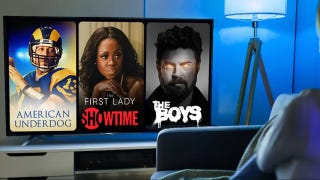 UNDER $1
99¢ Prime Video Channels
AVC: What was the backstage scene like when you were photographing these artists? Was it the hedonistic party that we've come to believe it was?
BW: I shot most of these artists before they became icons, so the backstage scene was a cool, relaxing place. Most musicians weren't doing drugs then or anything, they would just be tuning their guitars, getting in the ready-to-play zone. It was much calmer. As the bands became a bit bigger, more and more people would be backstage, and that's when the drug dealers and girls would show up. That happens anytime there's too many people backstage.
AVC: You've shot many members of the infamous "27 club." Did you see their deaths coming?
BW: The one who really surprised me was Jimi Hendrix. He didn't have an addictive personality. He had a great work ethic; he didn't need drugs to perform, which is why it was such a surprise. The others were not. Jim, no surprise. Janis, no surprise. They were definitely victims of their own excess. Amy Winehouse—I don't have any feelings about Amy Winehouse. She battled addiction forever.
AVC: Being a pioneer of raw, intimate photos, how do you feel about all the setups, Photoshopping, and airbrushing that dominates artist press photos today?
BW: I find them boring. I find them so boring. There are so many photographs of everybody, but nothing is new or exciting or catches your eye. When I was taking photos, no one had ever seen these people before. I gave readers their first look at the bands they loved. Here's the problem: When everyone's got a camera, everyone's a photographer, it's very hard for good photographers to bubble to the top of the cauldron.
Quit it with the Photoshop. That's my opinion. I'm bored at looking at these musicians. I'm bored.
AVC: What's your biggest pet peeve when it comes to artist photos?
BW: Bands make a big mistake by not giving photographers all-access. The access that I had back in the '60s and '70s made it so I could get the most intimate, most surprising, most compelling photographs. Artists nowadays are surrounded by layers and layers of PR people whose favorite word is "NO." You ask them for anything, they say, "No."