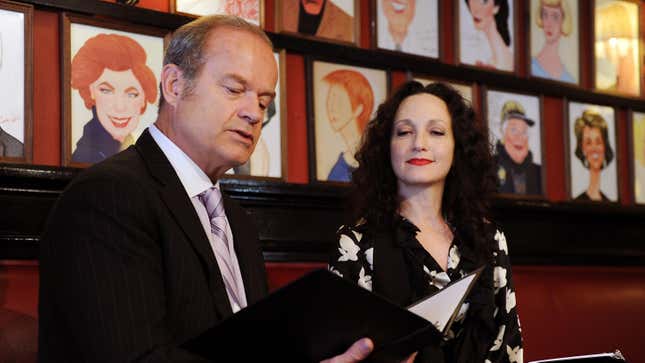 Of all the people to make their way back to Frasier, Lilith, the bane of Frasier's existence, the woman who threw his heart in a Cuisinart and hit purée, is returning to make Dr. Crane's life a living hell. Per Variety, Neuwirth will attend her and Frasier's son's birthday party. The description reads:
When they reunite at Freddy's birthday party, Lilith, in classic form, is far from pleased about having to share Freddy (Jack Cutmore-Scott) now that Frasier is back living in Boston. What begins as a fun party with friends and family, inevitably becomes a Lilith-and-Frasier showdown for the ages!
Arden Cho on "Partner Track" and Olivia Benson
As Lilith, Bebe Neuwirth has been ruining Frasier's life since 1986 when Kelsey Grammer's character rolled into Cheers with her on a date. Despite his desire to strike her in her first appearance, the couple married, divorced, and earned Neuwirth two Emmys for Cheers and several more appearances on Frasier.
Lilith is, somehow, the only holdover making her way to Boston for the Frasier revival thus far. Obviously, the hope is that more barflies from Cheers will appear, seeing as none of the Seattle crew will be. Still, if it's just Frasier and Lilith tossing barbs at each other over a fine Bordeaux, we won't complain.

The first episode of Frasier makes Lilith a bedrock for the whole series, with Frasier explaining, "Six months ago, I was living in Boston. My wife had left me, which was very painful. Then she came back to me, which was excruciating." We can only imagine how her return will make Frasier feel. If we had to guess, it would probably require Frasier to upgrade his parka because the forecast in Boston will be positively frigid with Lilith there.