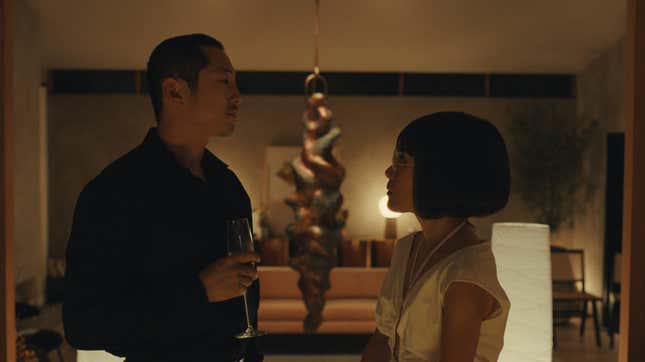 Netflix's Beef pulsates with tension right from the get-go. The show opens with two strangers almost colliding in a retail store parking lot, which kicks off an intense car chase between contractor Danny Cho (Steven Yeun) and plant entrepreneur Amy Lau (Ali Wong) through the posh streets of Calabasas and sets the stage for a season-long game of cat and mouse. The idea of a road-rage incident gone wrong might sound limiting, but Beef transforms it into a thought-provoking and insidious character study. While it could've benefitted from a shorter run (with 10 half-hour episodes the series gets slightly cyclical), Beef is one of 2023's most fascinating new shows.
Created by Lee Sung Jin, the dark comedy dives into the nitty-gritty of Danny and Amy's personalities as they seek revenge. Their feud starts with silly revenge tactics (think bad Yelp reviews and peeing on the bathroom floor), but their satisfaction proves this beef has released some pent-up frustrations. So, of course, they escalate it to dangerous heights, infiltrating each other's personal and professional lives with nail-biting execution. How far will they go? Who else will they involve? Will anyone find out what they're doing? What's their goal? These questions simmer throughout, and Beef dispenses answers engagingly and with subversive twists (you can expect the unexpected). In that sense, it's a successful, anxiety-inducing thriller.
However, Beef's endearing crux isn't the suspense, which does keep you on the hook until the end. It's the daring script elevated by flawless performances from both actors. Wong—a stand-up comedy star with movies like Always Be My Maybe under her belt—is a revelation in this dramatic, career-best role. Her presence commands the screen, especially once Amy grapples with her faux "happy marriage" with her husband, George (Joseph Lee). Wong is entirely riveting, particularly in episodes helmed by Jin or director Jake Schreier. They often zoom in on her face, like in episode seven's crushing therapy scene, allowing Wong to effectively communicate Amy's pain during a monologue.
Oscar nominee Yeun is enigmatic as Danny (think of him as a flipped-out version of Burning's disquieting Ben). Here, the actor is often delirious and loud, but each time Beef puts him through the wringer—which happens pretty often—it still puts a dagger through your heart. Whether breaking down in a church, physically fighting with his sibling, or rage-driving across L.A., Yeun's seething is always accompanied by sensitivity. The lead duo doesn't share screen time often, but goddamn, Beef is electric whenever they do.
Their connection is nowhere near romantic, but they share a dark kinship even if they don't see it. Beef's beauty lies in smart writing that draws parallels between Amy and Danny despite their different backgrounds. It's a layered exploration of their Asian American identities. She has a luxury small business that she's about to sell for millions; Danny is an immigrant from South Korea struggling to make a living, often committing petty crimes and scams. She has a lavish, minimalist house with George and their daughter Junie (Remy Holt); he shares a small apartment with his younger brother Paul (Young Mazino) and hopes to move his parents to America.
Yet their surprising similarities connect them and explain their poor decision-making. They face pressure from family, fervent loneliness, depression, and a blinding need to scream away the agony. But they have no idea how to deal with it all in a healthy way, so going after each other, as ridiculous as it may be, helps relieve the tension. However, these traits also help humanize them. It's a tough needle to thread because Amy and Danny loathe each other and could appear awful and childish in their actions. Somehow Wong and Yeun's powerful work ensures that doesn't happen as they bring magnanimity to their respective roles. This is really why Beef works as well as it does.
Amy and Danny would have never met without the inciting road-rage incident. That said, they also never would have found the only person who might "get them." Beef explores how powerful it can be when another person sees and accepts you for who you are, as twisted as it might be. The show takes a while to get to its thesis, which subtly unfolds across the season. There's a slight whiplash from an action-heavy penultimate half-hour ahead of the surreal finale. And Beef marginally suffers because Amy and Danny's feud gets repetitive. However, none of it detracts from the magic Wong and Yeun create. Seriously, Emmy voters better be watching. Boosted by tremendous editing, cinematography, and an impressive supporting cast, Beef is ready for its (Michelin) star.
---
Beef premieres April 6 on Netflix.