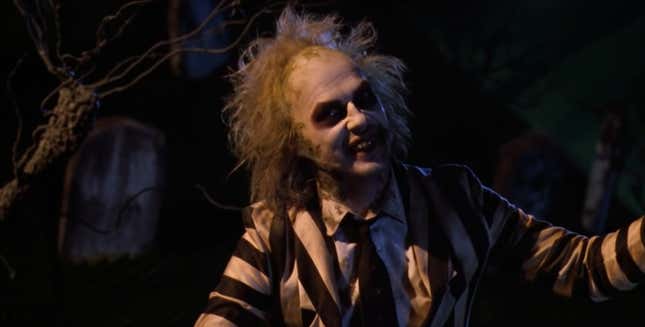 It's showtime.
Attention: K-Mart shoppers, the long-rumored, frequently promised, totally undead Beetlejuice 2 finally has a release date. Fans can check out updated editions of the Handbook For The Recently Deceased on September 6, 2024. Unfortunately, the announcement proves once and for all that it takes more than saying his name three times to get this guy to show up at a movie theater.

Michael J. Fox always thought the Oedipal stuff in "Back To The Future" was strange
To mark the seance that brings Beetlejuice through the crudely drawn door of development hell, director Tim Burton calls all spirits past and future to set. Michael Keaton will, once again, don the white make-up and pin-striped suit as the lecherous Juilliard and Harvard Business School Graduate. So, too, is Winona Ryder, resuming duties as Lydia Deetz, the object of Beetlejuice's wanton desire. And as a bid to get those pesky young people into a movie and off their dang TikToks, Jenna Ortega is coming aboard the good ship Juice, playing Lydia's daughter. Per Variety, Justin Theroux is also in this thing, and it's set to start filming in London on May 10, which seems hard to imagine, considering the writer's strike, Beetlejuice sequels rarely get made, and that's tomorrow. But, hey, Warner Bros. is nothing if not optimistic.
However, the rest of the cast is less certain. As things stand today, it seems unlikely that disgraced actor and registered sex offender Jeffrey Jones will return for the movie. However, now that Alec Baldwin's legal troubles are over and he's returned to the Rust set, maybe he'll elongate that nose and put eyeballs on his fingertips with Geena Davis (who has not been cast) again. The only question is, why hasn't Catherine O'Hara been cast yet?

Unfortunately, it does not seem like the movie we're getting is Beetlejuice Goes Hawaiian, the unmade follow-up in which the Deetz's move to Hawaii, giving Beetlejuice the opportunity to go Hawaiian. It kind of sells itself, right? Beetlejuice wears a Hawaiian shirt and leis; maybe he surfs in a scene. The movie would've starred Ryder, who visits her parents at the Hawaiian resort they built. However, in a very Brady turn of events, Lydia's father constructed the getaway atop a sacred Hawaiian burial ground. It's classic Beetlejuice stuff, with one awful and annoying ghost attempting to shoo away other disruptive ghosts.

The sequel was, obviously, never made, but Beetlejuice Goes Hawaiian became the stuff of legends, with many believing the pitch was intentionally bad so the studio wouldn't go for it. Of course, that flies in the face of conventional wisdom. When has a studio ever turned down a sequel because of a stupid premise? So the proverbial volleyball that is a Beetlejuice sequel remained in the air for the next three decades.
Will the ghost with the most wear a floral print shirt in Burton's sequel? We'll be following this story as it develops.