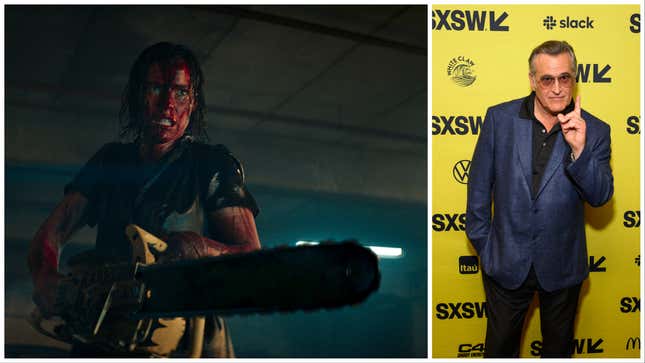 Bruce Campbell didn't spend a career caked in Karo syrup to deal with an ill-mannered public. Fortunately, he's as equipped to deal with drunken hecklers as he is with Deadites.

At last night's SXSW Evil Dead Rise premiere, one surly, foul-mouthed, phone-obsessed audience member decided they had enough during the post-film Q&A. While it's always best to reserve your opinions until after exiting the theater, our lowly protagonist decided to yell, "This movie fucking sucked."
Bruce Campbell, who made a name for himself by attaching a chainsaw to his arm and getting abused on set by director Sam Raimi, doesn't have time for this crap. "What are you doing here?" Bruce Campbell replied as ushers escorted the heckler from the theater. "Get the fuck outta here."
"I don't get it," said producer Rob Tapert. "He waited all the way through the credits!"
Evil Dead Rise premiere heckler
The scene was a chaotic one for a chaotic movie. One audience member, who spoke to The A.V. Club via text, told us the heckler spent the movie texting and sleeping before his outburst. "He looked very comfortable when he was passed out, and quite frankly, it was hysterical," Austin native Tim Rinkerman told The A.V. Club. "He was also texting throughout the movie, which is almost more disrespectful than passing out."
G/O Media may get a commission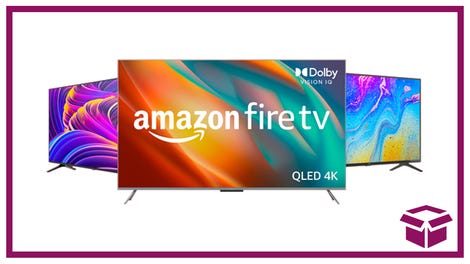 Ooh. stunning.
New Amazon Fire TVs
As is the case with these festival screenings, and really any screening these days, drinking in theaters has made for rowdier screenings. So much so, The Alamo Drafthouse began hosting "rowdy screenings" around the time of Cats' release.  Still, Rinkerman said the vibe in the room was overwhelmingly positive. "The overall atmosphere of the premiere was a bit of a party," Rinkerman said, "so for some one who was in one of the best seats in the house to be a little brat was surprising."
Per Variety, SXSW Film and TV Programmer Peter Hall, who also moderated the Q&A, noted that the audience response did not mirror the heckler. "I've been doing South By for a long time," he said. "I've seen a lot of movies in this theater—I have never seen an audience that insane."
Evil Dead Rise opens on April 21.

Gabrielle Sanchez contributed reporting to this article.