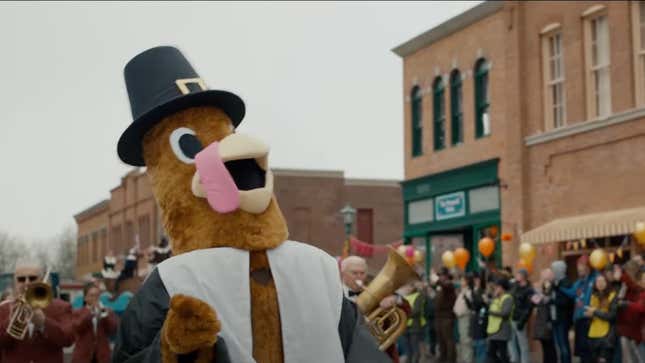 The prophecy has finally been fulfilled: Eli Roth's Thanksgiving is a real movie, and it has a teaser. The film, which began life as a gag in Quentin Tarantino and Robert Rodriguez's Grindhouse, will now officially premiere on November 17—and a teaser released on Thursday breathes new life into an old faux-classic.
The A.V. Club's weekly film round up
Longtime Thanksgiving fans will be glad to see some of the memorable moments from the original trailer in the new teaser, including the Thanksgiving Day parade and the cheerleader bouncing on a trampoline in the gym. (Whether she goes out the same way she does in the Grindhouse version remains to be seen.) The slasher has some new tricks up its sleeve, as well, including a gruesome kill in a walk-in freezer. After more than 15 years of fan fervor over the fake film's taglines ("You'll come home from the holidays... in a body bag") the new Thanksgiving poster proudly reminds us all, "There will be no leftovers."
Roth previously recalled to Entertainment Weekly being asked, alongside Edgar Wright and Rob Zombie, to make a faux-trailer. "Quentin was like, 'We're doing this thing called Grindhouse,'" he said. "'There are going to be two 60-minute movies. We want some fake trailers, and we want you guys to each do one.' We were like, 'Fuck yeah!'" (Rodriguez made his faux movie, Machete, in 2010.) The filmmaker has been talking about making Thanksgiving pretty much since then, musing in 2009 (via ScreenRant) that "There's an energy to that Grindhouse trailer for Thanksgiving that, for me caught the spirit of the movie."
Thanksgiving's spirit is brought to life by stars Patrick Dempsey, Addison Rae, Milo Manheim, Jalen Thomas Brooks, Nell Verlaque, Rick Hoffman, and Gina Gershon. Roth co-wrote the film with Jeff Rendell. Get ready to eat good this holiday season!