Taking down serial abusers is important, but it's not the only action required to do away with systemic sexism in any industry, including Hollywood. In order to see real change, we have to root out inequality in every aspect of the business, including pay disparity. That battle was well underway before the ongoing revelations about predators in Hollywood, with recent shots coming from Beyoncé, Sandra Bullock, and Kristen Bell. Now Ellen Pompeo's lent her voice to the wage gap fight in an illuminating interview with The Hollywood Reporter.
Pompeo, who's played Dr. Meredith Grey on Grey's Anatomy for 14 seasons now, spoke of her longstanding fight for equal pay—and in some cases, higher earnings. She was initially skeptical of committing to a TV schedule when she first auditioned for Shonda Rhimes' influential medical drama, but says financial security has always weighed heavily on her mind. Speaking of younger actresses with some major films in their list of credits, Pompeo notes, "these poor girls have no real money, and the studio is making a fortune and parading them like ponies on a red carpet. I mean, Faye Dunaway is driving a fuckin' Prius today. Now, there's nothing wrong with a Prius, but my point is, she had no financial power. If we're going to invoke change, that has to be part of it."
The actress—who has her own production company, Calamity Jane—was always keenly aware of what she deserved to be paid, even if she didn't actually ask for it. But she credits Rhimes with empowering her to ask for more money time and again; the Shondaland founder insisted she "decide what you think you're worth and then ask for what you think you're worth. Nobody's just going to give it to you."
Things didn't go so smoothly in her first attempt to boost her pay; Pompeo tells THR that in 2015, she asked for $5,000 more per episode than what her former co-star Patrick Dempsey made when he was on Grey's, because "the show is Grey's Anatomy and I'm Meredith Grey." Dempsey might have made a big impression as McDreamy, you see, but Pompeo's role, including that familiar voiceover, was an intrinsic part of the show. The network turned her down, though: "They wouldn't give it to me." Pompeo worried she was being greedy or difficult, citing her own working-class upbringing as a source of guilt, as well as social conditioning of women in general:
Or maybe it's just that as women, that's our problem; a guy wouldn't have any problem asking for $600,000 an episode. And as women, we're like, "Oh, can I ask for that? Is that OK?" I'd call Shonda and say, "Am I being greedy?" But CAA compiled a list of stats for me, and Grey's has generated nearly $3 billion for Disney. When your face and your voice have been part of something that's generated $3 billion for one of the biggest corporations in the world, you start to feel like, "OK, maybe I do deserve a piece of this."
G/O Media may get a commission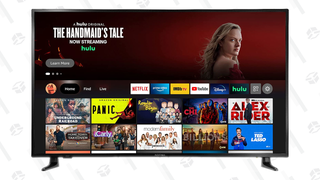 38% Off
Insignia 50" 4K UHD Smart TV
But Pompeo not only pressed on as Dr. Grey—even after Rhimes herself picked up stake and moved to Netflix—she is now the highest-paid actress in a TV drama. She recently signed a new deal for $20 million a year, or $575,000 per episode. Pompeo also netted a "seven-figure signing bonus and two full backend equity points on the series, estimated to bring in another $6 million to $7 million." Not only that, but she'll get a producing fee for the still-untitled Grey's Anatomy spin-off that debuts this spring, as well as put-pilot commitments from Disney. And this doesn't even touch on the deals she has in place with Disney for a legal drama, or the anthology series about American fashion designers that she's putting together for Amazon. Dempsey, meanwhile, left the show a year ago, and though ABC quickly shoehorned another love interest in the form of Martin Henderson, he too is leaving Grey's. Pompeo remains one of the few original cast members, but it sounds like it's now worth her time.