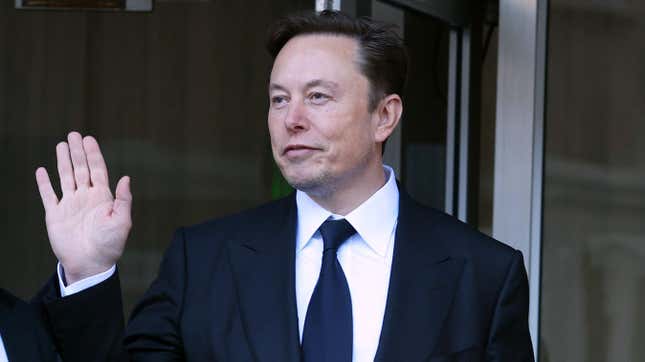 The state of Twitter for the last few months has been nothing short of a dumpster fire, with new policies being instituted (before almost immediately being undone), messy company-wide layoffs, and code so glitchy that getting videos to load properly is increasingly rare. Even so, the day had finally come for one of Twitter CEO Elon Musk's most hated newer policies to come into effect: removing the free verified checkmarks from accounts. Yet, while most companies and public figures still held onto their verified blue checks past the April 1st deadline, The New York Times' main account wasn't quite as lucky.
Elon Musk ignores Jimmy Fallon death hoax
Per NBC News, The New York Times' account (which currently has about 55 million followers) lost its official blue checkmark on Sunday, following the news publication's announcement last week that they wouldn't pay the $1000 per month business fee for the new verification process. Things seemed to get expedited though when Musk was informed by a Twitter user of the company's plans.
"Oh ok, we'll take it off then," replied the Tesla CEO via his Twitter on Sunday.
That wasn't the end of the situation, though, as Musk eventually sent out tweets not too long after voicing his disdain of The New York Times, including calling their reporting "propaganda" and writing that their Twitter feed is the "equivalent of diarrhea."
"They would have far more real followers if they only posted their top articles," wrote Musk in one of his tweets. "Same applies to all publications."
While this whole process seems to be a push by Musk for more users to pay up with a subscription to Twitter Blue, it doesn't seem like the site has even implemented the policy fully, with some of The New York Times' other accounts like NYTimes Tech and NYT Photo still holding onto their verified status. Even so, most users on the site have been pretty blasé about losing their pre-Musk checkmarks. Talk of the new policy even reached the premiere of The Super Mario Bros. Movie, where true man-of-the-people Jack Black made it wouldn't be partaking in any of the purchased checkmark shenanigans.
"I'm a little embarrassed by the blue check, to be honest with you," Black told Variety. "Maybe it's cooler not to have checks. It's definitely not cool to pay for it."