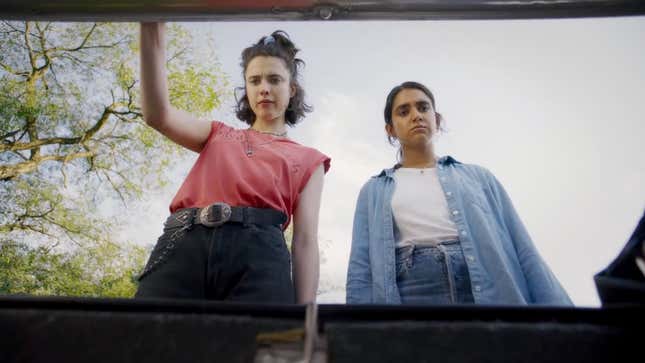 If Ethan Coen is directing a kooky lesbian crime comedy, you already know it's one of the year's most anticipated films. Now that we have a trailer to admire, that's especially true. In his first scripted feature not helmed alongside brother Joel, this Coen bro brings Drive-Away Dolls to life in what looks like an absurd and entertaining caper.
Alan Cumming talks "The Traitors," "Cabaret," and "Schmigadoon!"
The film stars Maid's Margaret Qualley and Miracle Worker's Geraldine Viswanathan— one of The A.V. Club's hopeful next great rom-com stars—as two women on a road trip to Tallahassee in hopes of a fresh start. The high-spirited Jamie (Qualley) is a perfect match for a demure Marian (Viswanathan). Even if Jamie says in the trailer that she doesn't believe "love is relevant to the 21st-century lesbian," romance could and should definitely bloom along the way. Their journey goes awry once they realize the car they rented belongs to notorious gangsters.
Jamie and Marian discover a bag full of something suspicious in the trunk of their rental. Is it drugs? Money? Body parts? We won't find out until the movie is out, but we know it leads to Colman Domingo's criminal on the warpath. They go on the run and get help from Beanie Feldstein's police officer. A whole lot of notable actors show up in the trailer, including Matt Damon, Bill Camp, and Miley Cyrus (don't you dare discount her performance in Black Mirror's "Rachel, Jack, And Ashley Too"). The ever-present Pedro Pascal is also in the film, along with several others in the pipeline.
Coen has co-written the script with his wife, Tricia Cooke, with Focus Features distributing. Drive-Away Dolls will release in theaters on September 22.