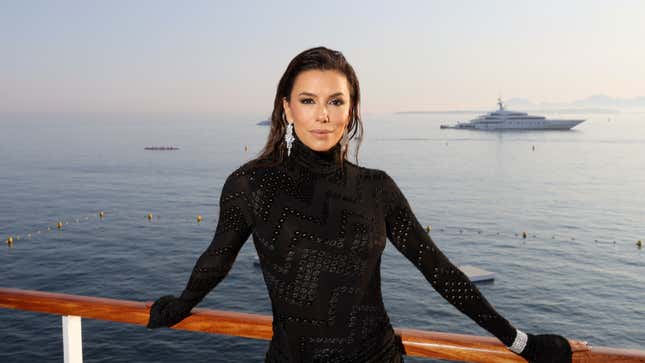 More than two decades into her career, Eva Longoria is still finding new things to accomplish; this year, she'll make her feature film directorial debut with Flamin' Hot, an origin story following the Frito-Lay janitor who invented the eponymous Cheetos. But as Longoria explains, the long journey she's taken to arrive at helming a major studio film illustrates a larger problem in the industry: the lack of opportunities made available to Latinas.
How the "Wakanda Forever" stars found a common language
"We don't get a lot of bites at the apple," Longoria said about Latina directors following a talk at Cannes Film Festival yesterday (per Variety.) "My movie wasn't low budget by any means — it wasn't $100 million, but it wasn't $2 million. When was the last Latina-directed studio film? It was like 20 years ago. We can't get a movie every 20 years."
According to Longoria, the uneven distribution of the metaphorical industry apple has less to do with how many talented Latina directors are out there than with an industry standard that continually favors white men.
"The problem is if this movie fails, people go, 'Oh Latino stories don't work…female directors really don't cut it.' We don't get a lot of at-bats. A white male can direct a $200 million film, fail and get another one. That's the problem. I get one at-bat, one chance, work twice as hard, twice as fast, twice as cheap."
For Longoria, part of the draw of directing Flamin' Hot was the opportunity to tell a real story of Latino excellence, populated with characters that Longoria sees reflected in her own community. But as Longoria explains, that shouldn't be a rarity when Latinos are doing more than their fair share of work in supporting cinema, especially at the box office.
"28% of ticket buyers at the box office are Latino. Your film will not succeed if you don't have the Latino audience," Longoria says. "Do you know how many Latinos showed up for Crazy Rich Asians? Do you know how many Latinos bought a ticket for [The] Fast and the Furious? We over-index at moviegoing, so why shouldn't there be content for us if we are the ticket buyers? If we are the viewers? … For me, I take great pride in throwing around that buying-power weight. If you don't speak to us, we may not buy that movie ticket."
Flamin' Hot premieres on Hulu and Disney+ on June 9, 2023.