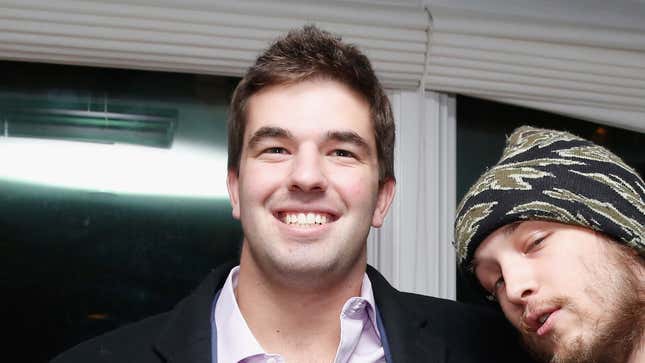 Billy McFarland is currently serving six years in a medium-security prison for the schadenfreude-laden grift that was Fyre Festival, a luxury music festival that left its upper-crust clientele stranded on a Bahamian island and screwed island locals out of a payday. He's doing fine by all accounts, having become Scrabble buddies with The Situation (seriously), and, per New York, is working on a Jordan Belfort-inspired memoir that you didn't asked for but will nevertheless want. Why? It's called Promythus: The God of Fyre, and it's said to explore the "raw" story that McFarland feels wasn't illustrated in the two Fyre Festival documentaries from earlier this year. Oh, he also says the festival is "happening again," though he probably shouldn't underestimate the pagan energy of Blink-182's Matt Skiba.
Why Robert Rodriguez still loves "Spy Kids"
This info comes from Josh Raab, a freelance editor who was sought out by McFarland and his girlfriend, model Ana Eremenko. McFarland apparently wrote the book longhand, sending his notes to Eremenko to type up. Raab, meanwhile, spent weeks on the phone with the would-be writer, who said his book "chronicles his career from the first investment in a now-shuttered start-up back in 2011 to the FBI paying him a visit days after the festival imploded."
Raab was reportedly provided "a bullet-pointed, name-dropping list of selected stories" that of course includes "cameos from members of the Trump administration." He also met with Dog Shit Media publicist Brandon Rubinshtein, who said they planned to enlist Andy King—the much-memed event producer who, in Netflix's documentary, revealed that he nearly traded sex for water on McFarland's behalf—to help shill for the book. Rubinshtein also apparently said that Ryan Seacrest has aims on remounting Fyre Festival—Seacrest's camp denied this—and that Steve Jobs biographer Walter Isaacson was involved with the memoir, which was news to Isaacson.
Raab eventually backed away from the project, but Promythus could very well see the light of day. McFarland apparently planned on self-publishing it on Amazon late last month, but, as of this writing, it remains in the wind. Somewhere, Ja Rule is sweating.