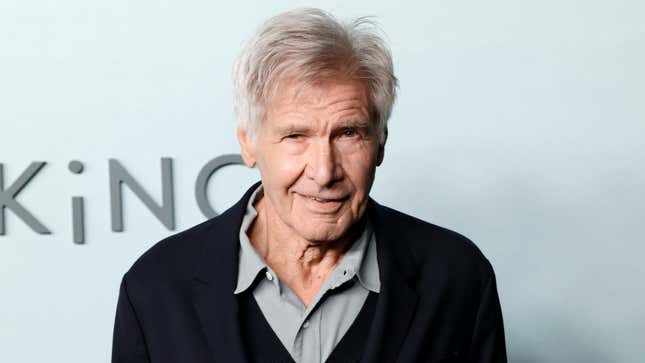 Harrison Ford is enjoying a fruitful period (Shrinking, 1923, and the upcoming Indiana Jones And The Dial Of Destiny) in a uniquely fruitful career. But Ford, of course, is as down to earth as ever in a new Hollywood Reporter profile, which is emblazoned on the cover with the quote: "I know who the fuck I am." Iconic actor behaves iconically, and more breaking news at eleven.
But seriously folks, this is an interview littered with gems, including his perspective on his first-ever television comedy, Apple TV+'s Shrinking. "Would it be arrogant to say that I didn't learn anything?" He says when asked. "Well, look, I really didn't learn anything. (Laughs.) It's about being in the room where it happens and being appropriate to the circumstances and welcoming the opportunity to generate something with a little spontaneity and a measure of truth."
Elsewhere in the interview, Ford discusses topics like no longer rescuing people when he flies his helicopter ("I stopped doing it because we would be lucky enough to find somebody and then they'd be on Good Morning America talking about 'a hero pilot.' It's nothing fucking like that. It's a team effort. It's lame to think about it that way"), whether he had an emotional response to donning Indy's fedora for the last time ("Look, it was bizarre to start with, and it's bizarre again"), and his reflections on philosophy ("I found that everything in nature—the complexity, the biodiversity, the symbiotic relationships—is the same thing other people attribute to God. … Now aren't you glad you asked that question? You want to get back to the funny shit?").
Ford also recalls being "fucking terrified" when he "first went onstage," but attributes the feeling to "being unfamiliar with the territory." He dismisses a prevalent fan theory, based on how closed off he sometimes seems in press appearances, that he may have social anxiety. "Shit. That sounds like something a psychiatrist would say, not a casual observer," he says, quite fairly. "No. I don't have a social anxiety disorder. I have an abhorrence of boring situations." Now that's a movie star!