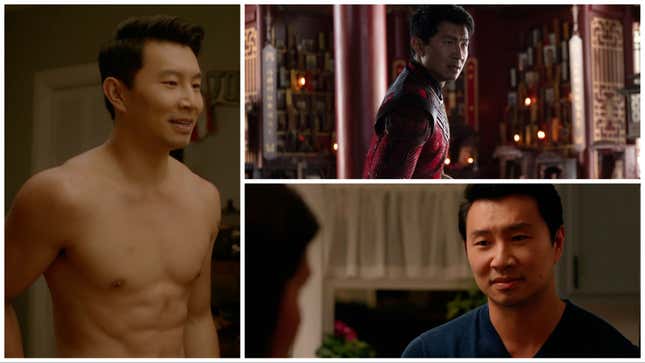 Simu Liu may be best known for playing the titular superhero in Marvel's Shang-Chi And The Legend Of The Ten Rings, but there's also a rom-com side to the Canadian actor, which he gets to show off in as Sam in One True Loves, a new romantic drama in which he plays a man who falls in love with a woman whose presumably dead husband suddenly returns. And this summer he gets to move even further away from the Marvel Cinematic Universe with his role in Greta Gerwig's upcoming film Barbie.
Dwayne Johnson on why "Black Adam" was the movie he had to make
The A.V. Club spoke with Liu recently via Zoom about his new films, who he'd like to see Shang-Chi team up with in the MCU, and his early breakthrough role as Jung Kim on the Canadian TV comedy, Kim's Convenience, which has found an American audience thanks to Netflix.
---
The A.V. Club: What's more challenging to you as an actor: a romantic movie that may involve sex scenes, or a superhero movie like Shang-Chi And The Legend Of The Ten Rings with a lot of action?

Simu Liu: [Laughs] On a physical level, I don't think anything beats the preparation regime for a superhero movie. Working out six hours a day for four months straight will definitely be more physically taxing, but that's not to say that there aren't challenges for roles like One True Loves as well. The challenge is in the nuance, right? It's in, are you as a team able to add to the conversation about love in a meaningful way? Is there something more to say about love that hasn't been said? We're not setting out to pass the time for two hours for a moviegoing audience. We want to give people something different. While it's not weightlifting, it's getting really honest, vulnerable, and digging deep. Both types of preparation are very fulfilling in their own ways, but I'm just happy as an artist that I got to experience both.
AVC: In One True Loves, you play Sam, the guy Emma (Phillipa Soo) falls in love with after her husband disappears and is presumed dead. Help us understand why the husband, played by Luke Bracey, couldn't contact her after his disappearance.
SL: I don't think it's a spoiler to say that he was, shall we say, away from technology and away from humanity for a very long time.
AVC: Sam is there for Emma after she thinks she lost her husband. What made you want to play Sam?
SL: I think Sam is a very refreshing take on a male romantic lead character. All of the rom-coms that I grew up watching had very brazen, very bold romantic leads. I don't think any of those things are inherently bad traits, but I feel like I have been conditioned to idolize this idea of the grand romantic gesture.
What is really great and healthy about Sam is that he is, first and foremost, tuned to what his partner needs. That is the most important thing to him: to provide a space of safety where his partner can deal with the trauma that she obviously faces from losing her husband so shockingly and abruptly.
I hope that young boys, especially, will take a lesson from that and grow up in this day and age with different skills than people of my age who were conditioned by the rom-coms of our era. We had this traditional masculine idea that we had to fight and shout, not listen. Listening is the most important thing you can do as a partner.
AVC: We also have to talk about the Marvel Cinematic Universe. How invested were you in the MCU before you came on board as Shang-Chi? Were you a fan who saw all of the movies? 
SL: Yeah, I had seen every single one. I tweeted multiple times, 'Hey, Marvel. How about an Asian superhero?' I was well on my way to being a superfan. I love superhero movies. I think superhero movies speak to the inner misfit in me—the person who never felt like he fit in, who asked if there was something more, or a greater destiny, or a chance that I could become something greater. Some of the first movies that I watched after emigrating to Canada were Star Wars, The Lord Of The Rings, and the Jurassic Park movies—really big cultural-movement movies that don't require a super-high grasp of the English language in order to understand. As an only child, these movies transported me to another world and immersed me in something totally different.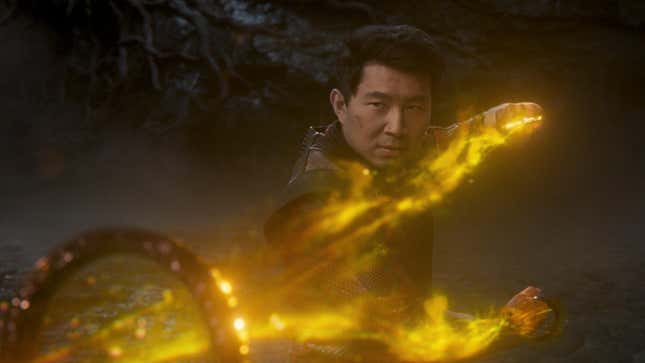 AVC: What's next for Shang-Chi? If there's another Marvel team up, like how Thor was paired with Hulk in Thor: Ragnarok, who would you like Shang-Chi teamed up with?
SL: I know what movie I'm going to be in next, but that doesn't mean I'm going to tell you, unfortunately. [Laughs] I'm sworn to secrecy! As far as the character I would most want to team up with, I'm such a big fan of Korg. I think Korg and Shaun would have lots of fun banter while going on adventures and fighting crime.
AVC: Your Shang-Chi costar Michelle Yeoh just won a Best Actress Oscar. What did her win mean to you and did you reach out to her?
SL: Yes, I texted her like probably hundreds of other people—I'm sure her phone must have been blowing up. She was such a bright spot in our filming process and I'm still so awestruck that I even got the chance to work with her. There is such a warmth about Michelle. She's a hugger, has a radiance about her, and really takes the time to speak with everyone. Some of the characters that she plays are very intimidating, abrasive, and blunt, but she is not that way to me at all. She deserves every ounce of the accolades that she has gotten over the past few months. She is such an icon and a legend.
AVC: Is it true you're playing a version of Ken in Barbie?
SL: I could not be more excited for people to watch Barbie and I genuinely feel that the less they know going in, the more they are going to be blown away. I'm going to bite my tongue on that, too. Lots of dancing, music, and spectacle will unfold on July 21!
AVC: Is there a character you've played that you'd like to revisit? 
SL: Early in my career, I was lucky to do a show called Kim's Convenience. We did 65 episodes across five seasons. I got to play this character, Jung, who was a bit of a bad boy dealing with his own father issues. I would love an opportunity to step back into that character. And by the way, Sam [from One True Loves] is not a bad answer either. He's such a sweet, sensitive soul and also really good at piano. I had to do some piano lessons prepping for the role and would like to do it again!
AVC: Do you have a guilty pleasure that people would be shocked to learn about?
SL: I'm a bit more of a gaming nerd than a lot of people know. One of my favorite guilty pleasures is getting a bunch of friends together, pulling out our laptops, and playing some games together. Also, I don't know if people would be shocked, but I am obsessed with dogs. My dog has an Instagram account!
One True Loves is in theaters on April 7 and on digital April 14