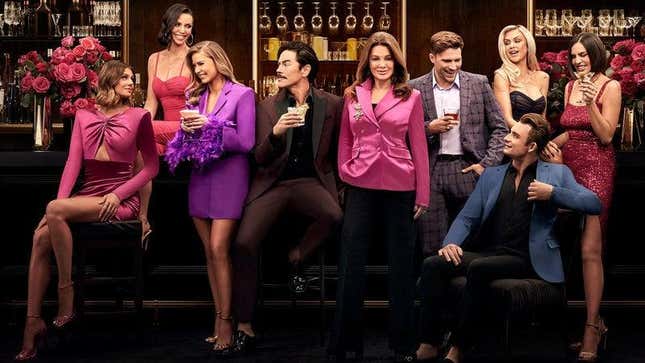 The phrase "previously on Vanderpump Rules" has rarely felt so urgent. As if an atomic bomb went off in the center of West Hollywood, the Bravo-verse lay in dust and rubble, a radioactive no man's land following the news that Tom Sandoval cheated on Ariana Madix with fellow cast member Raquel Leviss. The end of an era doesn't begin to cover it; Tom and Ariana's relationship has been a bedrock of the series since season two when the pair cheated on Tom's then-girlfriend, disgraced Vanderpump legend Kristen Doute.
Patricia Arquette on "High Desert," "Gonzo Girl," and the threat of AI
Now People reports the show is considering bringing Kristen back to comment on the cheating scandal. Despite having "put the show behind her," People's source says, "she's considering it." The return of a once-critical cast member, particularly when the show is starting to resemble its former glory, is undoubtedly a shock, but one that aligns with the show's thesis statement: The truth always comes out.
"It'll depend if Ariana wants [Kristen] to do it and is comfortable as that's the only way she would ever go back on the show," People's source continues. "It's a conversation she and Ariana are having right now. The girls have all been spending time with Ariana."
Kristen and fellow original cast member Stassi Schroeder were fired from the show in 2020 after former Vanderpump featured player and SURver Faith Stowers accused them of giving Faith's name to a police tip line over a crime she did not commit. The accusations had merit. Faith, who is Black, said she learned about this from an interview with Stassi. While neither Stassi nor Kristen has been seen by Bravo's cameras since, they've never been far from the original gang on social media, either. And, despite their past rivalry, Kristen fully proclaimed herself "Team Ariana."
"I love you so much," Kristen told Ariana in an Instagram video of the pair hugging and kissing. "I love you more than anything in the whole wide world, and I'll kill people for you."
Infidelity is always on tap at SUR. Even casual viewers probably remember Kristen dragging "Miami Girl" from the Florida Keys to, get this, accuse Tom of cheating on Ariana. For years afterward, Kristen cursed the names Tom and Ariana, spending seasons of television trying to ruin their relationship. Kristen really wanted to nail his ass, and she made it clear over the weekend: His ass is nailed. Hypocrisy is both a high crime and a common trait on the show, but how Tom's cheating came to light is particularly scandalous.
The trouble began last Wednesday when Ariana came out to support Tom's band, Tom Sandoval & The Most Extras, at the release show of their new single. During or after the show, Ariana reportedly found a video of an explicit FaceTime between Tom and Raquel. Over the next couple of days, the world's Bravo-holics fought off sleep and Screen Time passwords to lap up every bit of gossip and hint of finding out what Tom Schwartz knew and when he knew it. Photos of Ariana packing her bags and supposedly moving out of Valley Village were all over the tabloids. Tom released an expected Notes app apology, criticized by other cast-mates, like Lala Kent, who is also going through a public breakup.

Online sleuths also began digging into previous media appearances for clues about Tom's infidelity. Hours after stopping by The A.V. Club offices, Raquel and series MVP Schaena Shay appeared on Andy Cohen's Watch What Happens Live, in an appearance that Cohen has since likened to the Zapruder film, Raquel let her attraction for Sandoval slip in a lightning round of questions. On his SiriusXM show, Cohen revealed that he overheard Scheana and Raquel discussing the round while the show took a commercial break. Cohen said, "Scheana said to Raquel, 'You know, I only picked Sandoval because I knew you were gonna pick Schwartz.' And Raquel said, 'Well, Sandoval has abs.'" After the taping, the pair reportedly had a "heated confrontation."
Kristen Doute's return signals an openness to bring old cast members back. Earlier today, fellow disgraced cast member Jax Taylor announced he would stop by Watch What Happens Live to talk Scandoval. It wouldn't take much to see this and Kristen as a testing of the proverbial waters of bringing them back.
Bravo's attempt at moralizing the cast has always been hollow. If it weren't, Southern Charm, a show about rich white people getting drunk on a plantation, would've been canceled along with Kristen and Stassi. Their crimes remain disgusting, but let's not pretend that the show hasn't been celebrating and encouraging toxic behavior for over a decade; it's practically in the job description. Andy Cohen and the rest of the powers at Bravo are letting the audience decide, floating the idea of bringing Kristen back without actually going to the full nine, at least, not yet. Maybe they think she's learned her lesson, but more likely the promise of bringing an infamous agent of chaos back into the fray at this moment is too tempting to ignore.