Here's what's up in the world of TV for Monday, February 15. All times are Eastern.
Top pick
11.22.63 (Hulu, midnight): J.J. Abrams. James Franco. Stephen King. We'll give you a moment to get out whatever feelings you have when it comes to those three names. Alright. Done? Good. Now we can tell you about 11.22.63: It's a J.J. Abrams-executive produced Hulu show (nay, "nine-hour limited event series"), based on a Stephen King best-seller, and starring James "James Franco" Franco. According to the synopsis, "11.22.63 is a thriller in which high school history teacher Jake Epping (James Franco) travels back in time to prevent the assassination of President John F. Kennedy - but his mission is threatened by Lee Harvey Oswald, falling in love and the past itself, which doesn't want to be changed." Sound contrived? Yes. But hey—it's time travel.
By the way, if that's not enough information for you, then you should definitely check out Scott Von Doviak's pre-air review of 11.23.63. Scotty VD (cool nickname, right?) calls it a "flawed-but-worthy Stephen King adaptation," which is probably the assumption we've all come to before even seeing the show.
Also noted
The 58th Annual Grammy Awards (CBS, 8 p.m.): You get what the Grammys are, right? No need for added commentary? Good.
G/O Media may get a commission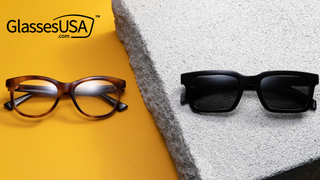 60% off frames
GlassesUSA.com Back to School Sales
140th Westminster Kennel Club Dog Show (CNBC, 8 p.m.): We're curious to know if any adults plan to watch this for the first time ever tonight. We've always been of the belief that these things are traditions, and if you've watched it, there's never been a time when you didn't watch it. So, if someone here is hyped about watching the Westminster Kennel Club Dog Show for the first time ever, please let us know. You can also just quote Best In Show if you'd like.
Gravity Falls (Disney XD, 8 p.m.): It's the one-hour series finale of Gravity Falls, unless Disney XD decides on a whim to push the episode back some more. Yes, it's "Weirdmageddon 3: Take Back The Falls," and we only assume that Dipper and Mabel are going to take back the Falls, somehow. "A final confrontation with Bill leads to the Pines family's ultimate fate and greatest sacrifice." Or that. Please stop crying, Alasdair Wilkins. You cry, then we… become very uncomfortable.
The X-Files (Fox, 8 p.m.): "The power to believe turns out to be the strongest force there is on an all new The X-Files." Possibly. Does that interest you, Zack Handlen? Ooh, this episode has Robbie Amell and Lauren Ambrose! You could've just led with that, X-Files press release.
WWE Monday Night RAW (USA, 8 p.m.): Kyle Fowle is back to review the first true post-Daniel Bryan edition of RAW, and you better believe that (or "believe dat") he will make the entire thing a list of reasons why Roman Reigns should be your favorite wrestler. Meanwhile, LaToya Ferguson will actually be at RAW tonight, so be on the lookout for a woman (possibly wearing a New Day shirt and "LEGIT BOSS" rings) still crying over last week's Daniel Bryan retirement (and also crying over the joy of not hearing commentary).
Lucifer (Fox, 9 p.m.): "In an effort to get over his infatuation with Chloe, Lucifer decides that he must seduce her." Alasdair Wilkins was close when he called this show "so-stupid-it's-almost brilliant." This is the most brilliant show on television.
Better Call Saul (AMC, 10 p.m.): Second season Saul, baby! We know this is the show you expected and wanted to be the top pick, but let's be real: Better Call Saul will have plenty more chances to get that spot. Especially with what Joshua Alston's pre-air review calls a "confident second season"
Regular coverage
The Magicians (Syfy, 9 p.m.)

Elsewhere in TV Club
Hey, want to read a TV Club 10 on Survivor? Joshua Alston thinks you do. We think you do, too.
You want some Grammy supplements?
Countdown To The Red Carpet: The 2016 Grammys (E!, 4 p.m.)
Live From The Red Carpet: The 2016 Grammys (E!, 6 p.m.)
Grammy Red Carpet Live (CBS, 7 p.m.)
E! After Party: 2016 Grammys (E!, 11:30 p.m.)
What else is on?
Teen Titans Go (Cartoon Network, 6 p.m.): "It's Valentine's Day and Cyborg goes to great lengths to make it special for his girlfriend Jinx; Beast Boy makes lots of money do to a pyramid scheme and convinces the other Titans to join in." We love all of this. Really, we have nothing more to add.
Miami Flip (DIY, 6:30 p.m.): The first season finale of Miami Flip is "The Wall Of Worry." What does that mean? "Carolina completes one last hurdle as she renovates the front of the house. But, more problems surface when the work begins." That did not help. Not even a little.
The Amazing World Of Gumball (Cartoon Network, 7 p.m.): Ooh, "The Origins" and "The Origins: Part Two." Whose origins are we focusing on? "The story of Darwin's arrival with the Wattersons is told." Apparently, the episode was originally titled "The Roots," so fingers crossed Questlove makes a surprise guest appearance in this origin story.
The Bachelor / Bachelor Live (ABC, 8 / 10 p.m.): "Ben's hometown of Warsaw, IN will roll out the red carpet for him and the remaining six women." And now we're wondering if Warsaw, Indiana is where participation awards were first invented. Also: "A special one-on-one date with Lauren B. is based at the youth center where Ben volunteered as a teenager." Is that supposed to be sexy? Have we been doing everything wrong? Should we be living our lives like we're on The Bachelor? Don't answer that. Your friendly neighborhood What's On Tonight contributor just came up with an idea for a spec screenplay.
Mortal Kombat X: Machinima's Chasing the Cup (The CW, 8 p.m.): Wow, The CW really is for nerds. "Mortal Kombat X: Machinima's Chasing the Cup follows five of the world's top-ranked players of the acclaimed fighting game Mortal Kombat X, vying to achieve their dream of being crowned the best in the world at the ESL Mortal Kombat X Pro League Finals. Viewers will be given a behind-the-scenes look at the passion, dedication, skill, and sacrifice required to be among the best e-sports competitors in the world." Nerd alert! Nerd alert! Nerd alert!
Kids Baking Championship (Food Network, 8 p.m.): "Dessert Imposters 2.0," huh? Was there even a "Dessert Imposters 1.0"? Be honest, Kids Baking Championship.
The Fosters (Freeform, 8 p.m.): As expected, most of the stuff in this week's episode synopsis is extremely depressing. So from this point on, we're only going to mention the plot points that won't bum the general viewing audience out. "Mariana is surprised when Nick asks her out." Great start!
Superstore (NBC, 8 p.m.): Remember last week's episode, when Jonah couldn't just be an adult and tell Dina he wasn't attracted to her, so he ended up saying the problem was that he could never date a superior? Well, in "Demotion," Dina is no longer Jonah's superior, "leaving Jonah in the awkward position of trying to break up with her in a non-confrontational way." We've got to say, we're kind of on Amy's side now about all things Jonah. He really is the worst. Actually, the worst is the episode synopsis saying that "this potential demotion forces Glenn to find a replacement for Dina, but it turns out that Amy and Mateo might be the only qualified candidates"… only to immediately tell us who gets the position.
Antiques Roadshow (PBS, 8 p.m.): "Part 1 of 3 in Charleston, S.C., features a Babe Ruth archive; a Japanese Komai iron and gold vase from about 1890; and a Virginia Federal walnut cellarette." You're welcome.
Telenovela (NBC, 8:30 p.m.): "Ana discovers that Xavi has a serious girlfriend, Kelly (Fiona Gubelmann). Xavi asks Ana for dating help and she happily agrees to 'fix' all the things about him that bugged her when they were married." Ay, ay, ay. Did we use that right?
American Dad (TBS, 8:30 p.m.): In "N.S.A. (No Snoops Allowed)" (hehe), "Steve attends work with Stan and is introduced to the National Security Agency; and Hayley bags being a vegetarian and eats meat for a day."
Vanderpump Rules (Bravo, 9 p.m.): "Bitch Ghost." The title of the episode is "Bitch Ghost." Like Bitch Ghost: Coast To Coast. Wait, we'd actually watch Bitch Ghost: Coast To Coast.
Recovery Road (Freeform, 9 p.m.): "When the residents of an upscale rehab facility have to temporarily move into Springtime Meadows, Vern is elated that his favorite actress Olivia O'Brien (guest star Mischa Barton, The O.C.) is among them. But Olivia isn't what Vern expected." Oh, we didn't know Recovery Road was non-fiction.
The Biggest Loser (NBC, 9 / 10 p.m.): Next week's episode is the live season finale, so you might as well watch these two episodes. Otherwise you'll just be lost next week.
Angie Tribeca (TBS, 9 p.m.): "Artwork goes missing and the lieutenant is really, really sick about it." 1. Of course. 2. Hehe. 3. Someone please check the lieutenant's health.
Major Crimes (TNT, 9 p.m.): "For the first time ever, TNT's Major Crimes will feature one gripping case played out over a five-episode arc during its winter run." Why, did David E. Kelley take over? (We're not actually sure if we're saying that as a slam on Kelley or not. We're thinking "not" though.) Anyway, tonight begins said "gripping case" with Major Crimes' winter premiere, "Hindsight - Part 1"
Castle (ABC, 10 p.m.): "BECKETT AND CASTLE ARE FORCED TO PLAY A DANGEROUS GAME OF RUSSIAN POLITICS." This is great.
The Graham Norton Show (BBC America, 10 p.m.): Julianne Moore! Rebel Wilson! Ant & Dec! Little Mix! Still no Zayn Malik!
Lost Girl (Syfy, 10 p.m.): In "Sweet Valkyrie High" (hehe), "a dangerous mission forces Tamsin to confront past mistakes. Meanwhile, Lauren must deliver bad news to a friend."
Fameless (TruTV, 10 p.m.): "Dating show fiasco; museum prank fail; and Hollywood pitch roast." Words.

Full Frontal With Samantha Bee (TBS, 10:30 p.m.): EPISODE TWO, BAYBAY! Bee! Bee! Bee! Bee! Let's see what counts as second episode material these days: "Samantha journeys to Jordan to speak with Syrian refugees. Also: the views of the State Department about the vetting process that refugees go through to enter the U.S." Bee! Bee! Bee! Bee!
Bitten (Syfy, 11 p.m.): Canadian werewolf show Bitten is back with its third season premiere, "Family, Of Sorts." Here's what's up: "A war-hardened Jeremy sets out to solidify his power by having Elena, Clay and Nick recruit all North American Mutts into the Pack. Meanwhile, Elena is accosted by a mysterious family who challenge her with a surprising claim."
12 Monkeys (Showtime West, 6:05 p.m.): Well if 12.22.63's time travel doesn't do it for you…
Sports, sports, all type of sports
Women's Basketball: Davidson at St. Louis (NBC Sports, 12 p.m.)
College Basketball: LIU (Brooklyn) at St. Francis (N.Y.) (ESPNU, 1 p.m.)
Women's Basketball: Belmont at Tennessee (Martin) (ESPNU, 3 p.m.)
College Basketball: Oakland at Wright State (ESPNU, 5 p.m.)
College Basketball: North Carolina State at Virginia (ESPN, 7 p.m.)
Women's Basketball: South Carolina at Tennessee (ESPN2, 7 p.m.)
College Basketball: Morgan State at Hampton (ESPNU, 7 p.m.)
Women's Olympic Qualifying Soccer: U.S. vs. Puerto Rico (NBC Sports, 8:30 p.m.)
College Basketball: Oklahoma State at Kansas (ESPN, 9 p.m.)
Women's Soccer: South Florida at Louisville (ESPN2, 9 p.m.)
College Basketball: Arkansas (Pine Bluff) at Alcorn State (ESPNU, 9 p.m.)
In case you missed it
Downton Abbey: "This episode is transparently, cynically manipulative," according to Emily L. Stephens. Interesting.