The Fantasia Film Festival wraps up its 2018 edition in Montreal tonight, completing 21 days of the 22nd year of one of the longest-running (and just plain longest) genre film festivals in North America. Believe it or not, Fantasia used to be even longer: The inaugural 1996 edition ran for a solid month, and focused entirely on Asian fantasy and action movies. (Much of that was taken up by Chow Yun-fat and Jet Li retrospectives, but still.) Although the fantasy and/or action requirement has since been lifted, Asian cinema is still the backbone of this festival, and dozens of films from around that vast continent screened at this year's Fantasia, with a special emphasis on films from South Korea and Japan.
We've already covered a handful of Asian films—like the recommended documentary People's Republic Of Desire—in our Fantasia coverage for this year, and covered a few more last year, like the also recommended Japanese Girls Never Die, which sadly has yet to (re)appear in American theaters. But in order to say adieu to our Francophone friends up north for 2018, we've got a trio of Asian films to track down in the impossibly dull period in between such gatherings of like-minded cinephiles.
First up is a truly delightful surprise from Japan, Amiko (B+), a coming-of-age comedy that marks the heartfelt, creatively inspired debut of 20-year-old writer-director Yoko Yamanaka. Yamanaka received no formal film training before making her feature debut—the film was made for $2,500, $500 of which went toward fixing the car she crashed on her way to the set—but she's clearly a student of the French New Wave, and in particular Jean-Luc Godard's 1964 restless-youth classic Band Of Outsiders (Bande à part). That's reflected not only in the scene where Yamanaka pauses the action for a few minutes so our young heroine can perform a choreographed dance number with two strangers in a Tokyo subway station, but also in her playful approach to editing and story structure. Although her perspective is still limited by her age, this young woman is genuinely talented, and has created a title character with whom rebellious teen girls all around the world, both current and former, will fall in love.
Amiko has been compared to Greta Gerwig's Lady Bird, and the two do share some structural (both films knit together incidents in a year of the life of a high school girl) and tonal (both emphasize small, delicately observed moments) similarities. Amiko isn't as wise of a film as Lady Bird, however, presumably due to the difference in the two writer-directors' ages. The mother/daughter element that gives Lady Bird such a strong emotional through-line is completely absent in Yamanaka's film—in fact, no adults appear in the film at all. Instead, Amiko is structured around the title character's all-consuming crush on a classmate she's spoken to exactly once, a disappointingly conventional anchor for an otherwise fresh film. Thankfully, however, it isn't just about that. It's just as much about Amiko's (Aira Sunohara) relationship with her best friend, Kanako (Maiko Mineo), with whom she shares many long, listless afternoons and giggly late-night phone calls.
G/O Media may get a commission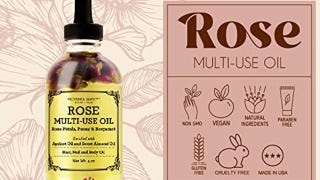 Provence Beauty Rose Multi-Use Oil
But the most charming thing about the film is Amiko herself, a goofy, impulsive, defiant, sometimes melodramatic 16-year-old who loves tall, brooding soccer player Aomi (Hiroto Oshita) and hates capitalism. (At the beginning of the film, Amiko skips down the hallway at her high school, making up a little song as she goes along; the lyrics go something like "What are the three embodiments of evil? The courthouse, the school, and the corporation!") Prone to bringing up inappropriate topics like the inevitability of death and the hypocrisy of bourgeois values in casual conversation, Amiko has a touch of Parks And Recreation's April Ludgate about her. (She's a lot more cheerful in her nihilism, however.) She's also endearingly awkward, like in the scene where she "casually" paces back and forth across a video-store aisle waiting for Aomi to notice her. (He doesn't.) Anyone who looks back at their teenage years and cringes at the yawning gulf between what they thought they knew and what they really knew at that age will relate.
If taut Hitchcockian thrillers with serpentine plots and icy-cold formal qualities are more your bag, may we recommend The Vanished (B), another debut, from South Korean filmmaker Lee Chang-hee. A remake of the 2012 Spanish thriller The Body, the film still feels distinctly South Korean in its operatic twists (Oldboy fans will eat up the ending) and thrilling tonal shifts. The best way to describe its tone is a mix of The Autopsy Of Jane Doe and Gone Girl, a chamber thriller with supernatural elements (or are they?) about a woman who's much savvier, and more diabolical, than she at first lets on. The story begins with a morgue attendant, whose nightly tedium is interrupted with a loud clang in the walk-in body refrigerator; he tiptoes in to investigate, and to his horror, finds that one of the freezers is empty, as if the corpse just got up and walked away on its own.
The corpse turns out to be that of uptight heiress Yoon Seol-hee (Kim Hee-ae), who "died" of a heart attack the day before. Then the film promptly rewinds, unspooling Yoon Seol-hee's professor husband Park Jin-han's (Kim Kang-woo) plot to murder her so he can be with his pregnant mistress. But that's only the first layer, of course, in an artichoke of deception that's peeled piece by piece as the film progresses. Lee shows a remarkable mastery of tone for a first-time director, careening between mystery, horror, and drama without flying off of the track entirely. He also shows a thoughtful approach to the film's cinematography, particularly its use of color. The Vanished isn't anything revolutionary, but if you're already a fan of films by the likes of Park Chan-wook and Kim Jee-woon, you'll probably find this one immensely enjoyable as well.
Also screened for our final dispatch from Fantasia are two films that aren't for everybody, but may be worth the effort for lovers of the eccentric, phantasmagoric, and plain old bizarre: Tokyo Vampire Hotel (C+), Suicide Squad director Sion Sono's Mulholland Drive-esque attempt to cram a TV series into a two-and-a-half hour film. Sono's movies are always weird, and the truncated structure of this one makes it especially hard to follow. But while the film has more style than sense, its persistent conflation of Dracula and Jesus is blasphemously delightful. Then there's Rokuroku: Season Of The Witch (C-), an anthology film that's marred by some very bad CGI and a very loose wraparound story. The monsters, including a gigantic sea creature with human hands for teeth, are cool, though, and the "Nekome" ("Cat Eyes") segment is wonderfully creepy and surreal. There's always one...