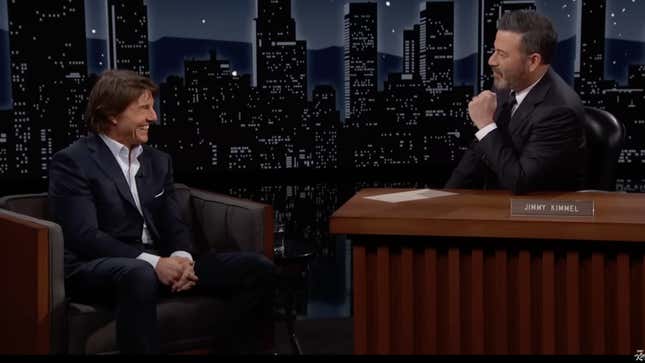 How do you address the elephant when it's not in the room? This awards season, no one could ignore Top Gun: Maverick's Tom Cruise, Savior of Movies. But he didn't show up for some of the major ceremonies, meaning the hosts could shit-talk him all they wanted. That wasn't what 2023 Oscars host Jimmy Kimmel wanted, apparently, but it's what he resorted to when Cruise ditched the Academy Awards.
In a new interview with Variety, Kimmel's wife and executive producer Molly McNearney explains that there were multiple versions of the Oscars monologue, with a "good chunk" dedicated to Cruise reviving theaters that were cut. "Jimmy loves Tom. Tom had just been on the show the week before," she says. "And they talked about seeing each other and Jimmy was excited to tell him that we got real Navy pilots to do the flyover at the top of the Oscars. Jimmy was really disappointed he didn't come."
Instead, Kimmel swapped the apparently flattering cinema savior jokes for one about Scientology, which he wouldn't have done if Cruise was in the room, McNearney claims. "We had about a three minute chunk of the monologue dedicated to Tom Cruise, honoring him and his role in reviving the movie industry. We were so disappointed when we learned a few days before the Oscars that he wouldn't be there. Jimmy loves him and really wanted to celebrate him."
Despite being a Spielberg-endorsed theatrical hero, the comedians who hosted this year's various ceremonies couldn't resist taking jabs at Cruise's association with Scientology. At the Golden Globes, Jerrod Carmichael suggested exchanging Cruise's three returned awards "for the safe return of Shelly Miscavige," the long-missing wife of Scientology head David Miscavige. Meanwhile, Directors Guild Awards host Judd Apatow also roasted the absent movie star, taking shots at Cruise's height, his fractured family situation, and his penchant for doing dangerous stunts. "But every time he does one of these new stunts, it does feel like an ad for Scientology," Apatow cracked (per Variety). "I mean, is that in Dianetics? Because there's nothing about jumping off a cliff in the Torah."
In fact, Apatow's jokes were so brutal that Variety reports that Cruise is rumored to have avoided the Academy Awards because he heard Apatow contributed to Kimmel's monologue (The New York Post, meanwhile, claims he was trying to avoid ex-wife Nicole Kidman). "Jimmy tends to send his monologue to a group of people he trusts, comedy writers and comedians," McNearney tells the outlet. "They don't help with the monologue. They just tell him like that joke's working, that joke's not working. No, Judd was not writing or doing anything for the monologue." Regardless, Cruise didn't show, and Kimmel went a snarkier route with his quips, which is allegedly why Cruise didn't show—call it a self-fulfilling prophecy.