It's hard to explain why John Green's latest young-adult novel, The Fault In Our Stars, is so great, because any attempts to outline the plot or characters make it sound like one of the worst books ever written. Green has always excelled at writing the sorts of young-adult books where the characters learn important things about themselves, which is already dangerous territory for writing anything that's not unrepentant treacle. And Stars' primary characters are teenagers with cancer. He's in the territory of Lifetime original movies.
Remarkably, Stars might be Green's best novel yet. (His previous titles include Looking For Alaska and An Abundance Of Katherines.) It's a funny, ultimately moving tale of what it means to face impending death at a young age. The book is being pitched as Green's breakthrough out of the young-adult ghetto and to a wider audience, and it's easy to see why. There's more wisdom about life and death here than in a dozen similarly themed, more "literary" novels, and Green's protagonist is a wonderful creation.
Green's success stems from his ability to render his characters' voices extremely well. These unique perspectives allow him to play in arenas that would have seemed devoid of new twists 25 years ago. Here, his narrator is Hazel Lancaster, a 16-year-old cancer sufferer who nearly died at 13 and has been given, at most, a few years by a miracle drug. Her tumors remain lodged in her lungs, and in time, they'll start growing again and take her life. She has to lug an oxygen tank everywhere she goes, a constant marker of her condition.
This has made her reclusive. At one point, she lists her three best friends as her parents and an author, and when her mother convinces her to start attending a kids-with-cancer support group, she outlines all the depressing litanies that occur at such meetings, from elaborate discussions of the ways disease ravages young bodies to an ever-growing list of group members who have died, a list Hazel fears she will join someday, long after anyone in the group will be paying attention to hear her name.
At the group, Hazel meets Augustus Waters, a one-legged cancer survivor who's come to support a friend. The two share an instant attraction and are soon spending all of their time together. Hazel's afraid to get too close. She'll die someday, and she doesn't want to be the "grenade" that destroys him in the collateral damage. Augustus wants nothing but to get closer. When he launches an improbable plan to get her to Amsterdam to meet the author she loves so much, the book reaches the heart of its plot.
G/O Media may get a commission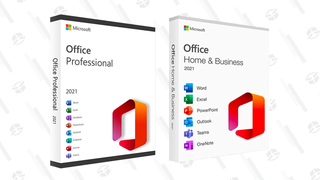 89% off
Microsoft Office Professional 2021 Lifetime License
Green could have gone wrong with this setup in many ways. Cancer-stricken teenagers is such an inherently sentimental idea that it all but begs him to ladle on the tear-jerking moments. And though the book garners its share of tears, it earns them by being brutally honest about its characters and their condition. It's predictable, but it works nearly perfectly, because it's always filtered through caustic Hazel, who tells jokes, doubts the afterlife, and constantly points out the conventions of her genre. Other critics have compared Green to J.D. Salinger, and while that praise is a bit too high, in Hazel, he's found a narrator who's very nearly the equal of Holden Caulfield.