In 2011, Dave Chappelle resurfaced after a self-imposed exile from stardom to begin doing stand-up again—sometimes shows where standing up was about all he did, while intermittently sighing wearily at his unruly audience. Last year, he made those sorts of headlines again for a show in Austin, where rowdy attendees and his own, self-confessed lack of material made for another set Chappelle surrendered to hecklers. Most recently, Chappelle signed on to Funny Or Die's Oddball Festival, a massive tour that would put Chappelle—who has struggled with crowd control even in smaller venues—in front of amphitheatres crammed with thousands of people, many of whom had been drinking all day. Yeah, so how's that going?
Actually, surprisingly well, until everything fell apart in Hartford, Connecticut. Last night, Twitter lit up with reports that Chappelle completely stopped performing after around 10 minutes, telling the audience he refused to go on unless it shut up and, presumably, stopped shouting out references to Rick James and the like. And because that didn't happen (because RICK JAMES, BITCH), for the next 25 minutes of his contractually obligated time slot, Chappelle simply pulled up a stool, smoked his cigarettes, bantered a bit with people in the front row, and met the resounding chorus of boos with utter indifference.
"You are booing yourself," Chortle quotes him as saying. "Go home and look in the mirror and say 'boo' at yourself. At the moment, that's how I feel about you." Presciently predicting these very reports (Hey, like that one Tupac skit he'd probably like to hear someone shout out a reference to!), Chappelle reportedly added, "Ah, fuck you, I'm the one that has to get the review in the paper tomorrow. I'm going to have to read about this shit for months." At one point, Chappelle even took a page from Andy Kaufman's book by taking a book from a woman in the audience, then reading the cover notes aloud. After running out the clock, shrugging that he was getting paid handsomely anyway for doing "about three minutes" of material, Chappelle concluded, "I like some of you, I hate some of you. I forgive some of you, but I don't forgive all of you," then exited the stage to Kanye West's "New Slaves."
Naturally, the reaction has been mixed, with many—echoing the plea made on Oddball's official Twitter account only minutes into his set—chastising the Hartford crowd for refusing to settle down. (Though, as we've seen, Connecticut can be strangely impatient.) Others have taken to social media, as well as the comment sections of articles like this one, to complain that Chappelle yielded way too easily to an audience that was, really, just yelling out "positive things"—you know, like "lines from his show and Half Baked," and other things that are positively conducive to the rhythms of a comedy set, from a comedian who has specifically asked you to stop doing that or he won't perform. Anyway, you can watch videos from the show below and judge for yourselves.
Meanwhile, Chappelle—along with the rest of the Oddball Festival—is scheduled to perform tonight in Pittsburgh. And also, he was Rick James, bitch! Hopefully someone in Pittsburgh remembers to tell him that, so Chappelle and everyone else can share a good laugh.
G/O Media may get a commission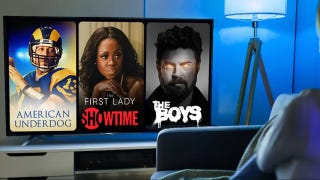 UNDER $1
99¢ Prime Video Channels