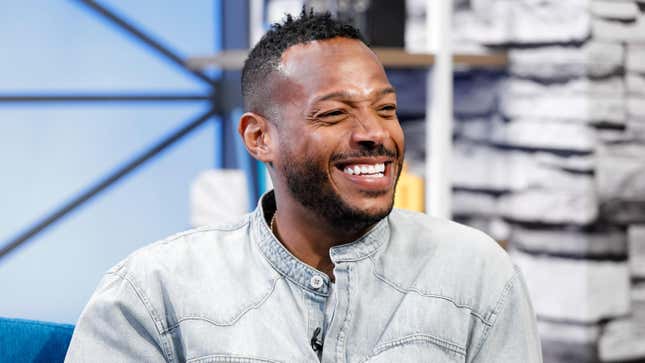 As Chris Rock releases a comedy special at Netflix with his own take on the events of last year's Oscars, fellow comedian Marlon Wayans shares his own point of view on the historic Slap in his new HBO special, God Loves Me.
Marlon Wayans on "The Daily Show," Will Smith, and Richard Pryor
In an interview with The A.V. Club, Wayans describes God Loves Me as "a hilarious journey through the experience of my life and how the journey came to me after Will [Smith] slapped Chris [Rock]."
"It slapped life into me," Wayans explains. "It made me think of my journey, and I thought about my journey with them, and I thought 'Somebody's got to talk about this, why not it be someone so close to it but not in it?' I didn't have a dog in the fight. I just spoke about it with love—it's a love letter to Chris, Will, and Jada."
To say it's a "love letter" feels like a bit of an understatement, considering that Wayans' hour-long special ceaselessly talks about the cast of characters involved in the Slap that evening.
Wayans jumps into the 2022 Oscars moment from the get-go, explaining how the slap was actually his fault because back in 1988, Wayans brother Keenen gave Rock a role originally intended for a young Marlon in I'm Gonna Git You Sucka—a role that wound up launching Rock into stardom.
"I fucking cried that day, man," Wayans says. "Not to be a hater, but I just felt like that was my opportunity and you fucking gave it to Chris Rock."
He then goes on to detail the other times Rock starred as the supervillain of his life, from the I'm Gonna Git You Sucka premiere, when he clowned him in front a girl he had a crush on, to when he sat front row and heckled Wayans during a comedy routine years later.
"Fast forward to March 27, 2022, approximately 10:32 p.m. Eastern Standard Time—which is 7:32 p.m. Pacific—when funny little Chris Rock cracked a joke on Jada Pinkett Smith and Will Smith mysteriously got up and slapped the shit out of one of the greatest comedians that ever lived," Wayans says.
He adds, "Well, it had nothing to do with Chris, nothing to do with Will, nothing to do with Jada. I told you mother fuckers, God loves me!"
The comedian continues talking about Rock, Smith, and Pinkett Smith for the remainder of the hour, detailing his personal relationships with each of them and cracking a few more slap-related jokes.
At one point, Wayans breaks down the slap step-by-step, poking fun at Rock's lack of reaction on stage. The crowd joins in when he yells á la Smith, "Keep my wife's name out of your fucking mouth!"—always a good sing-along moment when reciting the story.
God Loves Me is currently streaming on HBO Max.