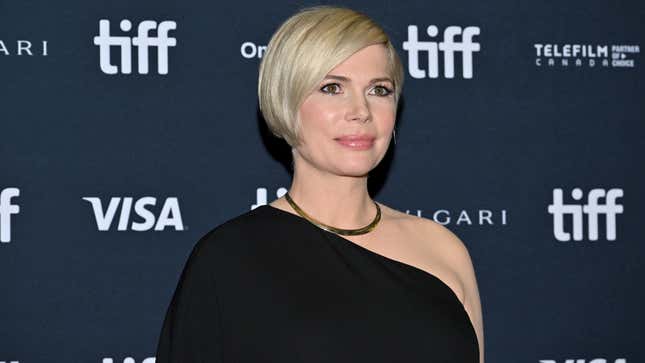 Michelle Williams has accomplished a lot onscreen in the last decade—she's played entertainment legends Marilyn Monroe and Gwen Verdon, garnered nominations for three Academy Awards and a Tony, and fostered a long-term creative partnership with naturalistic director Kelly Reichardt. Yet despite the variety of performances The Fablemans star has given in recent years, they all share one thing in common: Williams hasn't watched them.
"I'm not able to watch my own work," Williams shares in a new interview with The New York Times' Kyle Buchanan. "I think the last thing I saw was Meek's Cutoff in a theater with my daughter, so it's been about a decade." The period drama, directed by Reichardt, was released in theaters in 2010. In the film, Williams plays a woman attempting to survive the Oregon Trail as tensions rise among her compatriots.
For Williams, the decision to avoid her own projects relates to a reverence for one kind of experience with a character. When she works on something, the actor says she feels "so completely inside of it" that becoming an audience member would fundamentally alter the experience (which is, per Williams, "ultimately what I'm in it for").
"I can't seem to go back and forth between the two ways to be involved in storytelling, even though I would like to be strong enough and capable of watching myself, figuring out what I would like to technically adjust and then applying it to the next time," she explains. "I've tried to do that, but I'm getting internal bounce-back. I'm happier and maybe healthier just staying in my personal experience of playing these women."
Of course, an inherent struggle with this is saying goodbye to characters Williams holds close to her heart. When her time playing Mitzi Fableman (a performance that will likely earn her another Oscar nomination) came to an end, Williams recalls mourning "like somebody had actually died."
"I shocked myself by how grief-stricken I was to say goodbye to the woman that I had inhabited and the relationships that I had with these other characters," she shares. "When you're making something, you feel like the whole world is available material—everything is tingling and anything is possible—and then, once the filming is over, you go back to breakfast tables."