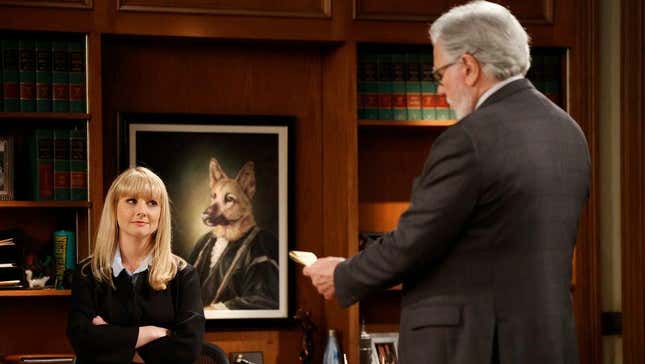 When looking at the scheduling decisions made by major networks and streamers, it often feels like you're watching a series of extremely expensive games of chance all play out at once. Nobody actually knows what's going to hit, so why not green light five more dating reality show? A drama series about a doctor with anosmia. A gritty modern-day take on The Three Musketeers. Hell, why not reboot Night Court, of all things, while you're at it?
And the especially weird thing about this process is that sometimes these random prognostications are right, as when NBC did, in fact reboot Night Court, and it was not only (eventually) pretty funny, but also popular, with Variety reporting that the Melissa Rauch and John Larroquette-starring series is currently bringing in something like 25 million viewers per episode.
So it's not entirely surprising tonight to see the news that the network has now renewed the series for a second season, ensuring that Judge Abby Stone (Rauch, playing the daughter of the late character played by the also-late Harry Anderson) will continue to rule over her nocturnal hall of judgment. This, despite the show having only aired four episodes so far, with the renewal landing early in its life cycle and suggesting the network has a pretty hefty vote of confidence in the freshman series.
In addition to Rauch and Larroquette, the new Night Court also stars India de Beaufort, Kapil Talwalker, and Lacretta, filling other various members of the court. (De Beaufort plays the prosecutor, with one of the twists of the new series being that Larroquette's former prosecutor, Dan Fielding, is now serving as a public defender.) The series was developed by Dan Rubin, who previously worked as a producer on Netflix's Unbreakable Kimmy Schmidt.