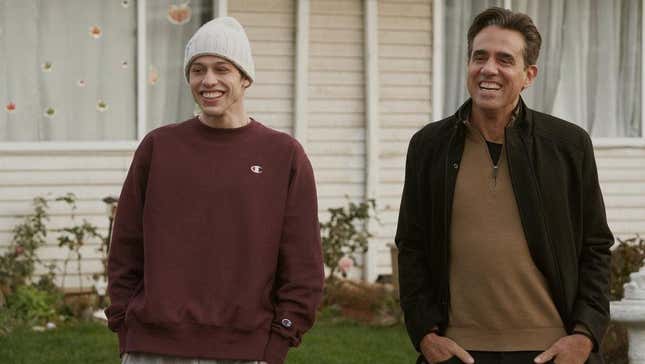 Normally, saying someone doesn't have bupkis means they have nothing. But when Pete Davidson's involved, things can get a little weird.
NBC Universal is reaching behind the paywall and pulling out an episode of Bupkis for everyone to enjoy. This week, the network is airing the second episode of the series after a rerun of the Miles Teller-hosted Saturday Night Live this Saturday. But that's not all; those pesky cord-cutters who don't have NBC are also able to get in on the action as NBC x Peacock is dropping the episode on YouTube, like a fellow teen who wants people to watch this episode before Emmy voting. The episode is available now.
The episode, "Do As I Say, Not As I Do," has received considerable acclaim, with NPR calling it "one of the series' most affecting episodes." Based on Davidson's real life, "Do As I Say" sees Young Pete (Preston Brodrick) processing the loss of his father, a first responder who died on 9/11. After the funeral, he and his mother and sister attend his aunt and uncle's wedding, where his uncle (Bobby Cannavale) takes him under his wing.
Bupkis premiered last month on Peacock, which dropped all eight episodes at once. Since then, news on the series and whether or not it has been renewed for another season probably has a lot to do with this strategy, considering streaming shows tend to launch with much fanfare and then get buried under a dump truck of content. With Emmy season just picking up steam, NBC is hoping to put some eyeballs on Davidson and his show. Maybe some gold would help their cause of bringing more Bupkis to the people.

The A.V. Club wasn't as bowled over by Bupkis. In their review, Annie Berke wrote:

It's hardly a slam dunk. In a series highlight, Davidson sits down at a café with comedian John Mulaney, who is also playing himself. "Your life is fascinating," Mulaney remarks. "I don't know what it's like to live it, but goddamn, do we have fun watching it. It's a good time." Bupkis is not necessarily a good time, and a lot of it isn't good, period. But just as Davidson's peers and champions have given him second chances, allowing him to try again and do better, so too is there a world in which a second season of Bupkis, building on its best bits, transcends a disappointing first.
But, hey, now anyone who is Bupkis curious can check out an episode. Bupkis is currently streaming on Peacock, and one episode is on YouTube.
Correction: An earlier version of this article stated that NBC was making the episode available. This is incorrect. Peacock is making the episode available. We regret the error.