Although the network's upfront presentations are only just now taking place, NBC's fall primetime schedule has been an open secret since Sunday morning thanks to The Hollywood Reporter's James Hibberd, who simply wandered into a tech rehearsal and documented the whole thing—and got his publication banned from covering the upfronts in the process. Today's official NBC fall schedule was released this morning, confirming much of what Hibberd dug up yesterday with a few additional details on what to expect from midseason. Here's what primetime looks like, with a few of our notes on the new series (in bold):
MONDAY
9 p.m. - Chuck
9-10 p.m. The Event: Created by Friday Night Lights producer Jeffrey Reiner, this "emotional, high-octane conspiracy thriller" follows a guy investigating the mysterious disappearance of his fiancée who "unwittingly begins to expose the biggest cover-up in U.S. history." The sprawling ensemble includes Blair Underwood as the President, Laura Innes as the "leader of a mysterious group of detainees," and token creepy guy Zeljko Ivanek.
10-11 p.m. Chase: Jerry Bruckheimer's action-drama about U.S. marshals, led by Kelli Giddish as "a cowboy boot-wearing deputy whose sharp mind and unique Texas upbringing help her track down the violent criminals on the run."
TUESDAY
8-10 p.m. The Biggest Loser
10-11 p.m. Parenthood
WEDNESDAY
8-9 p.m. Undercovers: J.J. Abrams' "sexy, fun, action-packed spy drama" about a married couple of retired CIA agents pulled back into the game. Read more about it here.
9-10 p.m. Law & Order: Special Victims Unit
10-11 p.m. Law & Order: Los Angeles: The latest head of the Law & Order hydra, set in the sleepy backwater burg of L.A.
THURSDAY
8- 8:30 p.m. Community
8:30-9 p.m. 30 Rock
9-9:30 p.m. The Office
9:30-10 p.m. Outsourced: Ben Rappaport stars as the manager of a company that makes novelty items and whose call center has recently been outsourced to India. He's forced to move there and teach the new staff all about how they do things in America while they, in turn, teach him about India—and thus, "the Midwest meets the exotic East in a hilarious culture clash."
10-11 p.m. Love Bites: This hour-long comedy anthology features three loosely connected, modern stories of love, sex, marriage, and dating," all with "an edgy, irreverent spin." It's anchored with one recurring story about "the last two single girls standing after all their friends get married," and—as befitting a show that sounds like an update of Love American Style—different guest stars will come and go every week, including Jennifer Love Hewitt, Craig Robinson, Larry Wilmore, Greg Grunberg, and Charlyne Yi.
FRIDAY
8-9 p.m. Who Do You Think You Are? / School Pride: Curb Your Enthusiasm's Cheryl Hines produces School Pride, a take on Extreme Makeover: Home Edition that involves communities coming together to renovate their public schools while being sassily inspired/barked at by comedian Kym Whitley and SWAT commander Tom Stroup, among others.
9-10 p.m. Dateline NBC
10-11 p.m. Outlaw: Previously known as Garza, this legal drama stars Jimmy Smits as a former Supreme Court justice who leaves big government for a private practice in Philadelphia, where he pledges himself to fighting for "the little guy."
G/O Media may get a commission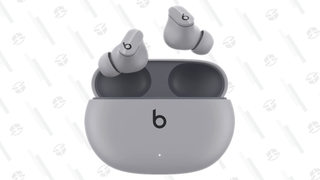 As you can see, NBC has futzed with its one sure thing, the Thursday night lineup, moving 30 Rock to an hour earlier and—as a reward for developing into one of the most consistent half-hours of comedy on television —bumping Parks And Recreation entirely, with an eye on returning in the midseason. While there had been talk about opening up a new comedy block on a different weeknight in order to develop Outsourced and Love Bites, NBC ultimately decided against it, saying it believes that "Thursday is where our audience expects them." (And hey, once you've finally stumbled across a solid two-hour block of comedy after a decade-plus of trying, why not gamble it all away the very next year?) NOTE: Just to clarify, the move has nothing to do with Amy Poehler's pregnancy, at least according to writer Alan Yang.
Also coming in midseason: The Paul Reiser Show, a single-camera sitcom starring Paul Reiser as himself: a guy who watched Curb Your Enthusiasm and said, "Why not me?"; previously reported-on sitcom Perfect Couples and David E. Kelley's legal drama Harry's Law (née Kindreds); The Cape, about a former cop who tries becoming a comic book superhero; and Friends With Benefits, about an irritating "trend" that had cold, dispassionate sex with a Friends rehash while waiting for something better to come along.