That Good Burger tribute on The Tonight Show wasn't a timely coincidence. Nickelodeon just announced details about The Splat, the all-'90s block of programming it teased earlier this month.
Arriving Monday, Oct. 5 on TeenNick and all around the internet, The Splat is being billed as a "multiscreen content destination… aggregating the most beloved Nick content from the 1990s and beyond." And while that summary is egregiously grating, what it essentially means is that shows like All That, Are You Afraid Of The Dark?, Clarissa Explains It All, and Legends Of The Hidden Temple are coming back to TV (again) in the near future.
The Splat will take over TeenNick nightly from 10 p.m. to 6 a.m., but will also live online at TheSplat.com and via an Emoji keyboard, so CatDog loving 30-somethings can Snapchat each other silly cartoons, or whatever. Viewers can also weigh in on what programming they want to see on the channel, something that TeenNick SVP Keith Dawkins told The A.V. Club is really going to help build the channel. As he put it in an interview, "the multiple screen experience allows us to listen to the audience in ways we never could years ago," noting that while shows like The Adventures Of Pete And Pete might not be on the initial list of shows on the network, that doesn't mean they won't show up down the road—provided there's demand. "It'll all be based on what the audience tells us they want," says Dawkins.

Though The Splat might not be all that thematically different from TeenNick's current block of '90s-centric programming, Nick intends to use The Splat to bring back not only vintage Nicktoons, but also old Nick commercials and clips of old promotions, like the Super Toy Run. The Splat will also run theme weeks—the week of October 26, for instance, reintroducing the idea of Nick Or Treat and inviting (much too old) callers to dial in to play along with a live host and win prizes.
The Splat also intends to bring back old Nick personalities, like Kel Mitchell, although Dawkins was a little cagey about who those would be. "Without giving away all of our goodies," he said, "we're going to have a lot of fun surprises within The Splat."

G/O Media may get a commission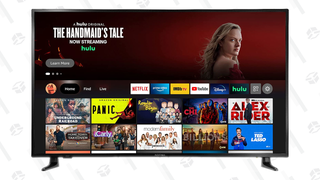 38% Off
Insignia 50" 4K UHD Smart TV
But how much '90s Nick is too much '90s Nick? If The Splat is aimed at 24- to 27-year-old Rugrats fans, is the channel just encouraging a prolonged adolescence, or shining a light on some of its programming (cough Hey Dude cough) that maybe doesn't stand up to later scrutiny? Dawkins doesn't think so. As he told The A.V. Club, "I think the audience will dictate how far is too far, and what they like and what they don't," noting that Nick has "35 million Facebook fans of [its] '90s content," and that "they're there for a reason." "Right now, they're enjoying the stuff they want to consume, and thankfully working here at Nickelodeon, we have a treasure chest of stuff that they love."