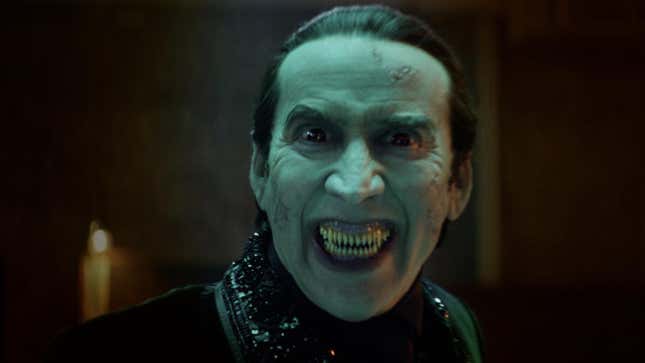 "What if Dracula was your asshole boss" is an extremely promising premise, but "What if Nicolas Cage was Dracula, your asshole boss" is what makes Renfield irresistible. Throw in Nicholas Hoult, who has been making a certain kind of patheticness sexy over on The Great, and you've got a guaranteed audience when the film hits theaters on April 14.
Judy Garland's previously missing Wizard of Oz dress to be auctioned off
Hoult, as the titular character, has been "forced to procure his master's prey and do his every bidding, no matter how debased" for nearly a century, but he's finally "ready to see if there's a life outside the shadow of The Prince of Darkness," according to the film's synopsis—"If only he can figure out how to end his codependency."
Here to help is Awkwafina, a cop who sees Renfield's potential for heroics. "I don't think you're such a bad guy," she says in the new trailer, "but you're never gonna be free until you face him." But Cage, clearly having a ball as "The Lord of Death," isn't going to let his servant get away that easily. "You deserve only suffering," Dracula snarls. "I will unleash an army of death. Everyone you care about will suffer because you betrayed me."
"An army of death" is an appropriate descriptor for this trailer, which has a prodigious and bloody kill count. That includes Dracula exploding a priest (who offers protection from "the most trusted institution on Earth: the Catholic Church," to Renfield's consternation) from the inside out and Renfield violently dismembering a host of attackers. "You know when something crazy happens, and someone's like 'It's okay, I've seen way worse'?" Awkwafina says after witnessing the massacre. "Everything I saw you do today is gonna be my way worse."
Ben Schwartz, Adrian Martinez, and Shohreh Aghdashloo also star in Renfield, which is directed by Chris McKay (The Tomorrow War) and written by Ryan Ridley (Ghosted) based on an idea from The Walking Dead creator Robert Kirkman.