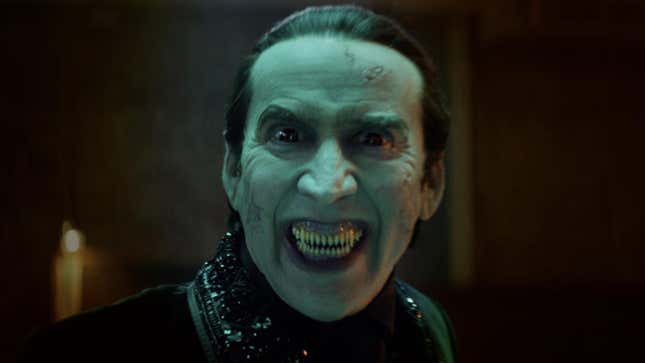 If they can make an entire series about Batman's butler, they can for sure find room for a movie about Dracula's loyal servant, Renfield. Nicholas Hoult stars as the Count's beleaguered body man in Renfield, a small-in-scope but fundamentally entertaining horror-comedy. Directed by Chris McKay (The Lego Batman Movie and dozens of episodes of Robot Chicken), this film knows what you want, and it serves it up early and often—Nicolas Cage as the undead Transylvanian, chomping up the scenery with enormous, blood-dripping fangs.
A.V. Club interviews: Judd Apatow and the cast of The Bubble
Unlike last year's abysmal The Unbearable Weight Of Massive Talent, which hinged solely on poking audiences in the ribs and saying "ain't Nic Cage a nut?!?" this movie lets it happen naturally. Let's not get carried away and call it an elegantly weaved tapestry of nuanced screenwriting, but it's clever enough to let the story do the talking.
The first few minutes are a little worrisome—it opens with what feels like an advertisement of the movie to come (probably a product of online culture, in which movie trailers on YouTube open with a blipvert teaser). It's a flashback to young Renfield's first meeting with Dracula, shot precisely like Dwight Frye encountering Bela Lugosi in Tod Browning's 1931 classic, Dracula. (Cage even does the "I never drink … wine" line.)
But cut to today and we see that Renfield, a goth English boy stuck in derelict New Orleans, is about to have an awakening. He's at a group therapy session for people trying to overcome codependency to the toxic, narcissistic personalities in their life. Amusingly enough, he ended up there just because he was out on the prowl, looking for more live flesh to feed to his convalescing master.

Renfield is set in New Orleans, but it's mostly shot on soundstages and generic slum streets. That's okay. In fact, what makes this movie a charmer is its fealty to the type of horror flick you'd rent on VHS from a drug store in 1987. That means it doesn't take itself too seriously, is not weighted down by a complicated plot, and is primarily concerned with packing in as many gross-outs as it can into its 93 minutes.
These are the positives! The negatives—and this is true to the exploitation movie form—is that a lot of the narrative is occupied by a character nobody really asked for. In Renfield, that character is a cop (it was either that or an investigative reporter, right?) and it's a pretty thankless role. Even the abundantly charming Awkwafina can't really pull it off. (We can only imagine how much worse it would have been with a lesser performer.) It feels like she has as much screen time as Hoult does, and certainly more than Cage.
It's a strange role for Awkwafina (who I love, don't get me wrong), because she isn't given a whole lot of room to show off her comedy chops, and her persona doesn't quite lend itself to this kind of action hero. She plays a low-level traffic cop with a personal vendetta against the Lobo crime family (get it?), and when Renfield accidentally crosses paths with some of these scumbags, he trips everyone's radar. Soon Renfield is wearing pastel-colored sweaters in an attempt to break free from Dracula's mental hold, but he'll still manifest his powers when he gobbles up bugs. (It's very Popeye and his spinach.)
The Lobo family is led by Shohreh Aghdashloo, wearing striking outfits and using her deep, drawling voice. But it's to the movie's detriment that she and Cage are only onscreen together for about five seconds. (And not even in the same shot! Did they even meet? What a whiff!) She does, however, use the term "butt dial," and if you hold the moral center of The Expanse in as high regard as I do, this is a very amusing thing to hear.
These disappointments are mitigated by a preposterous amount of blood and guts. Sure, it's cheap CG that looks absolutely phony, but there are moments as giddy as the final act of Peter Jackson's Dead Alive. There's also many more ska jokes than you ever could have predicted. Fans of The Specials will be particularly entertained.
Though Nicholas Hoult is charming as he struggles to find inner strength, Renfield lives or dies by Nic Cage camping it up. And he delivers. (This is not the first time he's gone vampire batty, of course, if you remember 1988's Vampire's Kiss.) Cage in celadon-colored makeup craving the blood of cheerleaders "not for sexual reasons" is a cheap laugh, but a good laugh. The Academy Award-winning actor is well aware of what he's bringing to the table these days, and sometimes a band should get out there and play the hits. If this movie is successful, and there's no reason to think it won't be, it might inspire a sequel or two. There are far worse curses.
Renfield opens in theaters Friday, April 14, 2022