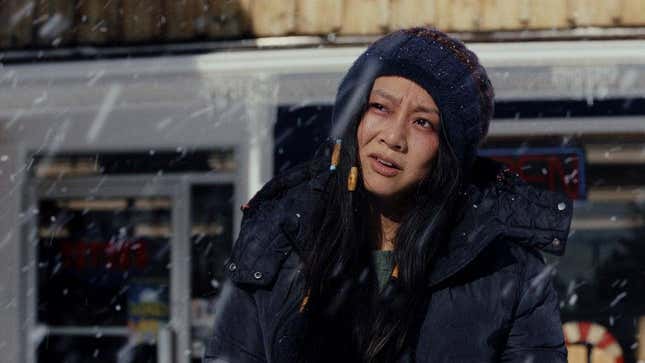 "This year has eroded me." Natasha Lyonne's Charlie Cale emotionally confesses in Poker Face's ninth episode. It's a crackling moment of vulnerability, and Lyonne aces every second. Charlie's been sincerely sentimental about other people she's met throughout the show. Her attachment to a new friend or stranger motivates her to solve the murders in each installment, even if she's inadvertently caused quite a few of them. But what about confronting her trauma of losing her best friend, witnessing a man jump to his death, getting shot, and going on the run, all within the premiere? In episode eight, she briefly opened up to Nick Nolte's Arthur before he was killed.
Dwayne Johnson reveals how he transformed into Black Adam
The show has slowly been building up to Charlie dealing with the emotional damage of, you know, the many crimes she's witnessed along the way. She rightfully calls herself a "death magnet" in this episode (where's the lie?). For a penultimate hour, I'm thrilled we finally see a more profound payoff for her year (!) on the road and a glimpse of her backstory. Johnson is saving more details about Charlie's history for season two, but we forgive him because he helms a fantastic episode this week with "Escape From Shit Mountain." It features Lyonne's best Poker Face performance to date, answers some burning questions, and, of course, welcomes some exciting guest stars–a PF trademark at this point, much like its inspiration, Columbo.
As "Escape From Shit Mountain" begins, Charlie finds herself falling into a love bubble at a national park. She bumps into the most rugged-looking dude who goes shirtless while showing her around. A montage shows how they eventually become a couple, the kind who has sex outdoors and go camping and fishing together. It's a little unexpected to see Charlie this happy, but that's why we know it won't last. As soon as it's snowy February, she's by herself working (sort of) as a car window cleaner. (The relationship fizzled as soon as the summer sun disappeared, huh?) She bumps into Stephanie Hsu's kleptomaniac Mortimer Bernstein—not her real name, don't worry—and sparks a friendship. What's new?
Oscar nominee (and, in my mind, the rightful winner of her category) Hsu makes a formidable impression. She's unkempt and wild as "Morty," but goes toe-to-toe with Lyonne as the two women find themselves in a horrible situation. After being stranded in a snowstorm, Charlie is struck by a car and badly injured while looking for Morty. The car's driver is Trey (Joseph Gordon-Levitt), a wealthy man six months into his house arrest for insider trading. When his ankle monitor malfunctions one night, he does the stupidest thing to seek respite from his boredom: Take his Lamborgini out for a fast-speed drive during a blizzard. He also says stuff like, "The last thing I need is another chick going crazy on me" multiple times. A walking, talking red flag if there ever was one.
After Trey smacks Charlie, he assumes she's dead and contacts an old friend, Jimmy (David Castañeda), who runs a motel. They bury her in "the spot" in the woods, immediately alerting us that they've probably done this before. But Charlie doesn't go down that easy—as we'll find out by the end of the episode, too—so she crawls out of the icy ground in a scene straight out of Yellowjackets and finds her way to the motel. She's pretty out of sorts, but at least she's alive. Morty arrives in Charlie's stolen car. The four of them are stuck inside as the storm keeps cutting the power on and off. Johnson's expert direction, aided by the cinematography and set design, stages the scenes perfectly, from snow-capped mountains to the rustic motel lobby. You can't help but feel immersed in the episode.
This could've been a very different type of Poker Face where four hot people are trapped together in a tight space. Alas, it's not as sexy as expected because Trey and Jimmy are hiding a dark secret. Ten years ago, Trey killed their mutual friend Chloe Jones, whose missing posters with a $75k reward are still stuck all over town. Jimmy helped bury the body, blindly believing his friend when he said it was an accident. (He internally must know Trey is lying, right?)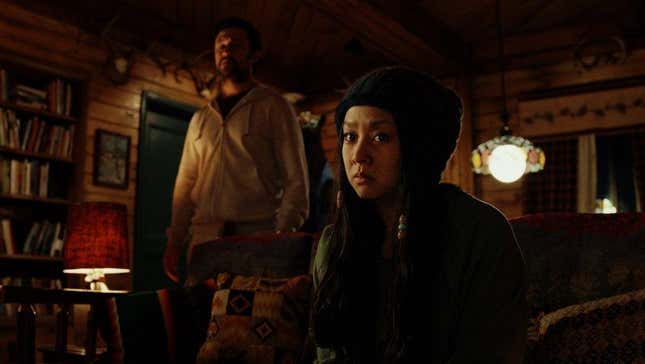 It doesn't take our human lie detector too long to figure out there's something amiss or that Trey is the one who ran over her. [Her skills will never fail, no matter how badly she's hurt, bleeding, or in mental anguish. The bullshit meter survives it all]. It helps that Charlie crawled out of the spot where they dumped her using what she assumed was a wooden stick. It was, in fact, one of Chloe's bones. That discovery turns the tables for Charlie and Morty, who realize they need to get the hell away from this motel. The former can't run due to her broken leg, but Morty ventures out to find Chloe's body as proof.
Unfortunately, Trey finds her there. He tricks her by making a deal for his Lamborgini in exchange for her silence. I wanted to scream at Morty for buying into it because it obviously wasn't a real offer. Just as she's about to get away (and leave Charlie behind!), Trey smacks her head into the wheel, killing her instantly, and then dumps the car. (So long, Stephanie Hsu!)
Meanwhile, a battered Charlie tries to bond with Jimmy and reveals her fragile state. "It's been pretty dark; it's hard to feel safe," she tells him broadly about her experiences over the last year. We also learn that when she was eight, her family would spend their days at a beach club. It's the most we've gotten about her personal background, and it's an intriguing tidbit that makes me wonder if she comes from an affluent home. Did she leave her wealth behind to pursue a vagabond existence, relying on small jobs and her bullshit meter at poker games? Anyway, her raw emotions get through to Jimmy at least.
It's vital because when Trey returns and tries to kill Charlie, Jimmy steps up to defend her. He finally sees through his old pal's lies and is about to fight him. But boom, Trey has a gun and doesn't hesitate for a split second before putting a bullet through Jimmy's head. I was momentarily shocked but not surprised. Poker Face has done an excellent job writing villainous characters who are often black-and-white, not just lying in a gray area, waiting to gain our sympathy.
Trey and Charlie get into a physical fight because he's out of bullets. He stabs her in the chest with a knife—reader, for a second, I gasped, wondering if Poker Face season two will be built around a new character. Trey falsely believes for the second time in one night that he's killed her. Over a few hours, he's murdered two people and gleefully accepted that a third one's down too. But Charlie sure isn't gone. She snagged his ankle monitor just in time, so when it activates the following day, we're left to assume the police rescued her and caught Trey even though he reached home on time.
The news story Charlie sees on TV from her hospital bed claims that Morty's dead body is hers, so she's relieved that everyone will assume she's out of the picture, including Cliff and Sterling Sr. Not so fast because the former is waiting outside, ready to capture his mark. How did he find out she survived? Has he been on her trail for a while, or is his gut feeling just that strong? We'll find out in the finale next week.
Stray observations
I love the bit from Charlie about how she avoids going to a second location with anyone to avoid getting Zodiac'd. Is it true, though, that she avoids it? I don't think so. She does look for danger wherever she goes.
For someone who went to Stanford Harvard, Trey refers to Orthopedics as "Bone-ologists."
I know I praised Hsu already, but shout out to Gordon-Levitt for successfully executing the tech bro douche vibe. Maybe working on Super Pumped had at least one benefit?
Oh, he also refers to amnesia as, "She's got a case of CRS: Can't Remember Shit." This guy.
Next week's finale, directed by Janicza Bravo (!), brings Benjamin Bratt's Cliff back into the fold. We'll probably also meet Ron Perlman's Sterling Sr. What else are we expecting—big answers or big cliffhangers? I think it's going to be a mix of both.