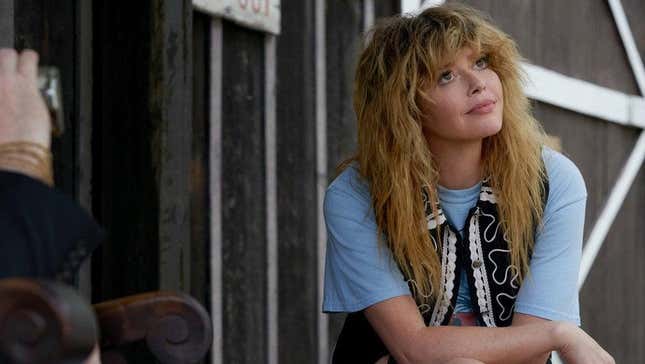 If you strip down the flashy layers of Poker Face's eighth episode, the central mystery is relatively mundane. A woman kills the two men who threatened to reveal a secret from their shared past because it would ruin the career she spent 40 years building. The case is not a standout in a "My brother going vegan will bankrupt us," "I used to be a domestic terrorist," or "I want to reclaim my band's glory days" way. But this is Poker Face, so why would we strip anything away? The spectacular set design, props, and performances elevate a hackneyed mystery into one of the show's creepiest outings yet. As an added bonus: Series star Natasha Lyonne expertly directs the hour.
"The Orpheus Syndrome" continues PF's enticing streak because the show's weakest episode for me thus far is only the fifth. I still can't complain much because it allowed Judith Light and S. Epatha Merkerson to be delightfully acerbic killers. This week's outing does something similar with guest star Cherry Jones, who climbs the charts as one of PF's most noteworthy actors. I'm thrilled the show's casting team is seeking out established stars to play these kooky and sinister roles. (See also: Chloë Sevigny, Ellen Barkin, and Tim Meadows, who all played murderers). Jones expertly delivers the theatrics required to sell her character as a one-track killer who slowly loses her mind due to her actions and repressed guilt.
She plays acclaimed Hollywood producer Laura who rose to fame by being one of the people behind the industry's strides in films about superheroes and space. She's got a lavish house in the hills, a sleek hairstyle, and a stylish wardrobe to boot. It might be costume designer Trayce Gigi Field and her team's best work yet. The episode opens with Laura running after her ex-husband, Max (Tim Russ), as he jumps from her balcony to his death. She's visibly crying and screaming at the crime scene, but Jones' performance teeters towards overdramatic, so you get the hint that she's not a reliable narrator. This is confirmed when Laura visits an old friend, Arthur (Nick Nolte).
Now here's when the macabre sets in. Arthur's farmhouse is covered in knick-knacks from his old Hollywood days as a special effects artist. He sculpts super realistic, super freazky faces and captures them under moody lighting. It's not scary by any means, but the props here lend an incredible value to "The Orpheus Syndrome's" overarching '80s horror homage. Laura, Arthur, and Max previously worked on what looked like a B-grade scary movie with monsters, fake blood, and lead actor Lily (Rowan Blanchard) dying in an "accident." It caused Arthur, who blamed himself, to quit his job. The grainy flashback footage of this whole event enhance's PF's retro feeling.
So yes, the vibes are similar to The Haunted House Of Horror, as Arthur also later dubs his house that way to Charlie. To no one's surprise, she begins the episode briefly working at a hair salon but ends up as Arthur's assistant after bonding with him during a hair delivery mission (for his "figurines"). [At this point, Charlie has truly made various "cool" friends across the country, huh? From Hong Chau's Marge in episode two to Simon Helberg's FBI agent Luca in episode five. How many of them will return by the season's end? I'm counting on Luca to help her in some way.]
My favorite scene here is when the two bond over the deaths of an old friend. After several episodes, Charlie opens up about Natalie's (Dascha Polanco) demise in the premiere, and how she feels about being constantly on the run but not being able to let go of the pain. It's a brief but excellent display of vulnerability for the character, and a brief connecting thread for the season too.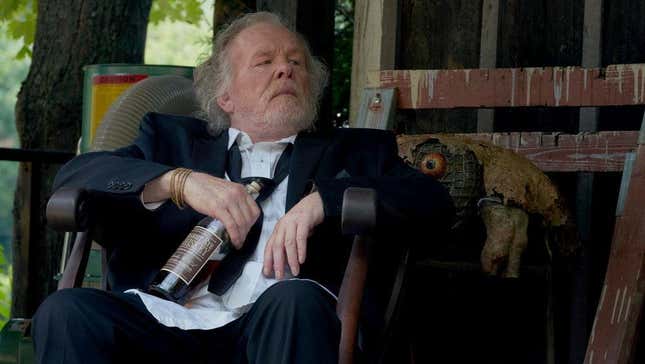 Back to the story: Laura convinces Arthur to sculpt a lifelike image of Max to "look into his eyes" and apologize for not saving him. In reality, she wants his (fake) face to unlock his laptop and clear out footage that clearly shows a younger Laura purposely cause the floating tank malfunction that killed Lily. Fed up with Lily's perceived diva behavior, Laura hopes this would teach her lesson, not that it would kill her. (Problematic either way, Laura!).
She is sincere about her grief over Max, so Arthur buys the act, but his spying assistant doesn't. Her ability to spot a lie now also manifests as eye twitches, if anyone's keeping score. As we know, Arthur thought he was responsible for Lily's death and left the business. But thanks to Charlie, he reviews the old tapes from the studio's storage, provided by Luis Guzmán's Raoul. Before we get into anything else, I'd like to point out that this damning footage was apparently available but no one thought of looking at it all this while? It's the only nonsensical drawback for me in the episode.
Anyway, Arthur confronting Laura doesn't go well for him because much like she does with Max, she's able to cut her friend out of the picture. Too bad that Charlie is invested now. Her conversation with Laura later goes alright for the most part, until the latter starts lying about the dead men by the end. I swear, Poker Face taps into the inherent need of fictional killers to ramble until someone catches their shit. In this case, Charlie obviously catches on. It leads to the show's funniest visual gag.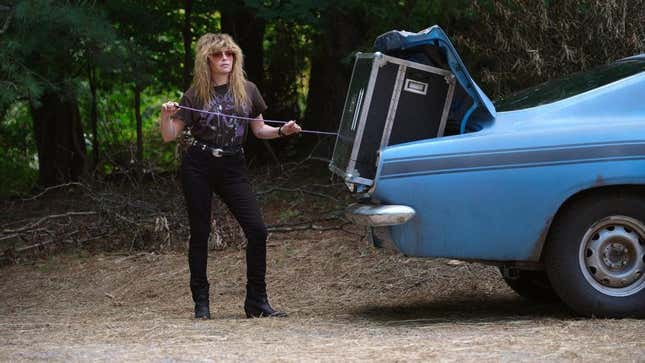 Hoping to reveal Laura's misdeeds to the world, Charlie and Raoul (who knows the truth and has teamed up with her) break into the studio's big memorial event for Arthur. They're hoping to recover the photo strips that prove what Laura did to Lily. To avoid detection, Charlie dons a black horse suit and runs up the museum. I had to rewatch multiple times to digest it, but what a hilarious bit of physical comedy right there. Kudos to Lyonne, the director, for giving us a shot that will remain in my memory forever.
Charlie and Raoul ultimately find and play the footage for everyone as Laura is paying tribute to the dead man on stage. However, she's already feeling quite shaken up after seemingly hallucinating Arthur in the crowd. The video propels her into mentally dealing with it as she runs out of the venue, all the while getting creeped out by Arthur's sculptures—an art form she once praised by saying to him, "I don't know how you capture a soul with latex and paint."Now she's haunted by it. Her allucinations lead her to jump to her death just like Max. I appreciated the zoom in on her face after she takes a dive because Laura is smiling—relieved and freed from the burden of her crimes in this life.
Stray observations
Natasha Lyonne's breathless delivery of this dialogue at the hair salon is one for the ages: "Oh my God. The mountainous volume, the sheer metric tonnage of bullshit in this place I swear to god."
FYI, she's referring to the lies clients tell their hairstylists, but I will be using this line for lots of things all the time now.
Tim Russ was barely in the episode, but he gets the award for "Resting Judgy Face." I say this with respect and envy.
Honestly, I am not surprised Charlie mistook fake blood for jelly and ate it up as a snack. Those fake props often look extremely real.

Arthur saying "I needed something real" while talking about CGI and the superhero/space era in films is a funny, pointed remark. The man would've loathed Ant-Man And The Wasp: Quantumania.
Only two episodes to go! Are there any burning questions you hope Poker Face answers by the season's end? Will Ron Perlman finally make his on-screen debut as Sterling Frost Sr.? We'll find out soon enough.