Back in March, we learned Microsoft was planning to close Lionhead Studios, the British developer behind games like Fable and Black & White. Since then, rumors have been swirling about the company's final days; how several prominent game publishers stepped up to buy Lionhead but dropped any deals once it became clear Microsoft was unwilling to sell the Fable brand along with it. With no options left, the studio was officially shuttered on April 29, ending the 19-year story of one of the industry's most idiosyncratic developers.
Yesterday, Eurogamer published a massive profile by Wesley Yin-Poole that covered all the highs and lows of that fascinating story as told by surprisingly candid quotes from many of the key players. Plenty of attention is paid to Lionhead's famed figurehead, Peter Molyneux, who's depicted here as a capricious, obsessive artist whose overzealousness both emboldened and damaged his team. This much is captured in a single, delightful anecdote from art director John McCormack that explained the genesis of Fable II's canine companion:
"We had a meeting," McCormack recalls. "We'd not seen [Peter] in weeks because he had other things on. He opened the door, walked in and goes, 'The hero has a dog, and it dies.' And then he left and we didn't see him again for another month. We were like, what the fuck? That was it. That was the direction."
The article and many of the developers who were quoted gave Microsoft plenty of praise where it was due. The company bought Lionhead in 2006 after publishing the original Fable, which Microsoft supported and fostered through a rough development. But many of the report's most frustrating revelations stem from the Xbox maker's decisions. Lionhead's decline and eventual closure runs hand-in-hand with Microsoft's ill-fated obsessions with various gaming trends—forcing the team to develop a Kinect-based game few of them wanted to make; rejecting the idea of a Fable 4 in 2012 because, as one of the story's sources recalled Microsoft executives saying, "There's no way anybody's going to be making single-player boxed products any more"; and subsequently tasking Lionhead with a free-to-play game, Fable Legends, that no one was really equipped to handle. An even more troubling Microsoft story came from John McCormack when talking about Fable's dedication to diversity. He recalled an argument with the marketing department over Fable III's box art:
They were going, "You can't have a black person on the cover, and you can't have a woman. And you want a black woman." And I was like, "Yes, I do, because it's about being whatever hero you want." "No. It's a white guy. That's just the way it is. We know what sells and that's fucking it. Stop the arguing." I was like, "Fuck you!" That was a huge fight. They said, "What's the most unsuccessful Disney film?" I was like, "I don't know." They went, "Princess And The Frog. Work it out." I was like, "Fuck you, man." I hated it.
G/O Media may get a commission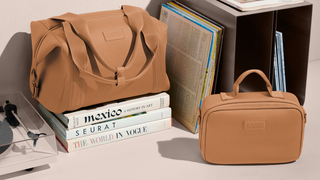 15% off
Dagne Dover Travel Kits
While the studio's reputation might have taken a beating in recent years, Yin-Poole reminds us what Molyneux and Lionhead meant to the British game development scene. It's much to their credit that Guildford, the hometown of both Lionhead and its progenitor Bullfrog Productions, became the host for some of the industry's most vital, inventive developers. Former Lionhead employees founded Media Molecule there and created LittleBigPlanet. Criterion Games would develop some of the finest racing games of all time there. And now a tiny Guildford studio by the name of Hello Games has captivated the industry with No Man's Sky, a game that contains an explorable universe that's effectively infinite. Now that's a pitch that would make Peter Molyneux proud.
Perhaps the most heartening aspect of the profile is the time it gives to the studio's lesser-known figures. It takes dozens—sometimes hundreds—of people to make a big-budget video game, but when a developer's leader is as public facing as Molyneux, the rest of the team tends to be forgotten. Yin-Poole makes great effort to highlight and humanize the other members of Lionhead, whose passion for this company and its creations was just as moving as that of its famous former director.