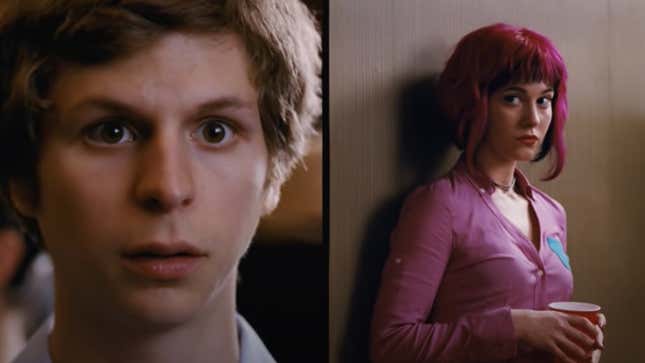 An anime adaptation of 2010's Scott Pilgrim vs. The World, first announced back in January 2022, is coming to Netflix, and the entire main cast is set to reprise their roles via voiceover. Yes, even Chris Evans.
Director Edgar Wright announced the news via Twitter on Thursday morning, alongside a video from Netflix teasing the stacked returning cast.
"This is not a drill! This is happening!" he wrote. "After much musing over the years about there being potential for an anime adaptation of 'Scott Pilgrim', I'm thrilled to say one is IMMINENT, with the whole cast back together and… you are going to lose your minds."
"Whole cast," of course, starts with leads Michael Cera as Scott Pilgrim, Mary Elizabeth Winstead as Ramona Flowers. But it also means a wide variety of familiar faces who have taken wildly different paths in the industry over the past decade are coming back for more evil-ex havoc: Satya Bhabha as Matthew Patel, beloved slime puppy Kieran Culkin as Wallace Wells, Captain America himself Evans as Lucas Lee, Anna Kendrick as Stacey Pilgrim, Brie Larson as Envy Adams, Alison Pill as Kim Pine, Aubrey Plaza as Julie Powers, Brandon Routh as Todd Ingram, Jason Schwartzman as Gideon Graves, Johnny Simmons as Young Neil, Mark Webber as Stephen Stills, Mae Whitman as Roxie, and Ellen Wong as Knives Chau. Per Variety, additional cast members will be announced at a later date.
Bryan Lee O'Malley, who created the original Scott Pilgrim comic nearly twenty years ago, will write and executive produce the series BenDavid Grabinski; the duo will also serve as co-showrunners, with Science SARU providing the animation. Although the series doesn't yet have an official release date, Netflix promises the adaptation is "coming soon."
"We're getting the band back together!" O'Malley and Grabinski shared in a joint statement obtained by Variety. "We can't wait for fans and newcomers alike to see what we and our partners at Science SARU have been cooking up. It's going to be a wild ride."