Give The People What They Want, the latest record from Sharon Jones And The Dap-Kings, was originally slated for release in August of last year. But shortly before the scheduled drop date, Jones was diagnosed with bile duct cancer, and later, Stage II pancreatic cancer. The release was pushed back so she could undergo surgery followed by months of preventative chemotherapy. Now, at the start of 2014, with her chemo treatments behind her, Jones is back and getting ready to tour behind the album. The A.V. Club caught up with Jones after her recent performance on Late Night With Jimmy Fallon and talked soul music's durability, her strenuous recovery, and getting googly eyes from Leonardo DiCaprio.
The A.V. Club: Give The People What They Want was written and recorded quite a while ago. Is it strange performing it now?
Sharon Jones: Oh, yeah. When we recorded that stuff, I didn't even realize I was getting sick. We were getting ready for it to come out in August, and ever since, I've been sick. I haven't listened to it; I had to learn it. Then, for "Retreat!," we had to do a video. And when I saw the animated video, it was like I was talking to my sickness, to my cancer, and I'm telling it to retreat. So, yeah, with that song especially, I started to look at it a little differently.
AVC: You also did a video for "Stranger To My Happiness."

SJ: When we wanted to go do that video, I was like, "Uhh, I really don't want to do this video. How's it going to look with the bald head? My nails are black and my face is different shades of color," all these effects of the chemo. My eyebrows fell out, I had no nasal hair, I was a mess, you know? But then I said, "You know what? I'm going to go do this video because I have to get out of this rut." I was weak and couldn't stand too long or walk too far, but I could sing. And I'm glad I did it. Once I did the video and I looked back… That video is part of my process, part of my healing.
AVC: It must have been helpful to have that kind of support system there, too.
SJ: Yeah, and I got so many positive messages from my fans. A few of the fans sent me pictures, saying, "I beat this cancer, and I beat that cancer. You're going get through it, too."
G/O Media may get a commission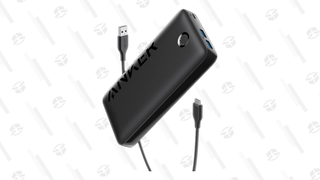 20% Off
Anker 335 Power Bank
AVC: So now you're back to promoting the album, and soon you'll be heading out on tour?
SJ: Yeah, I'm glad I'm doing what I'm doing. Tonight [on Late Night With Jimmy Fallon] was the first night that me and the Dap-Kings actually did a live singing thing since May. When we did the Macy's Thanksgiving Day Parade in November, we weren't singing, nobody was playing. We were just doing videos during that time.
AVC: You also recently did some work for Martin Scorsese's Wolf Of Wall Street. What was that like?
SJ: Me and the Dap-Kings were in that, but I haven't seen the movie yet. We did "Goldfinger" and five other songs. And I think we show up a little bit in the movie.
It was funny, when we're doing the scene, we're performing, and I'm looking at Leonardo and he's looking at me and smiling and I'm like, "Oooooh," and I'm waving at him… then realizing it's all part of the scene. When he was walking down the halls [on set], you want to be like "Hey, Leo!" But you can't talk to him because that's not Leo; he's his character.
AVC: Were you nervous shooting the scene?
SJ: You want to talk about nervous? I was so nervous tonight. Doing two songs that I haven't really sang—"Stranger" and "Retreat!"—singing it live, I was nervous, but it was fun.
AVC: A lot of songs on the new album seem to explore issues of power and how it's used in politics or romantic relationships. Is that a natural issue for you to take on?
SJ: Often the songs are written by the Dap-Kings, and they know me. They know I'm not going to sing something if it doesn't make sense to me, or if it makes me look like I'm begging someone or I'm weak, because that's not me. But I think I bring the songs that aren't about me or related to me to life. It's like the song "How Do I Let A Good Man Down?" Let me tell you, I didn't write that song—because if I have a good man, I ain't going to let him down.
AVC: How much longer do you think you'll keep playing with the Dap-Kings?
SJ: I'm going to do this until I decide to stop. I'm praying for another 10 years, another good 10 years. Right now, I want to give it all.
One main thing is to get more music-industry recognition for soul music. You know, you got awards for reggae, R&B, hip-hop, and contemporary this and that. And what they call R&B isn't R&B: pop. I love the music, and I love what they do; it's pop, though, not R&B. People say that soul music died in the late '60s/early '70s. What am I? Chopped liver? Look at all these independent labels in London and in New York releasing soul music. And the term now is "retro" and, okay, if you want to call all the new, young singers "retro," go ahead. But don't you dare call me or Charles Bradley retro.
AVC: Is it at all surprising that people—and especially younger listeners—are still interested and engaged with a sound that's typically associated with older generations?
SJ: You know what? The young ones appreciate it, too. You can go on YouTube and see people singing old soul music. It's amazing to me, and that's the goal.
AVC: Was there ever a time, after your recovery when you knew you were healthy, that you thought about not going back to the grind?
SJ: There was a time, over the past few months, when I couldn't get into my music; I couldn't pick it up. Music is my happiness, my joy, and when my body wasn't right I couldn't even listen to our songs because I wasn't in the mood. I could barely walk and barely shower, but I'm supposed to be sitting there happy? I can't do that. I couldn't get into my music without being healed, without being healthy. The energy is coming back now, though. I did my last chemo on New Year's Day.
AVC: Do you worry a lot of the focus in the media and the public will be on your cancer battle and not on the music? That you'll be "Sharon Jones: Cancer survivor" instead of "Sharon Jones: Badass frontwoman"?
SJ: I'm hoping that they see it as "Sharon Jones: She had cancer, but she beat it and she's back, giving the people what they want." That's what I want. I'm looking at everything positive. My goal for these next few years, for the next forever, is to try and keep positive things around me. If somebody is coming at me with negative stuff, just back away from me. I'm grateful to be alive, because I really did not think I was going to be alive, onstage performing these songs.