Lately, Saturday Night Live has received more attention for its many political stances than for the broader comedy it was once known for (Samurai Delicatessen, Land Shark, etc.). But David S. Pumpkins stands out as an oddball sketch from the fraught election-year fall of 2016. What's even more amazing, if you go back and watch the sketch a year later as you prepare for Halloween season (which we may have done a dozen times or so already), is that it holds up. The dancing, the music, Kenan Thompson as Mark the elevator operator, and especially, Tom Hanks' delivery, as the Oscar winner and nine-time SNL host appears to be having the time of his life.
For David S. Pumpkins fans (like there's any other kind of human), Vulture today offers an oral history of the creation of the character. Unsurprisingly, he was crafted by Mikey Day and Bobby Moynihan, DSP's dancing skeleton sidekicks, along with writer Streeter Seidell. It's an interesting look at how an SNL sketch gets created and then revised, as the writers reveal the original, extensive dialogue that offered more information about our new Halloween hero:
SS: Bobby was the one who was saying these lines, like, "Do you scare with pumpkins?" And David Pumpkins would be like, "Get a life!"

MD: "How many pumpkins do you use?" And he goes, "Between 10 and 38 pumpkins."

SS: And then it was, "If I leave a pumpkin on your doorstep, I hate you," or something.
MD: And it was a lot of, "Are you a ghost?" "You wish!"

SS: "Grow up!" He had a real attitude.

MD: "Do you haunt with pumpkins?"

SS: "One-thousand percent."
As funny as those lines are, the character benefited from a tightened-up delivery, and everything clicked into place as soon Hanks offered his own additions to the character. Seidell credits that it was "the genius of Tom Hanks to do that finger-point. We did not tell him to point two of his fingers and shake his hands in a weird way." Hanks also added a voice that he didn't use in early rehearsals. The result is Halloween history.
After the show aired, Moynihan and Day thought they'd done okay, and received compliments from Hanks and their boss Lorne Michaels at the cast party. They didn't realize how big the 100 Floors Of Frights star had hit until David S. Pumpkins suits started selling out as Halloween costumes. Hanks was already set, as he loved the character so much he had already taken the suit home:
G/O Media may get a commission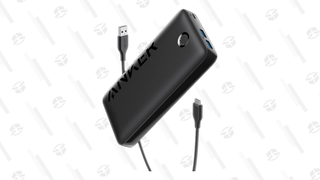 20% Off
Anker 335 Power Bank
David S. Pumpkins returns this Halloween in his own animated special, which will air on October 28 at 11:30 p.m. Eastern on NBC. Hanks will also be back (and will appear on camera at the beginning), along with Moynihan, Day, and Seidell, with the addition of new cast member Peter Dinklage. We can only hope SNL won't do what it so often does: overuse favorite characters to the point where we can't even stand them anymore. But even if Saturday's cartoon turns out to be a total flop, we'll always have these 4.5 minutes of hilarity: