Dave Grohl is considered one of the funniest, most big-hearted guys in rock. Hell, last month he was serving up brisket to California firefighters. Not everyone agrees with that assessment, however; last year, Sunny Day Real Estate drummer and former Foo Fighter William Goldsmith labeled Grohl a "schoolyard bully" in an interview that demonstrated how sour he still was about the rocker's decision to surreptitiously re-record the majority of his drum parts on the band's seminal The Colour and the Shape. On Tuesday, Goldsmith returned with more choice words about Grohl, this time claiming that Grohl is the reason Sunny Day Real Estate hasn't released an album in 18 years.
In the caption for a now-deleted video uploaded to Goldsmith's Facebook page (via Pitchfork), he said, "Recently by way of objective ears I have been reminded of the fact that the greatest Sunny Day Real Estate record ever made remains silenced, abandoned and buried within the murkiest depths of David Grohls sock drawer." Though it was initially unclear what Grohl's involvement wit the record was, Goldsmith went on to say that "it honestly feels like someone has taken a part of me as a human being and locked it in a closet." He capped it off by referencing the The Colour and the Shape incident. "This is not the first time I've had my voice taken from me. But now This music hasn't just been taken away from me anymore - now it's been taken away from my children. Unforgivable."
Foo Fighters bassist Nate Mendel, a founding member of Sunny Day Real Estate, told numerous outlets that "there is no truth to this story."
Later, Goldsmith added another post to his Facebook page, clarifying that "Dave's sock drawer was meant to figuratively represent studio 606," the studio Grohl owns in the San Fernando Valley. "There are many ingredients that resulted in the abandonment of LP5," he added. "The reference to Dave's sock drawer meant studio 606 which was where it was essentially left." He went on to absolve Grohl of being directly involved in the record's withering, but not before taking a jab at his disapproval of The Fire Theft, a Sunny Day spin-off he formed with Mendel in 2001. "So no I was not meaning to claim Dave single handedly prevented the record from being finished. He just owns the place where it was abandoned. However he wasn't too thrilled when Nate played with the fire theft so I doubt he thought about making it so Nate had the time to see it through."
He added, "If I come across as being a little bit outraged it's simply because I've had the unfortunate experience of hard work being disregarded with no communication or explanation as to why...Anyone who claims that there is no unfinished Sunny day record collecting dust I would have to agree to disagree."
G/O Media may get a commission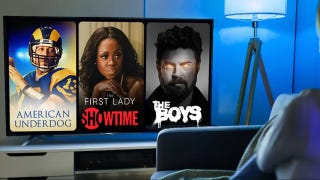 UNDER $1
99¢ Prime Video Channels
The only new Sunny Day Real Estate song to emerge from those sessions is "Lipton Witch," which appeared on a 2014 Record Store Day split effort with Circa Survive. Goldsmth's original video was soundtracked by some unidentified music that some theorize are instrumentals from the unreleased album.