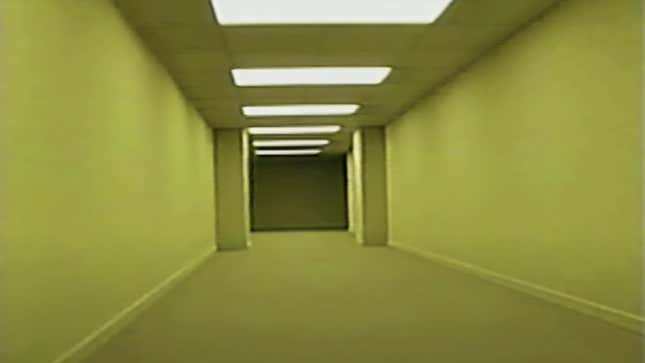 Sidle back behind that tree, Slender Man! The internet has a new favorite creepypasta obsession, and it's already becoming a movie from A24, James Wan's Atomic Monster, director Shawn Levy's 21 Laps, and Chernin Entertainment. We're talking about "The Backrooms," an expansion of the internet's fascination with liminal spaces—which are weird (often edited) photos of unsettlingly empty places.
"The Backrooms" variant was popularized by a YouTube video series of the same name uploaded by a user named Kane Pixels in 2022, which were presented as found footage recordings of people exploring some of these Backrooms (created using some combination of excellent location scouting and clever VFX tricks… or maybe all VFX tricks… or maybe they're all real locations?). Kane Pixels is actually 17-year-old Kane Parsons, and a press release from those aforementioned production companies says that Parsons himself will be directing the feature-length Backrooms movie with a script by DMZ's Roberto Patino. And, just to underline that, the press release notes that Parsons "will direct the film over his Summer vacation" because he is, again, a teenager. His summer job is making a horror movie with A24 and Atomic Monster. (And we mean those italics in the nicest way.)
If liminal spaces are traditionally photos, The Backrooms are the video equivalent. There's some kind of implied lore to it all (and some explicit lore in Parsons' other videos), but the point of them, and the thing that makes them scary, is that none of it really ever makes any sort of sense. The premise of the videos is that there's a maze of hidden corridors running just out of sight of the regular world, and they all happen to look like abandoned floors in a shopping mall or a dreary corporate office—sort of like they're the leftover bits of reality itself that don't fit anywhere—and their purpose is unknowable and unnerving. Imagine the underground doppelgänger community in Us, or like clipping through a wall in a video game.
The press release doesn't mention a release date, but the director has, you know, school and stuff to worry about, so it'll be either relatively soon or relatively far. We'd guess it'll be comfortably before finals or comfortably after finals.