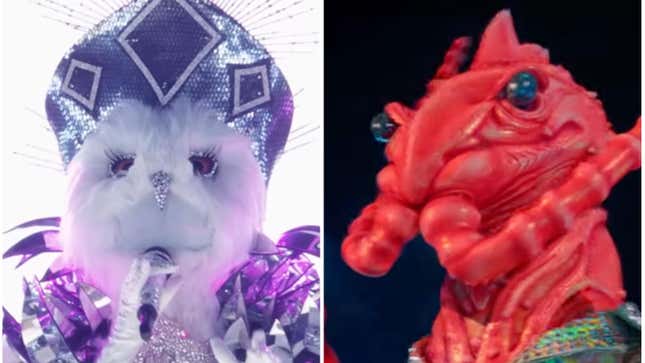 The Masked Singer, that esteemed program featuring mysterious, mostly mediocre singers from disgraced politicians to Kermit the Frog, is back in business. Perhaps you're one of the mask-heads whose weekly highlight is seeing a C-list celebrity reveal on primetime television; perhaps you get your jollies from reading recaps of reality competition series you'll never watch yourself. Maybe none of this applies, and you've simply come to lament what entertainment passes for a ratings giant these days. In any case, you can get your Masked Singer news from anywhere, including The Masked Singer, so thank you again for choosing The A.V. Club.

Kevin Costner's attorney would like to inform you the star is not a jerk
Formalities out of the way, week two of The Masked Singer's ninth season was full of thrills and chills for fans of ABBA and/or performers who rose to prominence in the 1980s. The show currently operates under a "Champion of Masked Singer" format, meaning three contestants appear in an episode with one winner moving on to the next round and two losers losing their masks. This week's unlucky contestants were "Rock Lobster" and "Night Owl," who lost to last week's victor "Medusa."
Rock Lobster, who performed "S.O.S.," was introduced with the clues that he was "a great judge of character" and that he is a "weird, neurotic mess" ("especially recently"). His voiceover also teased that he's "been in movies and TV shows since you were a kid" and hinted at TikTok stardom ("10 million people watched me dance for 15 seconds on the daily"). That's none other than… Howie Mandel, guessed accurately by judge Ken Jeong (other guesses included Martin Short and Steve-O).
Night Owl performed "Fernando" (and battled with Medusa on "Winner Takes It All"), giving the cryptic clue of bubblegum (presumably a nod to her bubblegum pop days). "I broke records and topped charts at just 17," she said in her voiceover. "I've been in this game for years and that's because I'm a straight up triple threat. You've gotten lost in my movies, TV, and on Broadway." The judges had a number of guesses, including Sarah Jessica Parker, Paula Abdul, Belinda Carlisle, Cyndi Lauper, Martika, and Kylie Minogue, but the correct answer was… Debbie Gibson. (Correctly guessed by Jenny McCarthy Wahlberg, whose husband Donnie Wahlberg toured with Gibson back in his New Kids on the Block days).
Gibson actually filled in on short notice for another mystery celeb, sharing in her voiceover, "I've been waiting to do this show for ages. But the stars didn't align until, well, yesterday. Literally. 24 hours ago." She later told Entertainment Weekly, "The call came on the one year anniversary of my mom's passing. And my mom managed me for 25 years," she shared. "And I thought, 'Oh, my mom is managing me today and sending me a cute, fun little gig.' Because something about it, you can even hear it in my voice now, the whole thing has just put me in a great mood." Stay tuned for more masks and more singing, same time next week.