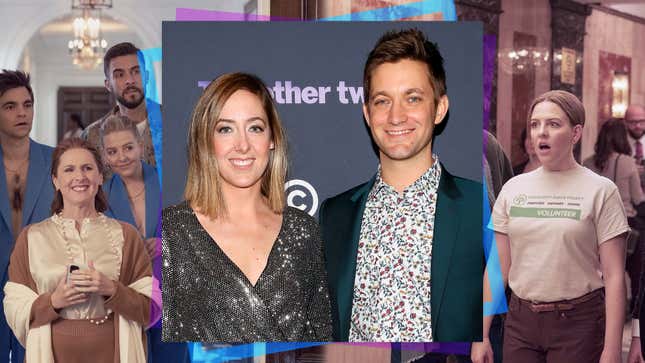 It's a rough time for the entertainment industry. Even before the Writers Guild went on strike, streamers were canceling some shows and removing others from their libraries. Examples from Warner Bros. Discovery and (soon-to-be-formerly) HBO Max have been particularly infamous, but thank goodness The Other Two—the smart, showbiz satire that the streamer rescued from Comedy Central after its first season—was allowed to plow on. "[We're] not completely unaffected," series co-creator Sarah Schneider qualifies, "but we're excited we get to finish."

Miles Teller on becoming Rooster in "Top Gun: Maverick"
Schneider and co-creator Chris Kelly know how the television sausage gets made as well as anyone. After serving as co-head writers for Saturday Night Live, the duo dreamed up The Other Two and the Dubeks, a family that has collectively tried just about anything and everything to get their piece of the entertainment industry pie. By the end of season two, the whole family was well on their way to their dreams—then the pandemic came.
Season three, which premieres May 4, opens in the present day, in a world that has returned to a tenuous, fairly ugly normal. Youngest son Chase Dreams (Case Walker) is freshly 18 and experiencing sanctioned sexualization for the first time; mother Pat (Molly Shannon) has become so successful that she can't leave her house without checking with her security team days in advance; daughter Brooke (Heléne Yorke) grapples with whether she even wants a career in showbiz as her boyfriend Lance (Josh Segarra) became a nurse during the pandemic; and Cary (Drew Tarver) has become so hyper-focused on success as an actor—whatever that means—that he risks alienating everyone he cares about. If this sounds like a bit of a nightmare, it is. But it's also hilarious.
Speaking with The A.V. Club, Kelly and Schneider discuss their thoughts on crafting the family's return, determining how much Covid the plot could handle, and why this season could be the show's last.
---
The A.V. Club: Season two left at a pretty defined point, as we all know what happened on March 13, 2020. Did you always have this start date in mind when you resumed it?  
Sarah Schneider: [Laughs] Not really.
Chris Kelly: We had already written season two, and then we came up with the joke at the end of season two. Like, "Oh, Cary's big movie is going to start shooting on that date," was added later. And we really waffled on it, like, "Do we want it? Do we not want it?" And we were nervous because it meant tying season three to Covid and it meant acknowledging that if we got a season three, there would definitely be a pandemic and we couldn't ignore it. So we got cold feet but decided, ultimately, that it was smart because we didn't know how we were going to deal with it. And we didn't want all of season three to be about Covid. But it felt like if we did a satire of the entertainment industry, and we didn't acknowledge the pandemic, then we wouldn't really be able to write accurately [about] the world that we were in. So much has changed because of the pandemic, so we just had to have it be part of the world somehow.
AVC: It feels like Brooke is kind of the avatar for a lot of the Covid anxiety this season.
SS: Yeah, she's kind of existential as a result of it. And Cary experienced his first movie during Covid, which has just propelled his journey. [He's thinking,] "It didn't feel like how I wanted it to feel, so now I'm on the hunt to make it feel like something, in some form or another." They're both sort of not in the pandemic—this is not a pandemic show—but their jump-off points are from the fallout.
AVC: One of the things that's been so interesting about this show is the question of what it actually means to be a child star. I think that conversation has shifted quite a bit in the past year or two. It seems that it's a lot more acknowledged how bad it was for the kids who worked at Nickelodeon; Jeannette McCurdy's memoir was pretty explosive. Is that something you've thought more about with Chase as the show has progressed? 

SS: Not more because of the zeitgeist. I think our perspective on younger, specifically pop, stars is that it always feels like there's such a machine behind them. Chase, to us, was always just this moldable piece of clay. There's Streeter and Wanda [Sykes]'s Shuli behind him making all the life choices for him. So that was kind of from day one our take on how it seemed—that these pop stars were just being created and put out into the world. That must be a weird experience and hard for them and kind of gross. From that one, that's sort of been our take on Chase and his world. Shuli's character is sort of the catch-all for all of those ideas. I guess we were right [laughs].
AVC: I think you were right. In this season we see Chase turn 18 and it really doesn't get any easier for him. It kind of gets worse, because he's still a child but allowed to be treated this way. Do you think there's any way out for him? Do you want there to be?
CK: You'll see in the back half of the season [that] we kind of lean more into his story. This season it's about how he's technically an adult, yet still a little cog in the machine. Just a little piece of clay that people can say, "Now you're that, now you're this, now you're that." And season three starts with him being like, "I'm 18!" And everyone's like, "Exactly. So now you can do the things that we tell an 18-year-old to do." And he starts to be like "No, I'm 18 so I wanna decide." So we play with the consequences of him deciding later in the season in a way that I think is interesting. He does get his dream to have a say, and we see what happens with that. But I don't know that you can ever have a way out. You're sort of just the kid that was. You can maybe get out, but in a sad way.
SS: We always talked about this in season two. We would say—our feeling with Chase is that you can't put the toothpaste back in the tube. Like, he tries to go to college like a normal kid and instantly is bullied and recorded every step of the way. That's sort of the same with Pat as well. This season she's sort of gotten so much success that it's now a prison to her. So we are interested in playing with when you're at that level, what that means for your desire to just be normal or go back to normal.
CK: You can't just turn it off, you can't just be like, "You know what, never mind."
SS: "Never mind, I'm not Oprah."
CK: In the real world, I guess if you're super famous, you can choose to recede from the spotlight. You can make the choice in your life that put you away from the paparazzi and try to retreat, but you can never fully say, "Never mind, I'm done."
SS: Today I'm not Jennifer Aniston: I'm going to go to a Starbucks.
AVC: Short of getting a ranch in Wyoming or something, you're kind of stuck.
SS: Totally. You'd have to remove yourself from the world.
AVC: I was interested in Pat, too. She has this huge crazy house, which looked like a practical location. It seemed like you guys this season had a little bit more money to spend. You had a lot of VFX that was really cool, particularly in the Pleasantville-esque episode. Did you have more room to play with that stuff this season?  
SS: We certainly wrote it. And then we had to figure out how to make it, still within similar constraints. So the fact that it looks so expensive is just a testament to our production teams and our production designers and our locations manager and everyone who made it look so good.
CK: Yeah, we really did have like the best of the best with every department. Like Sarah said, our production designers and art directors really just turned it out. And location people—I mean, every episode, even in the back half of the season, there's big, huge standalone set pieces, which is one of our favorite things about the show: that every episode starts and you don't know where you're going to be now and there's this weird new 30 minutes.
SS: Also, I watch our show and I'm like, "Yay, we did a good job making Pat feel like an Oprah-type," and then I watch Succession and I'm like, "No we didn't!" [Laughs.]
AVC: Well, they're generations of wealth. Pat will get there eventually.
CK: There we go, there we go. That's why—it's not the budget.
AVC: There's also the 8 Gay Men With AIDS play; that's a real play set.
CK: Our locations person ... we got to shoot in a real Broadway theater, which was incredible. And our production designer built a set and we had a lighting designer from SNL come and do all the lighting. It was really cool.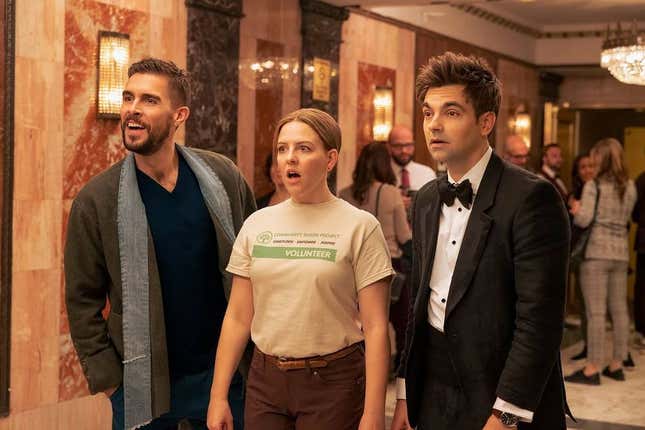 AVC: Speaking of SNL, you both have backgrounds at SNL, but I don't think it's ever come up on The Other Two.

SS: Well, we tried to shoot the finale of the first season there, but it didn't end up working out because of the schedule. Chase needed a big performance space and venue and we were like, "What better than SNL?"
CK: So then he performed at the VMAs instead. We've also had SNL people play themselves on the show and then also people play characters on the show.
SS: Like Bowen [Yang] has played himself, but Molly Shannon plays Pat Dubek. Let's not think too hard or it'll all implode.
CK: That's my favorite thing, too, about the guest stars this season. We have a fun list of guest stars; some play themselves, some play weird characters, and you're like, "What are the rules here?" There are none.
AVC: I don't wanna spoil it, but I was waiting for some kind of Lukas Gage joke, and my expectations were wildly surpassed.
CK: He was great. It was really wild how many fun people we got to do it this season. It was wild that we asked him to do it, and he read the script and still said yes [laughs].
SS: It couldn't really have been anyone else—not only the names but the jokes, the vibe ... it really was for him, and that always backfires for us. It's always like we've written this part for this person and they're like—
CK: "Why? Why would you do that?"
AVC: All the people who played themselves seemed pretty game, like Kieran Shipka—
CK: Kiernan Shipka really made me laugh. She was great. It was just fun for her to come for a day and do this; she was just game.
SS: Those were always our favorite hosts at SNL too. Anyone who was there and game and up for it and could play a version of themselves. It just makes it so much more fun and easier, versus people who are really in their heads about how they're being portrayed or won't play a certain kind of character.
AVC: It's kind of funny, too, because in season one you make a reference like "Oh, Chase got an offer to date Millie Bobby Brown" or something, and now you actually get to have the people on the show.
CK: It does legitimize it. It makes it feel like, as stupid as the show is, and as stupid as the storylines [are], it grounds it to see these real people that Chase is a peer of.
AVC: Each season, we see Cary and Brooke get more and more successful—the whole family, in fact. At the same time, the show keeps building a bigger audience year to year. Does it feel like a parallel?
SS: Maybe Heléne [Yorke] and Drew [Tarver] would speak to this more clearly. But hopefully they've felt a little bit more like people would recognize them more. So they might be on parallel journeys to their characters.
CK: Heléne's getting recognized more, which is all she wants. [Laughs] You better not ever be on a sidewalk with Drew and Heléne and have only Drew get recognized. The sidewalk will open up and swallow you whole.
SS: I was with Heléne once, and she got recognized on the street and she said 'Thank you!' And then so futilely called after the woman, 'This is the writer!' And the woman didn't turn around. But she tried!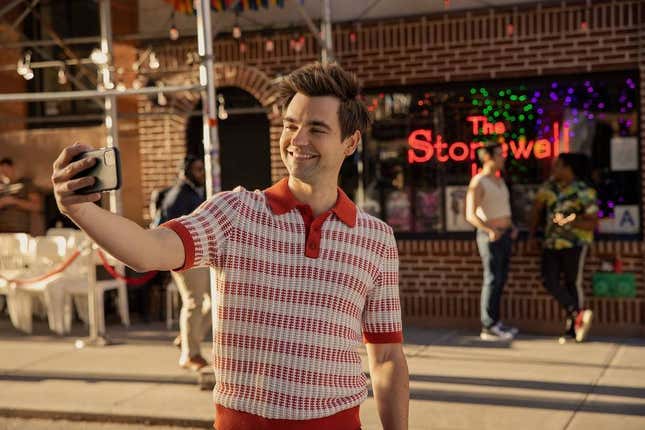 AVC: Cary seems to have the most trouble being satisfied out of the whole crew. I found him this season a little harder to root for, in a way that still felt grounded. He seems a little more unable to grasp and understand the breaks he's gotten.  
CK: I know; we were joking at certain points that this season Cary should die. [Laughs] He's making decisions that are frustrating to watch. I know, well, buckle up—it doesn't get better.
My whole idea was: He's wanted this for so long, he's wanted success, or whatever that is, or wanted to get to the mountaintop, or wanted to be in a movie. He wanted whatever it is that he thought he wanted. And it starts off, because of Covid, it didn't quite happen the way he thought. And so he was like, "Oh, that wasn't fun, that was awkward, it was weird, or it was stop-start-y. We were all in medical garb, and I didn't get to have the experience I dreamed of as a kid. So I gotta get my next one. Let's reset. Now that one has something wrong with it, so let's do this." So I think he's just kind of curious to feel like—to not just have a win, but to have the win that he imagined it would feel like when he was younger. So I think he's in pursuit of that and maybe kind of myopically focused on that. So, yeah, this season is a little unfortunately tough for him and his character, but he's trying to find something; he just doesn't know what he's trying to find. Stick with him.
SS: He's been so focused on this one thing, and it's his career. And when you're so, as Chris was saying, myopically focused, your blinders are on. It's sort of like your focus is wrong, in general, and Cary doesn't know that. He's sort of a tragic figure in that way. And we explore that through the back half of the season, where you understand what he's looking for, but he's looking in the wrong places.
AVC: And then on the flip side, Brooke, as I mentioned earlier, is kind of the avatar of Covid anxiety. What was the thought process there, of finding a new way to escalate her?
CK: For both of them, for every season, we talk about things that we're thinking about, or we're feeling, or we're frustrated with. And I think during the pandemic a lot of people did—their careers and their lives got put on pause, and it gave them a moment to think about their lives: Are they happy with what they're doing; is what they're doing is meaningful? You only get one shot at this; what do you want to spend your days doing? And so we thought that that was a good thing for Brooke. She had spent so long trying to become this thing. Was that a good idea? Is this thing meaningful? Does she like what she does? Is what she does providing value to the world? And she feels like, yes, and then she feels self-conscious that she feels that way because she's not a nurse, she's not a doctor, she's not an EMT.
So we liked the idea that it wasn't about getting the thing anymore, but having the thing, and being like, "Do I want the thing?"
SS: We're more existential this season with her. She's always very externally a tornado, but this season she's internally a tornado as well. She's fantastic in this season. [Heléne] and Drew both are. We threw a lot at them, and they really delivered.
AVC: Pretty much all of them at this point have the thing, to varying degrees. Do you have more story charted out beyond this season?
CK: We don't know. We don't have any more story charted out. No.
SS: We're still at the edit for this season, and we premiere in a week. We're also myopically focused in a bad way.
AVC: This wasn't written as the end of the show, though? You're open to more?
CK: We don't know. We're not sure. We have not decided yet. We could go either way. The season stands on its own, but we always could keep going. No decision.
AVC: Well, I hope for my own sake that there's more of it.
CK: Well that's very nice, thank you. But like I said, we kill Cary this season [laughs].