One of the greatest misconceptions in contemporary society is that all Real Housewives are created equal. I am here to tell you emphatically: they are not.
Since its inception in 2006, the reality franchise has expanded to cities around the country with the speed and relentlessness of a bad case of Ebola. It all began with The Real Housewives of Orange County, which—it's easy to forget at this point—was originally envisioned as a kind of real-life Desperate Housewives. This was back when that show was still the talk of the town and in the waning days of the brief-but-brilliant career of The O.C. What few could have predicted is that the Housewives brand would eventually eclipse both shows in terms of its cultural impact, if not viewership.

Not coincidentally, The Real Housewives debuted at the height of the Great Bubble, in a region where real estate speculation was particularly acute. Back then, it seemed plausible—if not entirely reasonable—to be making millions a year flipping suburban faux-Tuscan McMansions.  We were supposed to be envious of the easy money but resent the way that it was spent—on electric yellow Hummers, on blue-cheese-stuffed-olive martinis, on puffed-up lips and flattened-out foreheads. The anthropological distance between the subject and the viewer is at the heart of shows like the Real Housewives—almost all reality shows, in fact. At least in part, you watch because these people are, on some level, loathsome.
In this way, it's been fascinating, if not exactly inspiring, to watch some of these housewives come to terms with the economic crisis—selling their gently used Ed Hardy gear in yard sales, cashing in on their modest fame by launching clothing/skin care/jewelry lines, selling their second home at Lake Havasu.  But it's not just about schadenfreude; you also have to have a strong appreciation of the absurd in order to be a Housewives fan. Most scripted entertainment demands that we suspend our disbelief, while reality television, especially the Housewives, requires us to suspend our beliefs—as in, checking all social norms at the door. What's that, you say? It's not a good idea to get naked in a jacuzzi with your new boyfriend on national television? Well, duh.
Two years after Orange County, Bravo launched The Real Housewives of New York City. I have to say that, initially, I was reluctant to embrace the show. As a New Yorker, I didn't feel that a show set in my kinda-sorta backyard, would have the appeal of Orange County. Their politics and lifestyle certainly grossed me out, but more than anything, I was intrigued aesthetically—the drag queen make-up, the basketball boobs, the infantile attraction to everything shiny and pink.  It didn't seem like New York, a city with more than its fair share of rich fools, could quite match up on a visual level. This cannot be underestimated.  You know how, sometimes, National Geographic will have a big story about farmers in the Midwest, or the like? They're awfully boring to look at compared to those women in Borneo with the long necks. But what the series lacks in rhinestones, it's made up for in other ways.
First, though, a word about the other Housewives.  In the fall of 2008 came The Real Housewives of Atlanta, a show which proved that black people can be every bit as materialistic and narcissistic as white ones. Then, in May of the following year, The Real Housewives of New Jersey debuted. This was, dare I say, the tipping point at which a slowly-building brand suddenly exploded into the national consciousness. Just like that, "prostitution whore" and "thick as thieves" were on the lips of millions of Americans.  I too, was initially enchanted by the New Jersey ladies, but quickly grew disenchanted by season 2.  I found the dynamics of the cast—everyone hated Danielle, but got along just fine with each other—to be boring. New Jersey still has its fierce partisans—Judd Apatow is a huge fan—but I prefer a show where the internal allegiances shift more unpredictably.

Since the success of New Jersey, the franchise has expanded even more aggressively. In the past year, three new versions of the show have debuted: Washington, D.C., Beverly Hills, and Miami. The only one worth watching is The Real Housewives of Beverly Hills, which may just be the very apotheosis of the brand. Unlike the women of Orange County, Atlanta, and New Jersey, these women are loaded—not just up to their eyeballs in credit-card debt. Bank balances aside, the question that really matters when it comes to picking a favorite Housewives is this one: What's your favorite brand of crazy?
G/O Media may get a commission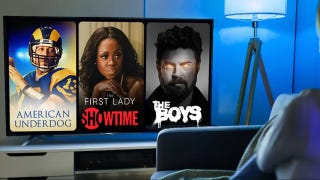 UNDER $1
99¢ Prime Video Channels
The women of New York City may not as flashy as their peers in Orange County or New Jersey—though Countess LuAnn's increasingly ginormous ethnic jewelery is pretty distracting—but there's an internal volatility among their ranks that almost always makes the show fun to watch. From week to week, I'm never sure who the most reasonable member of the cast is or which two ladies are most likely to erupt into a screaming match. Virtually everyone on the show is slightly off in one way or another, but no one has quite reached Daniell Staube levels of lunacy.
The only one who comes close is former model Kelly Bensimon—think of her as a poor man's Cindy Crawford—who is easily the most entertaining housewife. She's also the most unstable. Ever since she arrived in season two, Kelly's been a reliable source of malapropisms and strange outfits, but she really came into her own last season. In a now-infamous episode known to fans as "Scary Island," Kelly appeared to undergo a complete psychotic break while on a trip to St. John. Between mouthfuls of Gummi Bears, Kelly accused cast-mate Alex Van Kampen of being a vampire and suggested that Bethenny had a tongue made like knives. Theories over the exact nature of Kelly's breakdown proliferated on the internet, and she even made a disingenuous "public service announcement" alleging she was the victim of "systematic bullying." I suppose it's unkind of me to call Kelly crazy, and, what's more, to enjoy her (possible) mental illness, but, hey, at least I'm not watching Hoarders. (At least not every week.)

This season, we find the Real Housewives of New York City at a crossroads.
Bethenny Frankel, the show's breakout star—sort of a latter-day Rhoda Morgenstern—has left for her own reality series, Bethenny Getting Married?/Bethenny Ever After (she answered her own question, apparently).  As much as I once enjoyed Bethenny, with her pithy one-liners and emotional exhbitionism, there's something to be said for being the sane fish in a crazy pond. Removed from the Houswives context, Bethenny doesn't seem so normal anymore—what kind of person brings cameras to their therapy sessions, anyway?—and her jokes play like Borscht Belt punchlines.
The question for fans like me is whether the opposite is true: Is the show missing something without Bethenny? In her place, the producers have cast another brunette, Gina Gershon lookalike Cindy Barshop, who owns a chain of hair removal salons called Completely Bare (where ladies can festoon their labia with—you guessed it—rhinestones!). The only really interesting thing about Cindy, at least in the two episodes I have seen, is her super-close relationship with her brother. Expect producers to play this up as much as possible. The show's one-time yenta, Jill Zarin, whose image took a serious hit last season, is back on her best behavior. But happily, the Pax Romana is short-lived. A newly assertive Alex clashes with Sonja "Samantha Jones" Morgan over, of all things, her commitment to marriage equality. In other words, there's more than enough neurosis to go around.
For those of you who remain skeptical about the strange appeal of the New York Housewives, I have two words for you: Al Sharpton.