Film history isn't a highlight reel of universally agreed-upon classics. It's an epic story. But some chapters of the story draw more attention than others. Secret Cinema is a column dedicated to shining a light on compelling little-noticed, overlooked, or faded-from-memory movies from years past. Let's talk about the films nobody's talking about.
In his recent book, Retromania: Pop Culture's Addiction To Its Own Past, author Simon Reynolds argues that pop culture, and particularly music, has settled onto a plateau of stagnation and self-referentialism in recent years. Rather than attempting to forge bold, new, original music—the qualities of which Reynolds never really defines—artists have settled for rearranging old elements into new combinations as past influences come into and fall out of fashion. It's a compelling argument, the kind that can color readers' thinking even if they don't agree with it, particularly when Reynolds points to the last decade's inability to claim for itself a major musical revolution on the scale of punk or hip-hop. As anyone who's read Reynolds' essential post-punk history, Rip It Up And Start Again, knows, Reynolds is a first-rate historian, and Retromania is indispensable as a chronicle of backward-looking musical trends from the 1960s to today. But sometimes his theorizing and his scholarship don't mesh as well as they might.
Reynolds is particularly harsh in his chapter dealing with Northern Soul, an almost exclusively British subculture that thrived in northern England in the 1970s. Fans latched onto a particular strand of '60s soul—chugging, Motown-derived music from the mid-'60s, before funk became chic—and made a cult of it. That meant tracking down forgotten songs, regional hits, and wannabe stars from small labels and turning them into club hits. DJs made their careers on tracking down rare sides, but Reynolds writes as if art never entered the picture, treating the rare soul so coveted by Northern Soul fans as failed soul, "redundant waste" that had a second life as fuel in a "scarcity economy." In some respects, he isn't wrong, but seeing the Northern Soul scene in strictly economic terms assumes that all those rarity-hunting DJ/collectors never uncovered any lost gems, and that the pilled-up, dance-happy crowds they entertained didn't love the music. For a writer who doesn't try to hide his left-leaning sympathies, Reynolds places an awful lot of faith in the free market as a place where excellence thrives and mediocrity sinks.
What does all this have to do with They Came To Rob Las Vegas, the subject of this Secret Cinema installment? Well, not that much. But also a lot. Retromania left me feeling vaguely guilty that so much of my own time exploring pop culture involves examining the past rather than looking toward the future. The premise of this column—a space to talk about films nobody talks about anymore—is based on the notion that history isn't a settled thing, and that the movies understood as canonical don't tell the whole story. But maybe I was wrong. Maybe it's perverse to want to look back, or to look too deeply into the past. Maybe I was just sorting through waste, particularly when writing about a film selected almost entirely out of curiosity, like They Came To Rob Las Vegas, in hopes of finding a hidden gem behind an irresistible title. In that sense, I failed. They Came To Rob Las Vegas is no lost classic. But that doesn't mean it needs to be forgotten forever, either.
Heading the cast: Gary Lockwood, soon to be known as "the guy from 2001 who isn't Keir Dullea." First seen hanging out at a late-'60s San Francisco disco—the kind with pulsing light shows, anonymous-sounding psychedelic rock, bare walls, and go-go dancers so favored by films at the time—Lockwood plays a young member of a crime family who begins the film by disappointing an uncle who's just broken out of jail (played, in a nod to crime films past, by Rififi star Jean Servais) by declining to participate in a heist of an armored car. By Lockwood's logic, Servais is a man out of time. "I don't think you know what age you're living in now," he says, going on to describe it as a time of "computer intelligence" and "moon flights and men walking in space, you know?" Servais' reply, as he looks at his buckskin-clad, sideburns-sporting nephew: "I think that you must be walking in space." But Lockwood gets proven right the next day when, in spite of an abundance of heavy weaponry, Servais and his men get wiped out while trying to take out the armored car shortly after it crosses over the Bay Bridge.
G/O Media may get a commission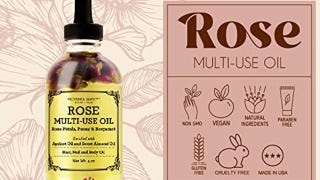 Provence Beauty Rose Multi-Use Oil
The failed heist sequence has a couple of interesting elements. First, there's the armored car itself, which, for all the film's attempts to establish it as a high-tech, even futuristic vehicle, looks pretty much like an RV with some cosmetic armored plating and fake guns layered on it.
Then there's the canny way Spanish director Antonio Isasi uses San Francisco locations. Sort of. After some nice shots of vehicles moving through San Francisco streets, the action shifts to an underpass lined with posters for old American Westerns. Isasi shot They Came To Rob Las Vegas in San Francisco, Las Vegas, and Spain, but it didn't really occur to me until reading Glen Erickson's review of the film at DVD Savant that none of the scenes with the principal actors were shot in the States. But that would explain why, a few scenes later, after Lockwood leaves his job as a Vegas casino dealer—obviously shot on a set—and gets in his car, the film cuts to shots of the same model of vehicle driving past signs advertising appearances from Bobby Darin and Juliet Prowse, then to Lockwood emerging at an apartment complex that looks suspiciously European in design.
Even if you aren't focusing on the film's stitched-together elements, they make their presence felt, as is so often the case in international co-productions. Spaghetti Westerns never really seem like they take place in the American West, so much as in some imaginary West of the European imagination. They Came To Rob Las Vegas is set in a similar uncanny valley that comes so close to getting America right that its failings seem that much more glaring. Movies are artificial, of course. But they don't always feel this synthetic.
The dubbing, which is more apparent than usual, only adds to that uncanny, synthetic feel, as does the gang Lockwood gathers around him to take down the armored-truck company, a sort of Ocean's 11 made up of almost-familiar European actors. Though they're major characters who dominate the action in the film's back half, we never get to know them, and apart from a wisecracking Peter Lawford type in the form of Georges Géret (here billed as George Geret, and apparently dubbed by an English actor), they never develop recognizable personalities. It doesn't help that Lockwood is kind of a cipher himself.
They Came To Rob Las Vegas is one of those films made more intriguing by the odd elements in the margins than the action at the front of the stage. The central heist—which has Lockwood and his gang burying an allegedly impenetrable armored car in an underground bunker, then trying every desperate measure they can think of to get inside—is clever enough, but shifts much of the action to a single, dull soundstage set for much of the film's latter half, when it's the odd details of the larger world that make it fun to watch. When news emerges about the heist, it's apparently the most important story in America, based on the way the press dogs the company's owner, Lee J. Cobb.
Then there's the film's notion of cutting-edge technology. It's oddly prescient in some respects: Characters talk to one another using Skype-like devices on widescreen televisions and Cobb keeps his drivers honest by using heavily coded computer messages to keep information confidential, codes created via an elaborate system of microfilm and punchcards. Both are in keeping with the film's design sense, which is late-'60s to the nth degree when it comes to office interiors that could have been lifted from Playtime, or the structurally precarious outfits Elke Sommer wears through much of the film.
Does it add up to a great movie, some lost treasure that everyone should seek out now? Certainly not. But watching it never feels like sorting through redundant waste, either. Art and oddness have a way of seeping into even the most calculated pieces of popular culture. Time has a way of heightening the oddness, even making it poignant. Early in the film, Lockwood tries to rope Sommer, who's also Cobb's mistress, into his plot to take out the truck. Wandering around her apartment, he puts on a record and the soundtrack fills with peculiar music, dominated by a woman's voice looping around a singsong melody that sounds like something from the outer reaches of the Ennio Morricone catalog. "That's nice. Always grabs me that," Lockwood says. My guess—and it's just a guess—is that we were supposed hear something different, a love song or something sentimental that would better match Lockwood's appreciative words, until financial realities made a discarded soundtrack cue look a lot more appealing. Instead, we get a moment that feels wonderfully off, made possible only by the oddities of international co-production and some choices made in an editing room. But combined with the awkward dialogue and the decor of Sommer's place, it feels like an emblem of a peculiar time when European financing, trend-chasing yeomen like Isasi, and movie stars who couldn't afford to be too choosy about their parts combined to create some not-quite-plausible worlds that still feel like appealing places to visit, whether or not time has passed them by.
Next: Faust (1927)
Then: Mondo Cane (1962)