1. Prince + Las Vegas - any kind of desire to keep moving forward in one's chosen career = Club 3121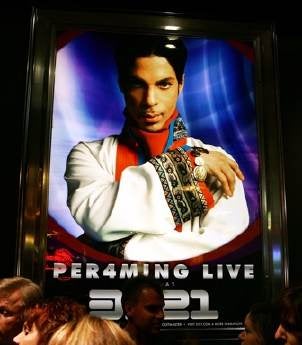 When does someone become a caricature of themselves? When they move to Vegas, open a club at the Rio that serves something called "
Jazz Cuisine" and have a press conference about the whole thing where their back up dancers, a pair of twins called (naturally) The Twinz, speak for them. If there had just been one more number in place of a letter on that poster, or maybe the just the tagline "What r u waiting 4?" then I would have thought it was a joke. As it is, it just makes me sad–like Prince has been put out to a particularly flashy pasture, one that's right down the street from the Hard Rock and dozens of motorized fountains. 2. NBC + So much marketing research they just decided not to use any of it + A basic understanding of this thing called "the Web" circa 1998 = DotComedy

Ever wanted to see really killer viral videos, or clips of old tv shows, or awful original digital shorts, or horrible stand-up routines that are all vaguely NBC-related? Well now there's a place for that online! And it's sanctioned by NBC! And it has a catchy name, especially if you haven't been exposed to the Internet, or pop culture in general, since the days of that (adorable) dancing hamster. But what, exactly, can you expect to find at "DotComedy"? Well, uh, stuff like this:
We all know it's a big scary world out there. Money trouble, family pressures, global warming – it's all very, very depressing. But don't panic, help is on the way.

Well, not help saving the rainforest or dealing with crazy Aunt Petunia, but simply a guarantee that for at least a few minutes every day you can come here, escape the woes of the world and laugh. Out loud, even.
Saving the rainforest? Crazy Aunt Petunia? (is that anything like Rosy the Nosy Neighbor?) Something tells me that the marketing guys who wrote this had two ideas circled multiple times on their brainstorming pad: Zany, and The 2000s 3. William Shatner + Sabado Gigante - Spanish + ABC's bright shining dreams to out-dumb the game show that is just picking numbers at random = Show Me The Money
Look at the girls! And the undulating stage! And the screaming! And the Shat! And the crowd! Now the girls again! And Shat! Now lights! Now more dancing! Shat! You watch! This commercial is either trying to give you a seizure (so you'll be too incapacitated to change the channel), or subliminally suggest some kind of addition to the English language involving the prefix "Shat." Either way, nothing translates into stratespheric ratings like multiple usages of the past tense of "shit."