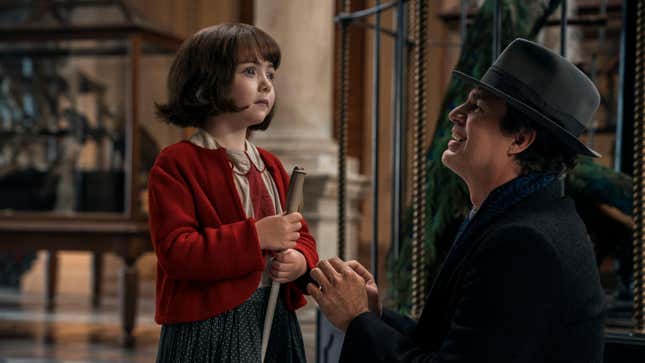 After sticking it out with Ryan Reynolds for a trilogy of films, Shawn Levy, director of Free Guy, The Adam Project, and the upcoming Deadpool 3, is ready to do something a little different. Well, very different.
George Clooney's Batman costume goes up for auction
Based on the Pulitzer Prize-winning novel, Levy's All The Light We Cannot See seemingly lends his superhero-adjacent filmmaking to a genre that desperately needs it: World War II epics about a father and his blind daughter hiding a "legendary diamond" from the Nazis. Not that Levy has to play coy with his effects budget. The teaser, which contains no dialogue, but a lot of really cool explosions, is a CGI-laden spectacle that's also a story about the "extraordinary power of human connection." Though you could say that about any movie, this one is limited series for a streamer written by—who else—Steven Knight.
Even more than Levy, Steven Knight is everywhere these days. With his gross but fun adaptation of Great Expectations for FX coming to a close, Knight also took over writing duties of Damon Lindelof's abandoned Star Wars movie that might actually happen because that's how Steven Knight rolls. Seriously, the guy created Who Wants To Be A Millionaire, and now he's Hollywood's only screenwriter.
As for Levy, he's no stranger to television, having directed a slew of Stranger Things for Netflix. And while it does seem a bit concerning that the director of Free Guy directed a melodrama that will have to deal with the Holocaust in some capacity, um, we forgot where we were going with this. The clips are so heavy on effects that we did expect something supernatural to happen, like a portal opening in the sky, and someone will have to throw the diamond in it. But the cast looks good! Hugh Laurie and Mark Ruffalo star opposite newcomers Aria Mia Loberti and Nell Sutton as the older and younger Marie-Laure, respectively.

All The Light We Cannot See lands on Netflix on November 2, 2023.