Over the first few episodes, Vinyl has wanted the viewer to know that, for all of its power, rock music in the 1970s was a dirty business, delivered in mass quantities to the world by backstabbing, coke-snorting, payola-peddling, Andrew Dice Clay-murdering scumbags whose thirst for power rivaled that of an organized crime syndicate.
Thrilling as the show can be, that's not a particularly new or interesting message. But there's also a footnote to it: Not only is rock 'n' roll a dirty business—it's a complicated, frantic business that so often sends its key players through a Rube Goldberg machine of maddening obstacles. And that is interesting, not from a place of theme, but from a place of pure visual adrenaline. At the end of the day, it's invigorating to watch Richie and the American Century team jump through so many hoops to get their jobs done.
On Richie's end, he's trying to out-fluff Jackie Jervis when courting fictitious funk musician Hannibal (Daniel J. Watts), all while being questioned about Buck's murder and entering marriage counseling that feels more like bad method-acting training. Elsewhere, Clark's struggling to sign a noteworthy musical act; Skip's trying to pawn off a storage unit's worth of Donny Osmond bootlegs to balance out American Century's books; Julie's manning a recording session with Robert Goulet (Matthew Bogart); and Lester's signed on as Nasty Bits' manager, playing hardball with Richie to ensure that the young punk band doesn't get screwed over like he did, and—let's face it—to grant himself some much deserved revenge against his former friend.
Unlike previous episodes, director S.J. Clarkson skirts any kind of self-important message in favor of a panicked tone, flirting with several different musical styles and keeping the camerawork loose as she pogos from story to story. At one point, the handheld frame wobbles when Lester torches his own recordings during a shouting match with Richie. Then, as the sprinklers go off, everything steadies for a fever dream of Janis Joplin, her figure peaceful and blurry as she wails from behind the watery office window. Afterwards, the musical sequences become reminiscent of Parliament-Funkadelic at one of Hannibal's shows before the episode's disparate threads get (somewhat) resolved to the soundtrack of Goulet recording a holiday song with an orchestra.
G/O Media may get a commission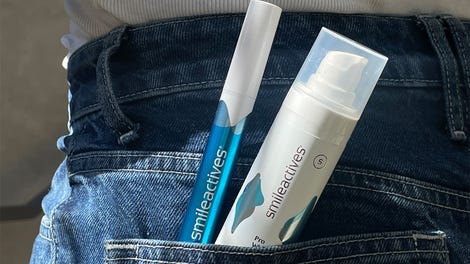 58% off
Whitening Powerhouse Pen & Gel Duo
In a way, the Goulet tune feels more punk than anything on the show that's involved the New York Dolls or Nasty Bits. Even though the singer's full-chested schmaltz isn't the type of music that's been celebrated by Vinyl thus far, here, it's presented with a bizarre majesty, the song's unseasonable yuletide warmth lending a weirdness to the otherwise standard introspection of the characters. A montage of several flawed people stewing over their poor decisions (Skip and Richie) and celebrating their good ones (Jamie and Kip) is commonplace for any television drama. But when it's set to maudlin strings and a crooner waxing nostalgic about eggnog and melted snow on the floor, it's a brand-new animal.
If "The Racket" succeeds when showing the bloodshot hustle of the music industry that gives the episode its title, it falters when slowing down and focusing on Devon. Olivia Wilde continues to nail the intricacies of her character's domestic frustration, but because we've seen so many other TV wives stand by their dark, complicated, and ultimately awful spouses, her lack of followthrough on the divorce feels tired and familiar. Maybe she'll go through with it down the line, or maybe Richie will change for the better, but until then, it would be refreshing to see her defined by something other than how pissed off she is at her monster of a husband. We've seen shades of what she was like in her Factory days, but what else is there to her? At a certain point, I'm more interested in either a marriage that becomes functional or one that completely falls apart and allows Devon to strike out on her own. It would be the romantic equivalent to the Goulet sequence—something that's lighter than we're accustomed to on an HBO drama, but also completely unexpected.
Stray observations
"Mostly Rock 'N Roll (But I Like It)" is getting heftier and heftier by the week, but I still want to include it. So after tonight, I'm going to keep the stray observations as short as possible, or possibly scrap them altogether in favor of the song category. We'll see.

Many of you astutely pointed out last week that the amateur DJ Lester admires isn't just any DJ, but Kool Herc. It'll be interesting to see if his rise to prominence figures into the story.
Like Goulet, Broadway veteran Bogart has played Sir Lancelot in Camelot. And yep, those are his pipes on Goulet's day-after-Christmas song.
Watts is also a Broadway actor, currently appearing in Hamilton. I wonder if he and Bogart knew each other before this episode.
A Tale Of Two Richies: Turns out Richie's jazz-musician dad, Sal, is none other than David Proval, who played Richie Aprile on The Sopranos. He's also been connected to Martin Scorsese since the '70s, appearing in Mean Streets in the same year Vinyl takes place.
"Welcome to American Century. Get ready to take it up the ass."

"My last name is Gross, spelled like 'Wow, that was really gross.'"

"I'd offer you a drink, but you're an asshole."
"It's Mostly Rock 'N Roll (But I Like It)"
I admittedly didn't know who the singer in the opening was supposed to be at first, but after some digging, it seems it's Otis Blackwell. The song is "Please Help Me Find My Way Home."
When Zak, Skip, Julie, and Scott are taking the limo back from Buck's funeral, Tony Orlando and Dawn's "Candida" plays on the radio, but quickly (and understandably) gets changed.
Ditto for Ray Stevens' "Everything Is Beautiful," which gets switched to The Temptations' "Psychedelic Shack." I'm wondering if I'm alone in preferring the Temps' psychedelic soul era to their earlier doo-wop hits.
The saxophone player Richie mentions to Hannibal is Eddie Harris. Strangely, the LP he throws on appears to be Excursions, but the song playing is "Freedom Jazz Dance," which is actually on another Harris record: 1965's The In Sound.
Overused as it is on soundtracks, Pink Floyd's "Money" still makes the perfect song for Skip trying to unload all of those Osmond bootlegs.
Curtis Mayfield's "Pusherman" from his Superfly soundtrack plays in American Century when Hannibal meets Goulet.
Joplin's interlude is "Cry Baby."
Death's aptly titled "Politicians In My Eyes" precedes Lester talking to Nasty Bits at the diner.
A live version of Delaney & Bonnie's "Only You And I Know" scores Richie getting ready in his office and the assorted interruptions from his coworkers.
Another overused, but still effective song for Skip's exhausting journey: The Who's "Won't Get Fooled Again."
Skip throws on Donny Osmond's "Life Is Just What You Make It" while arguing with the manager at Sam Goody.
Doris Day first recorded "Que Sera, Sera (Whatever Will Be, Will Be)," and Sly and the Family Stone's dreamy cover of it plays while Richie negotiates with Lester.
Sal's jazz combo gets especially hushed in their take on The Dave Brubeck Quartet's "Bluette."
"Strychnine" by protopunk forefathers The Sonics plays over the credits.
Hannibal's songs come courtesy of an imaginary band called Hannibalism, plus R&B great Charlie Wilson. A formidable solo artist, Wilson's also known for his frequent collaborations with Kanye West, most notably singing the bridge to "Bound 2."
Finally, Bogart's rendition of "Christmas You Go So Fast"—written specifically for the series, as far as I know—appears alongside the two Hannibal tunes, "Only You Know And I Know," and "Freedom Jazz Dance" on this week's Vinyl EP.