It's fair to say that when local rapper Wale released his long-awaited commercial album, Attention Deficit, he had a great deal of D.C.'s hip-hop future resting on his shoulders. The Washington Post called him the "Great Rap Hope" two years ago, and Jay-Z has called him the second coming. But on Attention Deficit, he's abandoned some of the things initially helped him make his name—the indie rock samples, Seinfeld references, self-deprecation—to make a more serious effort at living up to his hype. Prior to his show Friday, Jan. 1, at 9:30 Club, Wale spoke with The A.V. Club about working with Lady Gaga and David Sitek, and how he isn't against the man.
The A.V. Club: You put out three mix-tapes before doing a commercial release. How are mix-tapes changing hip-hop?
Wale: I think they've already changed hip-hop… Mix-tapes are something that have been going on for a while. They've been pretty important to hip-hop for the past 10 years. It's the way we advertise our music to the public for free.
AVC: Was there more creative freedom doing the mixtapes opposed to Attention Deficit?
W: No, man, most artists should be able to make the album that they want. You don't necessarily pick the singles that you want when you're making a record, but for the most part it's the same process. You're the artist—you make the music that you want to make. Everything I've ever done had an idea and a sound, and it's just the newest project. I think that people think since it's my first commercial project that I'm so against the man and the machine and all that stuff.
AVC: Do you feel pressured by the constant label of the "Class Of '09" rappers?
W: It's cool, but I think people should get over that. I think they try to force it. All of our music sounds so completely different. Me and Cudi are forever attached, they're always comparing the two of us even though we sound completely different.
G/O Media may get a commission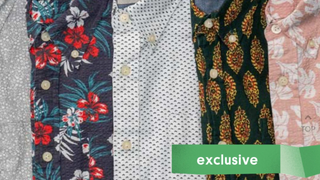 Grab three styles!
JACHS NY Summer Pack
AVC: What was it like to work with David Sitek as a hip-hop producer?
W: It was incredible. The funny thing about Dave, it was the quickest record, as far as what he did in the studio. Some of those "A-list" guys, I went into the studio with them and sat with them for four hours and never came away with anything. But with Dave, soon as we got in there, we had some conversations, and we just started making a beat. I was writing while he did the beat. We did everything from the bottom to the top in I believe two days. He's a professional. I think we challenged each other. Dave's like the coach who makes you stay an extra two-and-a-half hours after practice.
AVC: You make a lot interesting choices about what and who you work with. Lady Gaga, Seinfeld, etc. How do you decide who to work with?
W: I just wanted to do something that represented my depiction of the '09 summer. I think we did a good job. I wanted to make it real fun and Gaga was the perfect person, because the record is about being liberated and being happy, and in your comfort zone. I think she embodies that. In terms of Seinfeld, I think there's lot of reality in a show that's supposed to be about nothing. A lot of things inspired me. I'd watch an episode and think, "Oh, that makes me want to write, but I don't have a beat to write to."
AVC: Where do you see in the future for D.C. hip-hop?
W: It's competitive now. There's a lot of real unity—and a lot fake unity, sadly. I think a lot of people are going to get an opportunity to pursue greatness and pursue careers outside of D.C. Not everybody is going to make it. I think there's a connotation that there's a lack of rappers out there. I think it's a lot easier than it seems. There's a lot of things that come into play once you get a record deal, but there are challenges that get in the way of your faith and your drive.