A.V. Club head writer and hip-hop specialist Nathan Rabin recently decided to spend a year or two immersing himself in the canon of country music, a genre he knew little about, but was keen to explore. The result: "Nashville Or Bust," a series of essays about seminal country artists. After 52 entries, Rabin plans to travel south and explore some of country music's most hallowed landmarks and institutions.
I discovered Hank Thompson in a roundabout fashion. I become fascinated by the Kitty Wells song "It Wasn't God Who Made Honky Tonk Angels" when I watched Carrie Fisher perform it in White Lightnin', a 2009 Sundance oddity about real-life mountain dancer Jesco White. That inevitably led to Kitty Wells, which in turn led to the song that inspired "It Wasn't God Who Made Honky Tonk Angels": "The Wild Side Of Life."
Thompson's "The Wild Side Of Life" is in many ways an incredibly depressing song, a harrowing cautionary warning addressed to a woman the singer once loved, but who has fallen into a state of moral and spiritual dissolution. As the song begins, this good girl gone astray has cut the singer entirely out of her life. She won't read his letters. She asks not to be called. So the only way he can make his feelings known is by sharing them with the world in song form.
With that preamble out of the way, Thompson ruefully notes "I didn't know God made honky-tonk angels," and he kicks himself for deep-down knowing that the harlot in question would never make a wife, for she "gave up the only one that ever loved [her] and went back to the wild side of life."
In case there's any confusion as to what the wild side of life entails, Thompson helpfully croons of "places where the wine and liquor flow" and a woman who now waits "to be anybody's baby," having turned her back on love, fidelity, and everything else good people hold sacred.
"The Wild Side Of Life" addresses a theme ubiquitous in rap songs: You can't turn a ho into a housewife. Yet the song's tone incorporates measured sadness and regret, not rage. Or at least the melancholy undercuts the anger. It's as if Thompson, who died in 2007 at the ripe old age of 82, is acknowledging that the lost woman doesn't really have control over her actions; she's a creature of the nightlife. She's beyond the redemption a good man's love might offer.
G/O Media may get a commission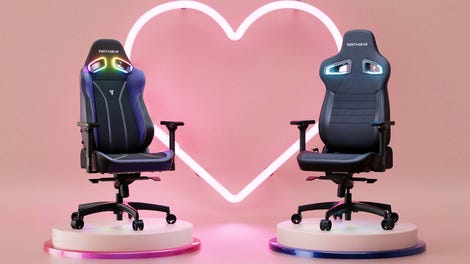 Up to $150 off
Vertagear Gaming Chairs
The themes of "The Wild Side Of Life" reappear in another Thompson staple, "Honky Tonk Girl." But this time, the tone is more bemused than sad or betrayed, as Thompson tries to warn off fools who think they can tame the title character.
Thompson undoubtedly knew plenty of honky-tonk girls lost to the wild side of life. He had a lot of time to meet them over the course of a career so venerable, he was able to name his last album Seven Decades in honor of his 70-plus years playing honky-tonks and dance halls. Like so many of the acts chronicled in this series, Thompson learned what audiences liked through trial, error, and firsthand experience, touring constantly and forming a powerful emotional connection to his audience.
Hank Thompson And The Brazos Valley Boys were a dance band above all else, and a damn good one at that. They were slaves to the rhythm. Their music was a means to an end; if they didn't get toes tapping and asses out of seats, they weren't doing their job right.
Saying that the Brazos Valley Boys were good is an understatement: They were voted Billboard's top country-and-western band a staggering 14 years in a row, thanks in no small part to members like legendary guitarist Merle Travis.
Along with Spade Cooley and Bob Wills And His Texas Playboys, Thompson came to personify Western swing. Or rather, Thompson came to represent the slicked-up, smoothed-out mainstream face of Western swing. Although Wills will forever be known as the King Of Western Swing, Thompson had more commercial success with the sound, selling some 60 million albums over his seven-decade career. The similarities and differences between Thompson and Wills are revealing.
Bob Wills And His Texas Playboys embodied musical democracy in its purest form. The band's sound vibrantly captured our nation's rich cultural melting pot with its wild combination of jazz, country, bluegrass, proto-rock, vaudeville, and blues. In an era of segregation, Wills' oeuvre nakedly combined black and white music into a combustible brew whose effects are still being felt.
Wills' music carried a transgressive charge of anarchy. It's like a wild party perpetually threatening to spiral out of control and drag listeners into its sonic insanity. His group represented democracy in other ways as well: Wills was the name on the marquee and the outfit's charismatic cult leader, but singer-songwriter Tommy Duncan was the one making women swoon, and if Wills shouted out the name of piano player Al Strickland and ordered him to work his magic, then Strickland was the star of the band for at least a brief moment.
There was only one star of Hank Thompson And The Brazos Valley Boys, however. Thompson didn't have to split leadership with anyone, and while Wills encouraged his band's wild solos and shameless vamping, the musicianship of the Brazos Valley Boys was much more restrained. While Western swing, and perhaps jazz in general, is essentially about organized chaos, Wills leaned toward chaos and Thompson embraced organization.  Thompson's band was so polished and his singing so smooth that if you remove the ringing of slot machines and Thompson's folksy introductions from his 1961 live album Hank Thompson At The Golden Nugget, it could pass for a studio album.
There's a grinning quality to Thompson's singing, an ingratiating affableness that made bitter sentiments like those found in "The Wild Side Of Life" and "Honky Tonk Girl" more palatable. Thompson was less a harbinger of doom than a drinking buddy hipping listeners to the way of the world. Thompson's music is also characterized by a lightness of touch and a pervasive streak of goofy, even cornball humor. That comic sensibility is reflected in one of Thompson's first hits, "Whoa, Sailor." It's a wry tale of a sailor on leave who tries to seduce a woman understandably skeptical of a seaman's honeyed promises. Thompson didn't have to look far for inspiration for the song: He was in the Navy during World War II, and he planned to study engineering at Princeton until musical fame permanently altered his career trajectory.
Thompson's crack comic timing and innate likeability gave songs like "Drivin' Nails In My Coffin" a lightweight comic air, even though its lyrics center on a man using alcohol to speed his heartbreak-fueled race to the sweet release of the grave. In Thompson's shiny, happy world, even heartbreak and suicidal depression can have a danceable beat. But that's nothing compared to what Thompson does to that ultimate bummer, "Cocaine Blues." He turns one of the toughest, most defiant songs in the country canon into a zippy little modified polka with the atmosphere of a Benny Hill Show sketch.
Thompson knew how to sell a song, tell a story, and milk a punchline for all it was worth. Sometimes he sold more than just a song, as evidenced by his advertisement for Falstaff beer. But mostly, he used his comic timing and wacky sense of humor to delight audiences with clamorous ditties like "Total Strangers" and "Six Pack To Go," a song about the lighter side of alcoholism.
Thompson's light touch was both a massive commercial and creative strength, and a weakness. He didn't have the depth, wildness, or anarchic spirit that made Wills such an enduring figure and object of adulation. Perhaps the closest he came to that kinetic, runaway energy was on an exhilarating cover of Woody Guthrie's "This Train Is Bound For Glory" that pits Thompson's friendly, expressive baritone against a backup singer's wild falsetto and chugs along at unsafe speeds. For a brief moment, the consummate control freak seems in danger of losing himself in his music.
After listening to Townes Van Zandt for the last entry in this series, I was in need of a pick-me-up. Thompson's upbeat, mainstream Western swing did the trick. Thompson wasn't a giant on par with Van Zandt or Wills, but rather a consummate entertainer who eked out an impressive, albeit sometimes corny, career singing about both the wild and the mild side of life.
Up Next on Nashville Or Bust:
Buck Owens
Patsy Cline
Loretta Lynn
Shania Twain
Tammy Wynette